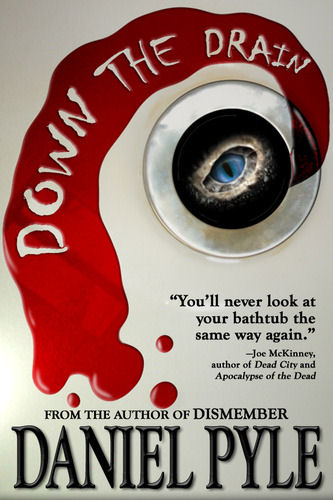 Book Review: Down The Drain by Daniel Pyle
Despite the fact that an individual's bathroom should be one of the safest places due to the ... err ... private nature of the activities that usually take place in there, they historically have been one of the most horrifying. We've been warned of menacing spirits in darkened mirrors, watched deranged husbands axe-splinter a door, seen gorgeous women slashed in a run down motel shower, and God forbid we even start in on the terror of toilets. The bathroom in Daniel Pyle's novella Down the Drain is no less harrowing than these.
The story begins with the angsty narration of a forgotten cat searching for water, alone in the house belonging to Bruce, our protagonist. Finding her way to the bathtub, the cat finds much more than water pooling at the bottom of the pipes. As the unfortunately distracted bachelor returns home from his contracting job, his pet is nowhere to be found. Because a blatant snub from his beloved cat is far from a rare occurrence, Bruce decides to give her some space and focus on recomposing himself after a hard day's work. Deciding the best start to relaxation is a hot shower, Bruce also alleviates some residual love life stress with an exercise in, erm, "personal release." After watching the day's tension drain (or was that more of a gulp?) down the pipes, he falls asleep after a fistful of beers. The next day, seemingly like the one before, Bruce ends his evening with what seems should become a daily routine. Falling asleep in the tub after a few beers, however, does not bode as well this eve as the one before it.
Pyle spares us the niceties of what lurks in the pipes below Bruce's house, while still making evident the looming apprehension that it knows what it wants and what it will do to get it. Told from three different points of view, Down the Drain delivers quick sucker punches at the turn of every page, leaving the reader hopelessly reminded that, no matter how much you were to bathe (not that you'd ever want to again) you'd never get clean. The short, vulgar shocks and fast-paced humor deliver a fun read, while magnifying the story's overall creep factor. It's great for an afternoon diversion. I'd recommend taking care of all personal needs before you start, though, since you'll probably spend the next few days being that smelly person on the elevator.