I have never been a fan of black t-shirts. I have nothing against them per say, they've just never been my thing. Plus, as a resident of South Florida, I would just as soon stick my head in a microwave as wear a black t-shirt outside on a sunny day, since it would pretty much have the exact same effect on me.
Which is why I was excited when I recieved an email recently from a startup T-shirt company in the UK called Bite Mark Clothing. Since the majority of horror t-shirt companies are churning out almost identical wares, I thought I'd take the time to tell you about these guys since they're actually doing things a bit differently.
A quick perusal of their site reveals that they've got a lot of different bases covered. They've got black shirts, white shirts, technicolor shirts, and my favorite, a hoodie that actually sort of looks like our logo. Their site could be a little easier to navigate (and stop opening pages in new windows!) but overall I like the cut of their jib.
They run a nicely personalized outlet, as I learned when they sent me my Biohazard Recovery shirt recently. Each shirt comes with a handful of stickers, a custom blood splattered envelope, and an individual number since they print in limited batches. Being the little guy that I am, I ordered a small, but they have sizes up to XL if you so desire. I would call it an "athletic" fit, since the sleeves are pretty snug, so make sure to be generous in your sizing if you do decide to order. The fabric is soft and has a "broken in" feel to it as well, which is a nice change from the usual "sandpaper" feel of most horror shirts.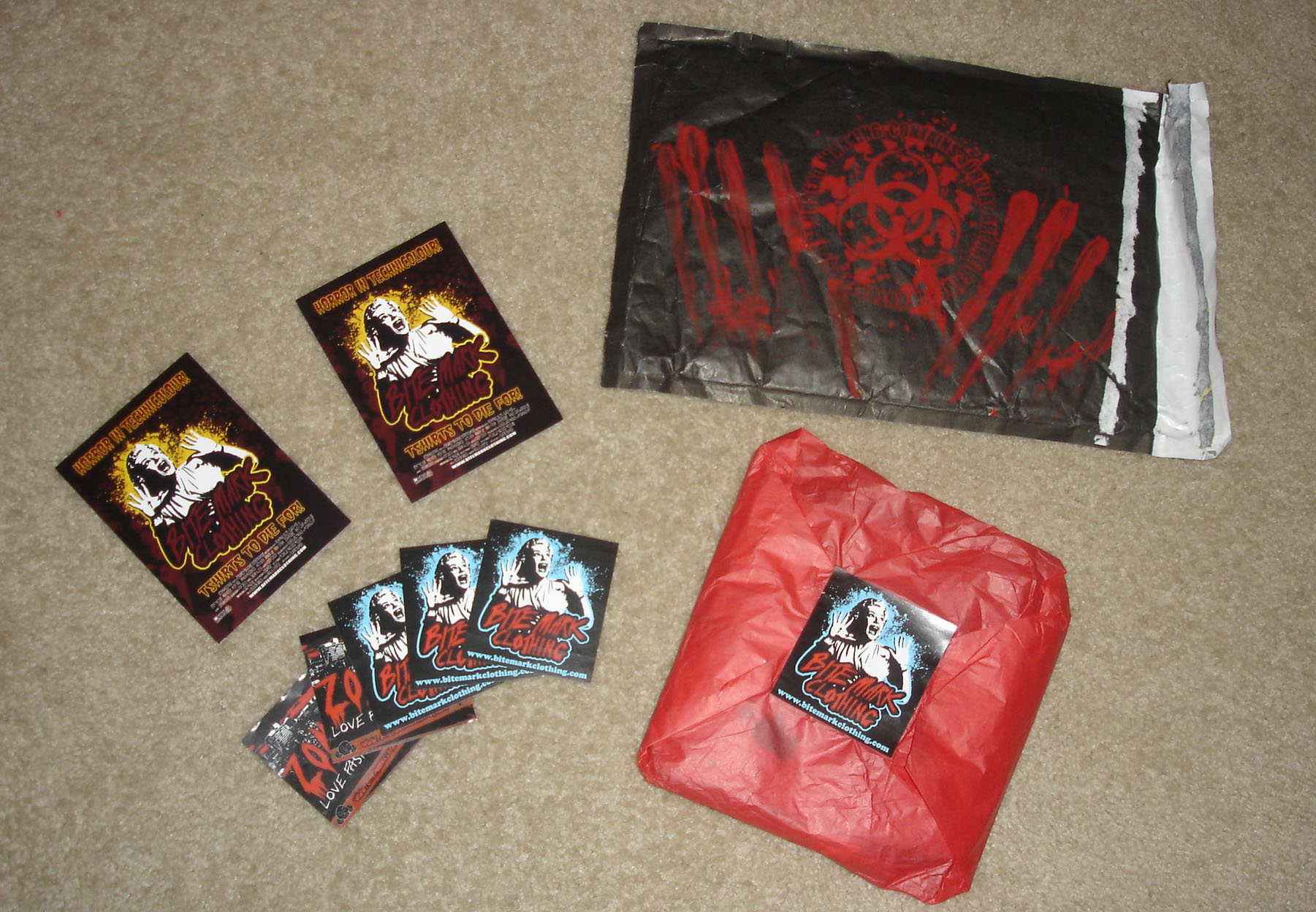 Everything that was in the package
If I see one shortcoming in their outfit, it's that XL isn't big enough to be the max size they're offering to horror fans, especially with the more "athletic" fit of the shirts. I'm making no judgements here, but as my Editors at Horror Hound have told me on numerous occasions, 5XL is routinely the highest selling shirt at their conventions. I may personally never need a 5XL unless I'm planning a camping trip and lost my tent, but I recognize that a lot of horror fans do. In the future, Bite Mark may want to look into expanding the number of sizes they offer, since they do ship to the US, and we breed ourselves some hearty horror fans over on this side of the pond.
Personally though, I love the shirt, the packaging and the overall experience. I plan to rock it regularly, much to the dismay of my future wife. Afterall, isn't that what good horror shirts are for?
So, if you like what you see, be sure to check out Bite Mark clothing.