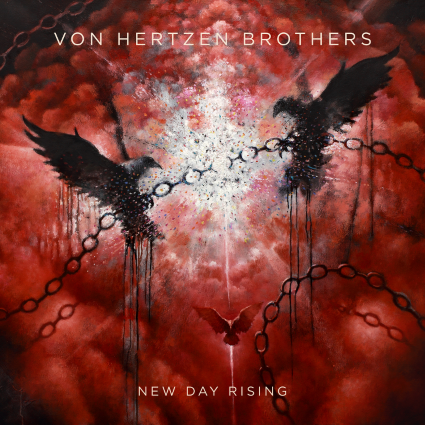 Album Review: Von Hertzen Brothers - "New Day Rising"
The word of the day is "eclectic" and the band that brings this word to mind is Von Hertzen Brothers. Regular readers of the Bloody Good Horror metal reviews know that my fellow reviewers and I delight in bringing you, the reader, the very best new metal bands from around the world. While the Von Hertzen brothers hail from Finland the music they play is not what the average listener would immediately think of as metal.
As you might guess the band is made up of three brothers, Jonne, Mikko and Kie von Hertzen as well as drummer Mikko Kaakkuriniemi (Say that three times fast) and keyboard player Juha Kuoppala.

Von Hertzen Brothers are not new to the music scene. Individually, the brothers spent the 90s playing in various bands throughout the Finnish music scene before coming together as a family music group in 2000. Their latest album "New Day Rising" is the group's sixth album together and the music contained within is... let's call it eclectic.

As I mentioned, "New Day Rising" doesn't really strike you as metal initially. However, once you sift throught the layers, you'll find it does contain a lot of the elements from which metal is made. Obviously the duel guitars of the brothers Von Hertzen are an indicator of the metal influence as are the sweeping arpeggios and guitar solos found throughout. Overall the music is on the heavy side but utilizes keyboards and harmonies and at times leans toward something much more rooted in pop than metal.

The album tends to go back and forth between upbeat, melodic, pop-influenced rock songs and soulful, melodious songs with lyrics based on unrequited love and soul-searching. By the way, in spite of the fact that the band is Finnish, the lyrics are sung in English and well sung at that.

Vocally, Mikko Von Hertzen hangs in the upper register, somewhere north of Freddy Mercury of Queen. His voice is pleasant yet occasionally haunting. And the harmonies he and his brother create are unmatched. Frankly, the two are on par with classic harmonists like the Everly Brothers and Crosby, Stills and Nash.

"New Day Rising" kicks off with the title track, a guitar heavy little ditty that is more hard rock than heavy metal but incorporates metal elements to create an uplifting song that showcases those amazing harmonies throughout.

"You Don't Know My Name" is an up-tempo track that starts off like it's going to be really heavy but then evolves into something more pop-like. The guitars and fast paced drum beat again brings that metal feel and just a bit more. The proficiency of the musicians distracts the listener from the true complexity of the tune and fact that the song is actually a bit more progressive than you would notice at first flush.

For those who insist on something metal to sink your teeth into, one of the heaviest cuts on the album is the song "Trouble". It has a bluesy, Alice In Chains style guitar riff and contains some of the most powerful vocals on "New Day Rising".

"Love Burns" is simply one of the best composed songs this reviewer has heard in quite some time. It begins with a melody that's reminiscent of the soundtrack from an old-school Nintendo game and gradually builds upon itself, creating layers of instrumentation until exploding into a crescendo of music and vocals that is both exhilarating and exhausting.

The biggest surprise on the album is a jaunty (yes, jaunty) piano based song that is unlike anything else on the record and is my pick for the feel-good hit of the summer. The song is "Dream" and it is about as far from metal as you can get yet is still my favorite from "New Day Rising". Some astute ad exec is going to find this tune and use it to sell ipads, droid phones or Heineken. It's just one of the happiest songs I think I've ever heard. It's fun and it's something completely different. Formed mostly with piano and drums it has an infectious vocal riff that I just can't get enough of.

The Von Hertzen Brothers are clearly not your average heavy metal band but they still rank up near the top as far as well played, well produced music goes. The band has already hit number one in Finland with a few of their previous releases and I think it may just be a matter of time before they reach a similar level in the U.S. and beyond. Unfortunately, I'm not sure my description of "New Day Rising" can begin to explain what's actually happening on the album. Eclectic? To be sure but Von Hertzen Brothers' music is universal, all-embracing and certainly has broad appeal. If you're feeling a bit adventurous then I encourage you to give this one a listen.