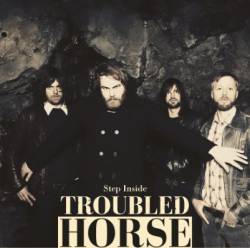 Album Review: Troubled Horse - Step Inside
In what has been a great year for vintage styled rock can roll, we keep adding to the list of releases taking us back in time to the days when rock and roll still had a raw and youthful energy behind it. In the years that have followed, the genre twisted itself into something different, a corporate-sponsored mash-up of music that usually has about as much attitude behind it as the most generic pop song. Rock and roll is as much an image as it is music, mostly conforming to a neat little box everyone is afraid to step outside of, for fear of alienating fans. It goes against everything rock and roll was supposed to be, but given how far removed we are from the genesis, it's not unexpected.
Troubled Horse steps into the wayback machine in the same way that Graveyard and Witchcraft do, which isn't a coincidence, since they share more than style. Troubled Horse emanates from the same town in Sweden, and shares members with the original Witchcraft lineup. If we're going to plant the flag and name the center of the rock world, right now it might just be Orebro, Sweden.
You know you're in for an old-school ride from the first picked notes, which bears a resemblance to The Beatles' classic "Here Comes The Sun". "Tainted Water" is not a rehash, however, instead a dirty garage-rock stomper that blends the energy of punk with a harmonic sensibility only later developed by later generations. It's short and to the point, but gets the message across with effective brevity, not overstaying its welcome beyond what the song requires.
That quality permeates the record, whose brief running time would be a problem if the material didn't fit the aesthetic so well. These songs can't stretch to fill the modern running time we expect, and while more music is always welcome, the album wouldn't be elevated by adding more onto the existing package. Much like Graveyard's "Lights Out", this album is strengthened by the concise length, demanding repeated plays to feel fully invested in the music. While many albums turn to chores to listen to again and again, "Step Inside" is one of those records that gets better each time through.
The slow burn that builds "Sleep In Your Head" up is strategic, laying lush organs under the guitars and roaring vocal, before throwing all that aside and returning to a melodic base. It's wonderful songwriting, made all the more intriguing by the almost psychedelic section that follows the solo, an unexpected element that catches you off-guard yet fits like a glove. "Another Man's Name" is the guitar lovers' tonic, five minutes packed with riffs, harmonies, and solos that are a festival of classic rock axe-slinging. It's only in the last run through the chorus that the blues basis steps forward, making an elegant segue into "All Your Fears", a dirty bar band blues number that slows the tempo without dulling the momentum.
All the songs on "Step Inside" manage this trick, exploring different aspects of the classic rock sound, while staying true enough to the band's own identity to meld into a solid album. The problem "Step Inside" faces isn't even its own. This is a very good album of vintage rock that could have bordered on greatness, if not for the fact that it's coming out in the shadow of Witchcraft's well received outing, and Graveyard's genre-defining masterstroke.
Under different circumstances, melodic rock gems like "Bring My Horses Home" and "I've Been Losing" would be among the best pure rock and roll anyone could hear. But this year has given us a trove of great throwback music, enough so that Troubled Horse and "Step Inside" are going to have trouble generating the buzz they otherwise would. It's a boon for us as listeners, to be so inundated with good and great albums, but it's a shame for the band, because "Step Inside" deserves to stand on its own and be recognized for the album it is. It's not a masterpiece, but it's still damn fine.