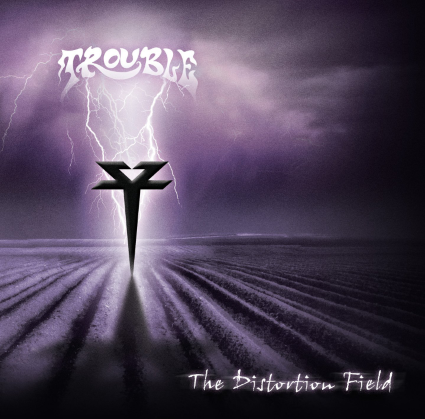 Album Review: Trouble - The Distortion Field
Off the top of my head, I can't think of a more influential band that got none of the attention they deserved than the one and only Trouble. In the American scene, Trouble is as much a part of the foundation of heavy metal as any other band. Their first two albums laid the blueprint for doom on this side of the pond, while their self-titled reinvention not only served as a cornerstone for all the groove and stoner metal that followed, but it stands as one of the truly great heavy metal albums ever made. No band has ever made guitars sound heavier than Trouble. The story goes that Metallica even snuck a peek at their amps to see how Trouble managed to be so crushing.
Trouble is one of the most important American metal bands, but you would often be hard-pressed to know it. Whether it was that they were just a bit too far ahead of the curve, or maybe Eric Wagner's vocals prevented the band from ever going mainstream, the fact of the matter is that Trouble has always been a band more revered by musicians than by the general public. And now, after releasing only one moderately well-received album in the last eighteen years, Trouble returns for their first effort without Wagner fronting the band. A question comes to mind; can a band so far into their careers lose an iconic member and continue on undaunted?
Unlike Queensryche, who are attempting the same feat, Trouble is not doing so under the same circumstances. In many respects, it's a miracle a new album has been produced at all, which helps set expectations at a more reasonable level. New singer Kyle Thomas is a long-time friend of the band, had filled in during live shows before, and will forever be thanked for saving the world from having to listen to a Trouble record featuring Kory Clarke's decrepit voice.
One thing about Trouble never changes; the riff onslaught. Guitarists Rick Wartell and Bruce Franklin are the most underrated duo in the history of metal, bar none. Heavier than hell, they write more great riffs per album than anyone this side of Tony Iommi. "The Distortion Field" is like any other Trouble album, filled to the gills with riffs upon riffs. Trouble has always been the guitar player's metal band, and they prove they still are. That trademark tone is still in tact, a buzzsaw cutting down anyone who dares question Trouble's intentions. If you love guitar, but think sweep picking and two-handed tapping are unnecessary show-offs, Trouble is everything you've ever wanted to hear.
Musically, "The Distortion Field" is classic Trouble, and can stand alongside their self-titled album and "Manic Frustration". Those two albums, that era of the band, have always been the epitome of what Trouble could be in my eye. No one else can mix the heaviest of metal with strong songwriting in the conventional sense the way Trouble did on those albums.... not even Trouble.
I don't want to sound as though I dislike "The Distortion Field", because it really is a very good record. The stomping "Butterflies", and the sludgy dirge "Your Reflection" are as good as anything Trouble has ever produced. Musically, it's an ass-kicking experience exactly like I wanted to hear from Trouble. The problem is that Eric Wagner was such a unique frontman that this doesn't feel like Trouble without him. Kyle Thomas puts his all into the performance, but he has a forgettable voice. His songwriting is strong, but he almost sounds like he's trying too hard to compensate for being the new guy, and because of that fails to sell the songs as effectively as he could.
The bottom line is that "The Distortion Field" is an awful lot like Trouble's last album, "Simple Mind Condition". It keeps the Trouble name alive, and produces a few great songs, but serves as more of a reminder of Trouble's past greatness. Still, anyone who loves heavy metal guitar owes it to themselves to listen to Trouble, because despite two decades of technical advancement, this is still as good as it gets.