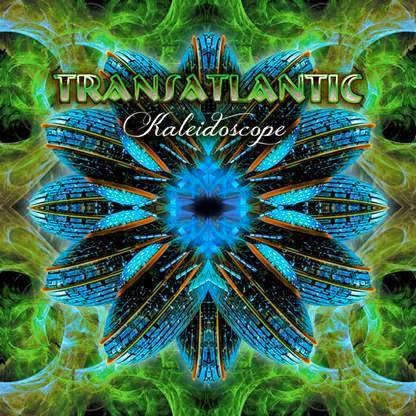 Album Review: Transatlantic - Kaleidoscope
Rare is the occasion when a 'supergroup' lives up to the hype. Most of the time, they wind up being a collection of pieces that don't really fit together, cobbling together music that can be very good, but never matches the expectations we have built up. Transatlantic is one of those supergroups that obliterates the doubts I have over such projects. After a debut that showed promise, but was a band obviously finding their way, they released back-to-back modern classics in the form of "Bridge Across Forever" (my favorite prog album of all time), and the immense "The Whirlwind". In the span of three albums, Transatlantic slayed the demons that plague similar bands, released two albums that stand shoulder-to-shoulder with the greatest prog albums ever made, and established themselves as the best prog band since the classic generation.
With album four on the horizon, and all the members in high-gear, my expectations for "Kaleidoscope" were higher than they should have been. And still the band managed to soar over them like it was nothing.
"Kaleidoscope" is, in essence, a summary of everything Transatlantic has done to this point. There are the epics that take you on a journey, the acoustic sing-alongs that dare you not to join in, and the introspective pieces that challenge your perceptions of what a prog band like this is supposed to deliver. If you boil down the three previous Transatlantic albums, the result is "Kaleidoscope", and that's a wonderful thing.
Transatlantic is defined by their epics, and the two on this album add to their canon of classics. "Into The Blue" and the title track are immense musical journeys that twist and weave through their sections, alternating between some of the heaviest material the band has ever recorded, and some of their most inspirational and uplifting moments. All the members of the band are coming off resounding successes of their own, but none of them compares to "Kaleidoscope". Neal Morse is coming off a string of tremendous solo albums, Roine Stolt just delivered the best Flower Kings album in at least a decade (if not ever), Mike Portnoy found his fire again in The Winery Dogs, and Pete Trewavas can rightly be proud of Marillion's critically acclaimed "Sounds That Can't Be Made".
All of those projects were mere warm-ups, as they save their best for Transatlantic. I would think these guys would be tapped out by now, but they continue to get better and better with age. Morse has honed his craft to the point where filler tracks are a thing of the distant past, while Stolt has been rejuvenated after a break from his main band. His playing on the album is among the best work of his career, especially the searing solo that elevates "Shine" to a whole different level. Throughout the album, Stolt is in top form, providing lyrical solos, ambient textures, and some grinding riffs that caught me off guard.
As much as "Kaleidoscope" is a summary of who Transatlantic are, it's also a forward-looking record that brings new elements to the table. The epics each feature at least one riff that is shocking in its groove and heaviness. It's not Transatlantic gone metal, but it pushes the boundaries of what we expect from them, especially as Portnoy introduces some double-bass drumming to the equation. The band also includes a guest vocal from Daniel Gildenlow of Pain Of Salvation, their fifth member for live performances, and a hint that the future of Transatlantic is all about growth.
After all that, what really matters are the songs, and that is where Transatlantic puts all other prog bands to shame. Neal Morse is the best pure songwriter working in prog today, and he litters "Kaleidoscope" with insanely catchy moments. He is able to fuse pop melodies with a progressive mindset, making the music a joy to listen to. Stolt is no slouch, and his contributions are as strong as on the latest Flower Kings album, one of my favorites of last year. Together, they are a formidable duo who push each other out of their comfort zones towards greatness. Transatlantic doesn't sound like merely a combination of Morse and Stolt, it is an entity unto itself, because they are able to play off one another in unusual ways.
"Shine" may have started life as a Neal Morse song, but when the rest of the band got their hands on it, they turned it into a call-to-arms, the kind of statement that shows why a band like this is so necessary. Other bands make prog music that borrows from the same influences, but no one else can make prog that is this uplifting and inspirational. Listening to "Kaleidoscope" isn't just putting on a prog record, it's hearing a reassuring voice telling you through music that things will turn out just fine. Music has that power over people, and few bands are able to tap into it. Transatlantic is one of them.
I could spend pages dissecting the various riffs and musical motifs that run through "Kaleidoscope", but there's no need to nitpick the music. The themes are more important than the details, and such a discussion would merely be picking the shiniest among gold coins. The only complaint I could offer, if I was asked to, is that I would prefer the album didn't end on a fade-out, but that's a minor, insignificant quibble.
"Kaleidoscope" is a perfect prog album. That's all that needs to be said.