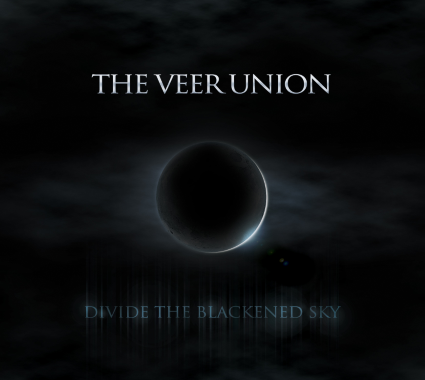 Album Review: The Veer Union - "Divide the Blackened Sky"
Several years ago, following their debut effort "Against the Grain," I wrote on these very pages that for their future albums, The Veer Union would be facing an ultimate choice. They had the talent to pursue one of the two thrones of modern rock and roll. Either they could chase Nickelback and try to carve a niche in the bloated party rock genre, or pursue the Foo Fighters for dominance in the radio-friendly but still skillful traditional rock and roll paradigm. With the release of The Veer Union's sophomore effort "Divide the Blackened Sky" on the heels of the Foo Fighters' "Wasting Light," it seems that path is farther away than ever.
The Veer Union find themselves trying to escape the grip of a troubling spiral. They signed to Rocket Science Ventures/Red Distribution following their unceremonious drop from Universal due to mediocre sales. Then, at the end of February 2012, bassist Marc Roots and guitarist James Fiddler departed the band, just weeks prior to the release of this new album. Trouble may be brewing in The Veer Union's camp.
So what does this album contain? It is with regret that I must report that the band has taken the road of their countrymen Nickelback and Theory of a Deadman in chasing the pop-rock dragon. "Divide the Blackened Sky" is a ponderous, deliberate beast that is both insistent and carefully measured at each step. It has been cleaned up and over-analyzed, with little to no spontaneity. While it might be harsh to say that the album is ten tracks of the same thing, it is well within fair to say that there is no evolution musically.
The most egregious omission from the album is the lack of soul that existed on the band's debut effort. "Against the Grain" was a mixed album, but had a fun sense of self and occasionally exhibited a touch of a wild side. In this new effort, we are faced with songs like "Silent Gun" which are emotive but slick, pounded into sheets so that no flaws show.
There are some things done right on "Divide the Blackened Sky." "Against the Grain" was a project dotted with ballads that slowed down the album's forward momentum and made it a jumpy affair. This new effort cuts those moments out nearly entirely, and even the times when it seems a ballad may happen are beaten down with increased fuzzy distortion. There are also examples of fine vocal harmony, as is demonstrated with "Inside Our Scars."
Unfortunately though, "Divide the Blackened Sky" is not the album it could have been. With the exception of the beginning of "Last Days of Life," there are no occasions that break the mold of the paradigm the band now subscribes to, which is disappointing. The Veer Union has always been a better live band than anything else, and let's hope that's still the case.