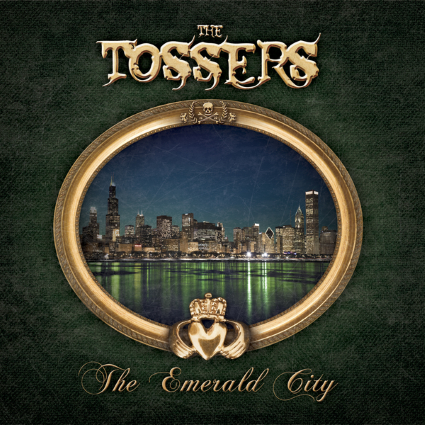 Album Review: The Tossers - "The Emerald City"
I recognize that it probably seems wildly out of place for us to be discussing a band like The Tossers in this space. They're certainly an odd fit with the likes of all the death metal, doom and thrash we tend to concentrate on around here, and their particular blend of Irish folk combined with punk and rock doesn't even come close to fitting into the expansive catch-all of 'progressive.' So what are we doing here?
More than a few times I've suggested to the readers that we all should step out of bounds on occasion and partake in something far outside the bounds or musical ken. This is why I went to the opera that one time, after all (and enjoyed it for its artistic integrity, so there.) Still, nothing nearly that altruistic or intellectual is the reason I'm here before you today.
Rather, The Tossers represent somewhat of a personal mission for me. I first became familiar with the band about halfway through their discography when they released "Purgatory" in 2003 and a copy of that heady effort ended up at my college radio station. I listened to it. A couple times. Thus began my curiosity with this band.
"Purgatory" was an incomplete album, an effort that shows boundless promise, but succeeded more in teasing the audience with its potential than truly capitalizing on it. Around every corner of that record was another chance for the band to explode; to musically flourish with big choruses, up-tempo riffs and crowd pleasing thrills. Yet, not once did it actually happen. As a listener, I was kept in constant, agonizing suspense, waiting for the coiled panther on the album to strike, but never did it attack.
So I followed the band's career in the hopes that one day they would put it all together and the perfect storm of their musical acuity would blossom. Each successive effort put a few tantalizing details in place, but still the pinnacle had not shown itself. Let that set the stage for "The Emerald City."
In an era where punk fans have grown weary of the commercialized success of the Dropkick Murphys and amidst the perception that the band has continued to sell out (a perception that for some hardcore fans begins as far back as the release of "Blackout," if not earlier,) there exists a void that could be easily filled by another Irish punk band. Finally, with "The Emerald City," The Tossers strike with impeccable timing, releasing their best, most mature and most comprehensive record to date.
What makes "The Emerald City" work so well is that the record finally combines capable musical bombast with the articulation of Irish folk, layering the necessary strings over competently executed punk and rock standards. Finish this off with the necessary light hearted comedy endemic to all Irish punk bands (and indeed, Irish folk musicians,) and you have "The Emerald City," as fast-moving collection of drinking anthems and would-be choral standards that make this very narrow genre so damn likeable.
Title track expected, the focal point of the album has to be the incredible "Wherever You Go," a vitriolic extended curse that plays hilariously well in the skin of a typical ballad. The song won't seem like anything spectacular or unique until you actually listen to what's being said. It's this kind of songwriting that has finally set The Tossers apart and made them worthy of unqualified commendation.
Given to show its punk roots, "The Emerald City" bounces along with songs of varying lengths, from the two minute romp "Where the Beer and Whiskey Flow," to the much more involved (and much more morose) "The South Side of Town." The level of 'fun' sewn into each song is inversely proportional to its length, which punk, and in particular Irish punk fans have come to expect. To this end, the slower pieces don't shine so brightly as the punk-rooted ones, not because they're slower, but only because they tend to be less original, paying more honest homage to the roots of Irish folk.
Nevertheless, the album boasts more than its share of the requisite drinking songs to accompany you at a party, each one ("Here's to a Drink With You, by way of an example,) filled to the brim with the kind of affable, raucous cheering that one expects from this genre. The Tossers accent all of these pieces with what albums like "Purgatory" lacked; a sense of the musical moment and the ability to get into and out of the louder registers with ease.
"The Emerald City" is a bit too long for its own good and suffers from some cosmetic faults, but the soul of the album is pure and enjoyable. For those who have grown sick of the Dropkick Murphys' saturation and have never gotten why Flogging Molly is a big deal (I'm guilty of that one,) "The Emerald City" is the cure to your ails. It's loaded with quality rock and folk talent and espouses all the usual themes of brotherhood, loyalty and just plain that you look for in an album of this nature. Spin it and enjoy it.