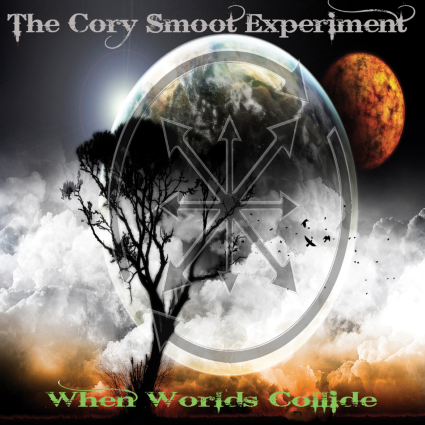 Album Review: The Cory Smoot Experiment - "When Worlds Collide"
Cory Smoot's untimely and unexpected death was just another blow to a heavy metal community that had struggled through the deaths of James "The Rev" Sullivan, Peter Steele, Paul Gray and Ronnie James Dio. The loss of GWAR's most prominent axe-man caused the holding of breath, the first truly serious press releases from Dave Brockie in recent memory and ultimately the retirement of the Flattus Maximus character, a heretofore untold step in the pantheon of GWAR's fictional story and real-life history. Often when GWAR makes announcements of this nature they are not taken seriously, but the band and community alike harbored so much respect for Smoot that the retirement of the Flattus character was not only plausible, but factual. Such is the legacy of the man.
But is that all? In his spare time in 2010, Smoot was working on a solo project at his own Karma Studios, originally supposed to be a concept album entitled "Religion is Fiction," which would feature Smoot's favorite vocalists from the North Carolina area filling in on vocals. Scheduling conflicts ended up putting this project on the back burner, but Smoot eventually decided to simply finish the songs by performing the vocals himself. The end result was kept hidden until after Smoot's passing, but now sees the light of day under the banner The Cory Smoot Experiment, with the album retitled "When Worlds Collide."
Most of the album centers, and rightfully so, around Smoot's virtuoso guitar ability. All of his signature hooks are present, his unique tone deliciously intact. The album showcases Smoot's understanding of one of the most sacred tenets of successful heavy metal; that underneath all the pomp and devilry, the braggadocio and bravado and bullshit of metal, there must be a core of soul and fun. Listen to the back half of opener "The Blood Red" to see what I'm talking about. It's an idea that Smoot has presented to us before, cloaked within GWAR singles "Metal Metal Land" and "Womb With a View."
Yet, as seems hauntingly common with posthumous releases, "When Worlds Collide" leaves us with a glimpse of where Smoot's musical mind was shortly before his death. Not so different from "Valleys of Neptune," "South Saturn Delta" or any of the other posthumous Jimi Hendrix releases, "When Worlds Collide" sees Smoot dabble in styles both familiar and new. Efforts like this always raise the "what if?" specter, a chilling reminder not only of what might have been, but what was lost. The "Experiment" in The Cory Smoot Experiment sees the man wend his way through the common themes of GWAR's music, but also into doom metal, rock and roll and several other less common areas for Smoot's idiom. Seeing him press his machine gun into constant service for "Religion is Fiction" and "Mandatory Purgatory" speaks to the kind of thrash and death player that Smoot was; aspects of his playing that didn't always see the light of day amidst GWAR's grand, accompanied soliloquies. Smoot also slogs us through "Brainfade," which is a fine gateway piece to the songs that follow. Especially on the album's first half, Smoot's ideas connect not only with the listener, but to each other. There's a true sense of consistency on "When Worlds Collide" despite all the variations, and that speaks to Smoot's personal endgame in making a cohesive album.
Like all side projects, particularly ones where the words "concept album" come into play, "When Worlds Collide" isn't perfect on all fronts. The back half is more experimental than the front, and some of those musings, like the slow boil of "Mutilation" or "The Gauntlet" fail to find suitable footing. While it's interesting to hear Smoot toy with the brooding cadence of those tunes, it's an idea that he hadn't yet mastered to satisfaction. Truly, for what this album is, that's the only criticism that can be levied; that Smoot spitballed an awful lot of musical ideas, and while most of them stick, some do not. C'est la vie.
What's particularly important to note here is that Metal Blade Records has decreed that all proceeds from this release will go to benefit the Smoot family as they continue to grieve and bravely carry on. That alone makes this album a worthwhile and quality effort, but on top of that, the music is pretty damn good.