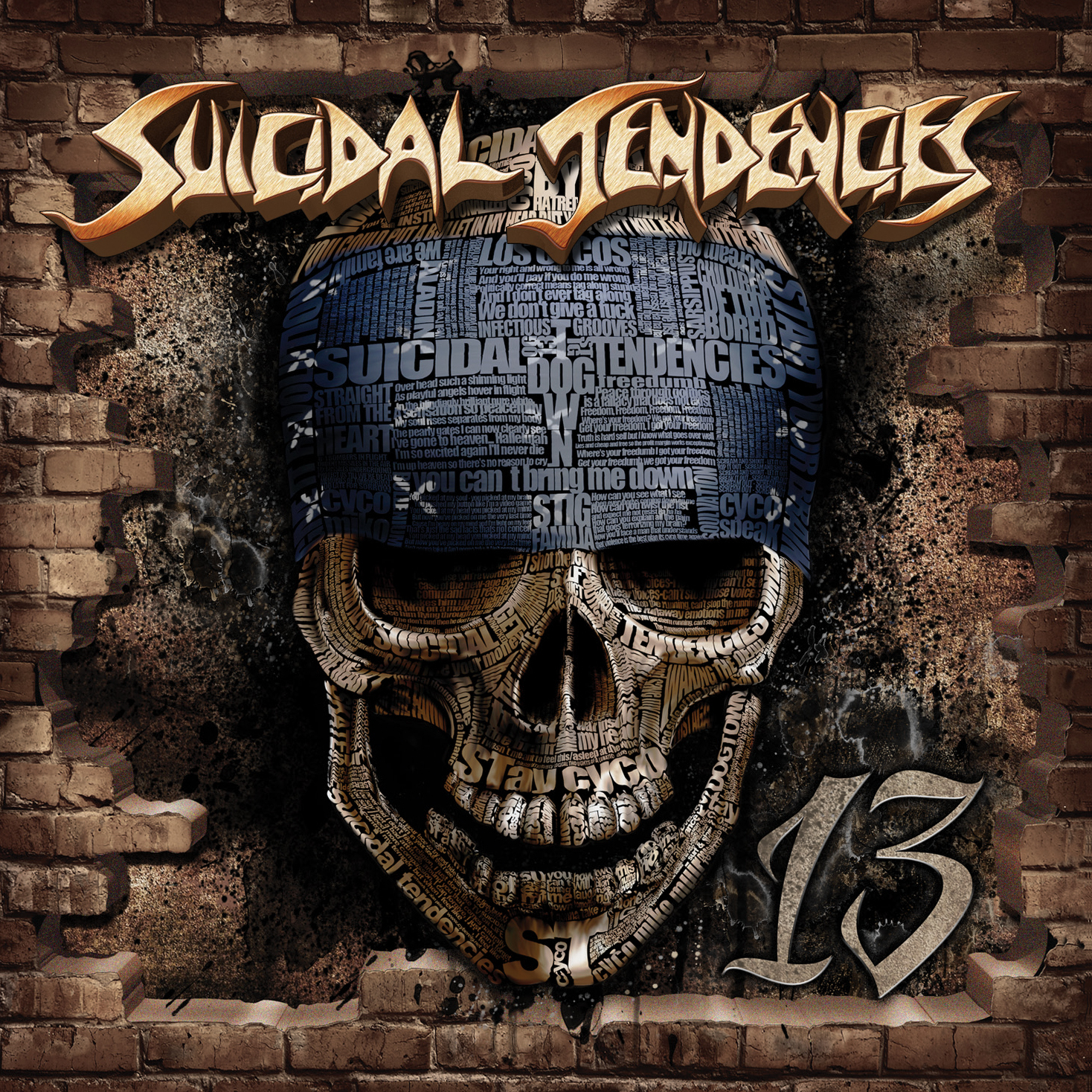 Album Review: Suicidal Tendencies - "13"
It has been thirty years since Suicidal Tendencies' self-titled debut album hit the shelves. At the time, lead singer Mike Muir was an energized, angst-driven twenty year-old churning out some of the best hardcore punk of the time period. Now, at the age of fifty, he's back with a new Suicidal Tendencies lineup and a brand new material.
"13" is Suicidal Tendencies' 13th studio album. Released this year, 2013, it is 13 tracks long and represents the band's first collection of new material in 13 years. There's no word on how they came up with the name of the album, however. Perhaps they were just trying to build hype for the Black Sabbath album, by the same name, coming out in June.
In the '80s, Suicidal Tendencies went through plenty of changes. The hardcore punk of their debut earned them the respect of skateboarders everywhere and, along with groups like Big Boys and Bad Religion, helped pave the way for the skate punk genre before they moved onto thrash metal in the late '80s with albums like "How Will I Laugh Tomorrow When I Can't Even Smile Today" and "Lights, Camera, Revolution."
On "13," Mike Muir and his new Suicidal Tendencies lineup do an excellent job of blending their thrash metal and punk histories together for their best release in over twenty years. Opening with "Shake It Out," Muir and company re-introduce themselves to the world shouting "Suicidal's back" in front of a wall of guitars. Muir even throws in a nod to the band's debut album when he says "can someone please get me a Diet Pepsi." Fans of the track "Institutionalized" will know what he means. Musically, Suicidal Tendencies is still very much metal first, but on the following track, "Smash It," their punk roots really start to show.
When Muir starts expeditiously spewing lyrics out on "Smash It," longtime fans of the band might not believe this is a recent recording. His voice is ageless and along with Dean Pleasants' impressive guitar work and Eric Moore's untiring arms working the drums, Suicidal Tendencies is as energetic as they've ever been. As "13" transitions into "This Ain't a Celebration," the lively punk influences press on, but the underlying thrash metal instrumentation keeps fans of almost any Suicidal Tendencies album content.
Although the punk and thrash aspects of "13" are equally enjoyable, the album's shining moments occur when bassist Steve Bruner locks into a funk-infused lick with the drums while the remaining members take turns featuring their talents on top of the mix. The slow, deep groove opening "God Only Knows…Who I Am" explodes into one of the most memorable choruses on the record while Bruner remains firmly secured into the same line throughout. When things finally calm down again, Suicidal Tendencies transfixes listeners with a pair of phenomenal guitar solos.
Sure, "Cyco Style" may be the album's lead single, but any listener looking for a true dose of what "13" has to offer needs to check out "Who's Afraid." The four minute masterpiece encompasses a little taste of every Suicidal Tendencies style over the past thirty years. They may have passed the torch of skate punk to other groups, but Muir has never forgotten where he started and his vocals here are as monomaniacal as ever. Sure, the '90s got a little messy, but there were still some highlights in there and the band's biggest fans will still be able to hear commonalities.
Yes, "Suicidal's back." Whether you're a fan of metal or punk, "13" will have something for you. Let's just hope we don't have to wait 13 years for another dose.