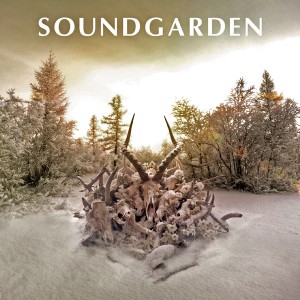 Album Review: Soundgarden - "King Animal"
What to make of a comeback album from a band sixteen years gone?
Following "Down On the Upside," an album that was met with critical acclaim and a Grammy nomination for single "Pretty Noose," Soundgarden walked away in the face of flagging sales. It was a disheartening announcement that the band was done; they clearly had the talent and desire, but no longer felt the warm embrace of relevancy in a world that had evolved past the flannelled angst of grunge.
While I am certain that Soundgarden wondered how they would relate to a 2012 audience, it is also valid to ask if a 2012 audience could relate to Soundgarden? The world is unquestionably different now, less concerned with the vague obscurities of teenage rebellion. For historical perspective, the last time Soundgarden released a record, Metallica hadn't yet or just had cut their long hair (exact dates are hard to come by,) the Czech Republic and Slovakia were newborn nations, Tim Duncan was enrolled at Wake Forest, and….well, it had still been a while since a Cubs World Series win.
The relationship question is immediately put to bed by the retained skill and supreme talent of Soundgarden. Their classic records endure because of the musical intricacy they contain, talent that granted the band more shelf life than their contemporaries like Mudhoney, and is still thankfully intact for "King Animal."
Kim Thayill's guitar tone may sound like a phone call from an old, familiar friend, but it is his style and inimitable acrobatics that truly separate and highlight Soundgarden from their surroundings. His sneaky quick riffs are still the creation of an innovative mind, and one need only get as far as "By Crooked Steps" to hear the kind of quirky note ordering that crafted classics like "Rusty Cage" so long ago.
"King Animal" sees Soundgarden turn back the clock, trending toward the delicate but dirty sound that so embodied "Louder Than Love" and the other early records. Chris Cornell's voice sounds vibrant as always, but natural and more brassy, shedding some of the production magic that made him sound like a noisy Greek god.
The pervasive emotion coming from Soundgarden is one of satisfaction; both with the legacy of their careers and with this new product. It is more than simply being confident in the music they are playing, but by the same token is not smug or haughty. The album's opening track, "Been Away Too Long," is emotionally the opposite of Alice in Chains' similar "All Secrets Known," where the former band reveled in returning to the fold, and the latter expressed the difficulty of soldiering on in memory.
There is also, and this may seem impossible, but it's true, a sense of fun on "King Animal," as though for the first time the band is relaxed and enjoying themselves. I suppose it's only natural that an artist and decorated and celebrated at Soundgarden would feel like they deserve to enjoy themselves, which is not only evident in the opening track, but throughout the album.
That said, there are the usual spate of deliciously serious or downright ugly moments on "King Animal," specifically the come-home-to-roost dirge of "Blood on the Valley Floor," which highlights all that made the band great.
Still, it feels like it might have been impossible for the band to pen a curious distraction like "Black Saturday" in their more serious days, as the song is serious in subject matter but flighty in execution, coming off thematically like an inverted "Blow Up the Outside World." Nonetheless, for being marginally out of character for a grunge band, "Black Saturday" works, and is one of the record's highlights.
"King Animal" is stocked with flashes of moments gone by, when attentive listeners will hear constructions ever so faintly similar to rough and tumble classics like "Slaves and Bulldozers" or "Flower." Taken as a whole "King Animal" is more "My Wave" than "Gun," and while it bears familial relations to the dirtiest grunge of old, is it a new experience and takes Soundgarden in a more melodic direction. In the end, "King Animal" is a worthwhile experience, commendable for the talent it took to make it, recognizable for the layering ability Soundgarden still possesses (on par with the best new artists and maybe better,) and enjoyable for the duration. It may not blow the barn doors off with heaviness, but it's a solid record by an excellent band.