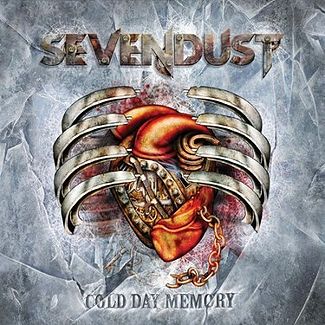 Album Review: Sevendust - "Cold Day Memory"
On this new album, we see Sevendust, but not quite the Sevendust we remember. They've matured as a band and grown into their sound. The band has learned over the years how to skillfully temper their anger and emotion into a more balanced and tangible whole.
"Cold Day Memory" is an overdue exercise in growth for a band that has managed to, if not fully blossom, begin to rise to their potential. Where Sevendust has always stumbled is the ability to pair their more theatrical elements with the visceral edge of their music. Finally, in "Cold Day Memory," we're taking steps in the right direction.
A lot of the fat has been cut away. Nothing is loud for the sake of being loud on this effort. It's as though Sevendust finally feels they don't have to prove their musical chops anymore and can just relax and write the songs they want to write. Sounds simple enough, but that can be a tough barrier for a band to cross, especially for a band that has always lived on the second level of metal stardom.
There are the usual overwrought, drawn out choruses that have become so commonplace for Sevendust, but if you can accept that, then the band has otherwise begun to turn a musical corner. "Cold Day Memory" ends up sounding like an amalgam of pieces from Anthrax's "Sound of White Noise," Static-X's "Shadow Zone" and the Foo Fighters' self-titled album. Now, that probably vastly overstates the actual quality of "Cold Day Memory," but those sounds can all be panned out individually.
The album's lead track, "Splinter" is a testament to the kind of band that Sevendust can be. It's confident and edgy, brash and yet calculated. It's that kind of moment that comes again in songs like "The End is Coming," and "Better Place," where the buzzing, grizzled guitar rides on the precise drum beat to create a galloping, frothing atmosphere. Sevendust uses their drum kit to prime effectiveness in those three songs and here and there throughout the album, using it to subconsciously dictate to the listener the kind of song that's going to follow. The more insistent the drum, the more keyed-up that piece will be. It's a pragmatic and efficient approach. Additionally, for perhaps the first time in their musical life, Sevendust has harnessed digital effects and used them to accent, as opposed to sprinkling them in simply because it's possible.
It's not all roses. The middle of the album plummets unceremoniously into a string of forgettable alt-metal ballads. It's not that the songs are individually poor or commit any serious infractions; it's just that there are too many of them clogging the album's second wind. In a possible effort to seem more refined as songwriters, Sevendust stepped across the line and forgot to bring their trademarked fury with them. From "Last Breath" to "Nowhere," my attention wandered.
"Cold Day Memory" may be my personal favorite Sevendust album so far, but that's an awfully low bar to set, as they've never been my play list of choice. There are bright spots to be had, and some of the initial and ending cuts are quite good. If you can accept that the band has certain idioms that aren't going to go away, there is material to be enjoyed here.