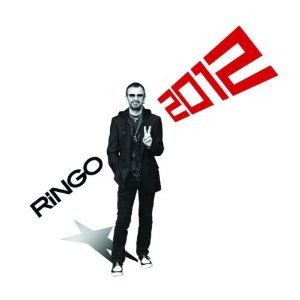 Album Review: Ringo Starr - "Ringo 2012"
Travel with me to a place less soaked with entrails and not nearly as dominated by despair. This place is full of legendary legacies and the tenets of breezy, feel-good rock and roll. This latter Elysiam is the easy going land of Ringo Starr.
Ringo. The name itself is larger than life, carrying all the connotations of import befitting one of the most gargantuan rock and roll lifetimes that the planet has ever experienced. Ringo has been joked about in occasionally biting terms, with critics referring to him in various ways as the least talented and least necessary Beatle (which is akin to being called the stupidest member of Mensa, I think.) However, to mock Ringo is to mock some of the most recognizable and celebrated songs in the legacy of the most celebrated band in rock.
All of this is why the release of Ringo's new solo album, titled simply "Ringo 2012," is still an event worth noting. If nothing else, Ringo has always had the good fortune of being surrounded with capable musicians. Obviously that originally began with the Johns, Pauls and Georges of the world, but now people flock to Ringo's side because who would conceivably turn down an invitation from Ringo? This new album sees him collaborate with names the likes of Joe Walsh, Kenny Wayne Shepherd and Edgar Winter, along with jazz legend Charlie Haden.
As is so endemically characteristic to all Ringo's songwriting, "Ringo 2012" maintains a certain fluid wateriness (and no, I do not reference water in a subtle nod to "Octopus's Garden.") Ringo's songs on this effort are bouncy and light; they swim with the current in a figurative path of least resistance, leading to singles that are easy to assimilate and relaxing to absorb.
Part of the album's affect comes from the fact that Ringo and his incorporated musicians absolutely refuse to stretch a musical idea farther than it needs to go. Like a writer of short stories, Ringo isolates one idea and executes it flawlessly to its logical conclusion. This is why the tracks are mostly on the short side, with several under three minutes and none cresting five.
Also on the album, Ringo covers a couple of his own previous solo pieces. His redo of "Wings" puts a fresh twist of danceability (word I just made up,) onto a song that still bops along with the intent of the original (it could be said that all of Ringo's songs 'bop,' I suppose.)
His arrangement of the blues (originally) prison standard "Rock Island Line" comes alive under new arrangement, though it sounds suspiciously similar to Cream's memorable single "Crossroads" (which is itself a cover of blues mastermind Robert Johnson.)
The only truly frown-worthy song on "Ringo 2012" is "Wonderful," which is pretty flowery, even by the standards of a Ringo solo ballad. Plus, at this juncture in Ringo's career, it's hard to imagine a style of ballad that Ringo hasn't already composed or been part of.
The single "Liverpool" is a nicely rendered, heartfelt, reflection on not only a faraway place, but a faraway time. The song is sweet in its own reminiscent way. Much like all of the cuts on "Ringo 2012," it is a song that plays to the strengths of simple, honest, good time rock and roll. The guitar tone is excellent, the production top notch, the arrangement spotless...all necessary ingredients in the homogenous stew of rock.
Words like "sweet" and "nice" come up a lot in contemplation of this album, but it seems fitting. To discuss this work in fifty-cent words would feel pretentious, since the album itself doesn't strive for that kind of reflection or introspection. Ringo Starr, staying true to his classic idiom, has written a collection of songs that is not meant for any other purpose than to be enjoyed. That, in itself, is refreshing.