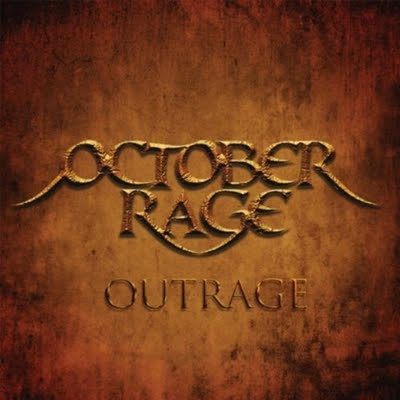 Album Review: October Rage - "Outrage"
You remember Ron Dayne? For those who don't, Ron Dayne was a running back from the University of Wisconsin, who won the 1999 Heisman Trophy and became the first round pick of the New York Giants in the April 2000 NFL Draft. For a couple years, he was loaded with promise, even being anointed as part of the Giants "revolutionary" 'Thunder and Lightning' backfield alongside Tiki Barber. (I put revolutionary in quotes because it was a scheme similar to and predated by the Oakland Raiders' effective yet un-nicknamed pairing of Napoleon Kaufman and Tyrone Wheatley, the latter of whom was also a Big 10 college product drafted by the Giants.)
Anyway, Dayne's star faded after a couple years, as it became apparent that he lacked the necessary spark that running backs need in the fast-paced NFL. The coaching staff's frequent, public complaint about Dayne, and this is the critical point, is that he had a tendency to hit the hole and then slow down, failing to burst through, generate push or turn a big play.
October Rage's album "Outrage" reminds me of Ron Dayne. It takes the handoff, locates the gap, charges into it…and doesn't break free to run amok at the second level.
The album begins full of piss and vinegar with the showpiece "Lords of Wyrd," a song that is formulaic but provides a snapshot of the promised rock and roll chaos to come. The opening two cuts are loaded with simple but punchy guitar theatrics; riffs and harmonious solos that would have thrilled arenas in the right era issue uninhibited from the guitars of Nick Roberts and Tim Ciantar.
And then the scream fades to a whisper, as "Wayside" begins a cycle of one soft ballad after another. It even has lyrics about waiting for wings to grow and learning to fly and other yearnings, but not in the style of Iron Maiden's "Flight of Icarus." What the hell happened?
This is all the more surprising from an Australian rock band. Coming from a legacy of powerhouse rockers like AC/DC, Jet and Airbourne, it seems implausible that October Rage would exemplify very few of the characteristics that made those bands famous. Not that I mean to stereotype, but it is a notable anomaly to hear and Australian group that wants to sound more like a modern radio alt-rock or alt-metal band than an Australian rock band.
The album has a brief resurgence in the second half (akin to Dayne's short-lived resurrection with the Houston Texans,) with back to back tracks "Eastern Road" and "Two-Sided Blade," two cuts that boast throaty central riffs and a greater understanding of carousing anthems. While the cuts are a little Chad Kroeger-y in execution, there's more than enough separation from October Rage and the abomination known as Nickelback to draw a clear distinction. More of these tracks, coupled with the opening pair, would have produced an album more worthy of dim beer halls and inebriated brawling.
This isn't the time for panic. October Rage's career isn't over, in fact it's barely begun, and they still have time. But to fulfill their Heisman potential, and I promise it exists, the band must get a nasty streak, burst through the seam off-guard and be ready to put a hat on somebody. It can be done, and this band can do it, but they have to want it.