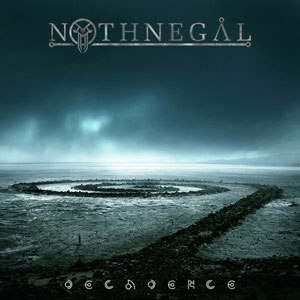 Album Review: Nothnegal - "Decadence"
Nothnegal's debut LP "Decadence" is proof positive that the technological revolution of music sharing has made world a significantly smaller place. Originating in the Maldives, a tiny island nation off the coast of the Indian sub-continent, Nothnegal comes from a land of only three hundred thousand people, and no discernable history of heavy metal.
Yet Nothnegal, for a young band on the up, knows how to present themselves well. Blending elements of traditional heavy metal and early industrial with modern death metal, the band then tosses in just a touch of unique arrangement and progressive styling.
The injection of a spacey, echoed keyboard into songs like "Claymore" lends Nothnegal's album a layer of atmosphere that most bands can't capture on their debut full-length. This atmosphere lingers wonderfully over much of the album, and serves to separate Nothnegal from the crowd of otherwise unremarkable new metal bands.
The buzzsaw guitar backing on "Janus" helps to highlight and accent the more hollow elements of the song, giving the thin piano line and robust percussion a chance to play together. This lends this piece a solid chunk of the aforementioned progressive affect, but it doesn't seem totally complete. Not as herky-jerky or time-signature obsessed as prog can be, one is forced to wonder if Nothnegal is less influenced by that genre and perhaps more colored by the traditional music of their native homeland.
The title track is of particular note because of the percussive performance of American drummer Kevin Talley. His fills and snare on the entire course of the album are tight with precise timing, but on this particular cut he truly cuts loose to create something more than a simple backbone for the rest of the band. Talley comes from a pedigree of Daath, Dying Fetus and Chimaira, though his work on this album is superior to his career with any of those three bands. His drumming is the linchpin that holds the entire "Decadence" experience together.
One of the more impressive aspects of Nothnegal's music is their ability to change gears and transition from an intricate display of artistry to a furious stomp in a matter of seconds. To listen to the back half of "Armageddon" is to hear the band drop into a chug and bring it heavy for the mosh pit.
For a debut album on a relatively small label (Season of Mist,) "Decadence" is fairly well produced. The tones are even, the staccato drum bursts are distinct and sharp, and no instrument ever dominates the mix. There are a few soloing spots where I would have liked to see the six-string elevate above the rhythm, but the solos are far from buried in any event.
The downside here is that the vocal performance is sub-par. In what may have been a move to sound more attractive to the mainstream metal audience, vocalist Affan opted for a rather bland pastiche of guttural utterances. The album's last two cuts feature a vocal style that sounds suspiciously close to Josh Homme, which is a pleasant twist, but still doesn't improve the album overall. Affan's vocals are neither interesting nor particularly unique; they exist only to convey words, not add to the sound or overall dynamic of Nothnegal.
Partially as a product of the same-sounding vocals, the songs on "Decadence" do start to run together. By the time you reach "R.A.D.A.R," a song well assembled into a couple of acts, you're not sure exactly how many songs have gone by.
"Decadence" is an enjoyable album that is undeniably heavy, but glides by without sounding overly labored or particularly weighty. Nothnegal is a new band that brings a lot to the table while taking very little off of it, and this band and album are worth your investment if you're looking for a change of pace from half the world away.