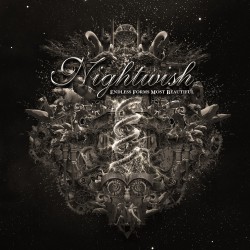 Album Review: Nightwish - "Endless Forms Most Beautiful"
For as much flack as I got about my interest in heavy metal as a youth, it has done more to expand my intellectual horizons than any teacher I've ever had. Were it not for Metallica's "For Whom The Bell Tolls" I would probably not have discovered the work of Ernest Hemmingway. Chances are I would not have sought out the Samuel Taylor Coleridge poem "Rime of the Ancient Mariner" if not for the Iron Maiden song of the same name. Art and literature have often been part and parcel with heavy metal music.

Continuing the tradition, or perhaps taking it to an extreme, is the new record from Finnish symphonic metal band Nightwish.

Symphonic metal, by the way, is a genre that incorporates elements of classical music with what we traditionally think of when we think "metal".

There has long been a correlation between metal and classical music but Nightwish incorporates actual orchestral instruments in their songs and according to their bio "proudly features the participation of London's The Metro Voices choir group, London's Young Musicians Children's Choir, and the Orchestre De Grandeur led by the esteemed orchestral arranger Pip Williams, who teaches Music and Music Technology at the London College of Music".
That's a lot of guest musicians.

Nightwish is a female fronted band that has been around for a number of years and has gone though a number of personnel changes in that time, not the least of which is their new lead vocalist Floor Jansen. I'm a fan of Jansen's work with ReVamp so I was excited to hear her work on the new Nightwish album, "Endless Forms Most Beautiful".

The title of the album sort of gives it away. There's a theme running throughout "Endless Forms Most Beautiful". That theme is beauty, inspired by the works of American poet and essayist Walt Whitman, English author and journalist Christopher Hitchens and English evolutionary biologist and writer Richard Dawkins. Dawkins, by the way, also plays a more direct role on the record but more about that later.

There's some pretty deep stuff going on here.

In addition to the aforementioned Jensen, Nightwish is comprised of founder and keyboardist Tuomas Holopainen, guitarist Emppu Vuorinen, Marco Hietala on bass, drummer Jukka Nevalainen and, also new to the band, Troy Donockley who plays, among other things, uilleann pipes, tin whistle and bouzouki.

Clearly, these folks are serious about creating complex, multi-layered music.

The music Nightwish has composed for this album is upbeat, heavily influenced by classical style compositions and metal. And, to clarify, by "upbeat" I mean it has a very positive, uplifting vibe throughout but that's to be expected from the "Endless Forms Most Beautiful" theme.

With a running time of nearly 80 minutes, Nightwish packs a lot of punch into the album. It would take far too much space to break down each track in this review so I'll just hit the highlights.

The record kicks off with a song titled "Shudder Before The Beautiful". The intro of the song is spoken word narration by Richard Dawkins before it slams into a high intensity musical hook that reminded me of the theme song from the "Mortal Kombat" movie. Then the beautiful vocals of Floor Jensen joined in and knocked me back to reality. The song is thick with instrumentation, keyboards, and the metal guitar of Vuorinen. There's a lot going on but the roots of the band are clearly based in metal.

One of the more rockin' numbers is the title track "Endless Forms Most Beautiful". This song, as well as many of the others, is hook-laden with catchy riffs and memorable vocals. That's not such an easy feat when your chosen style is symphonic metal. Again, Jensen does not fail to impress with every note she sings.

The album concludes with the 24 minute epic "The Greatest Show On Earth" once again featuring Professor Dawkins reciting the Charles Darwin passage from which the album took its name. "The Greatest Show On Earth", by the way, is also the title of Dawkins 2009 book on evolution.

"Endless Forms Most Beautiful" is as much a film score (without the film) as it is a heavy metal album and Nightwish are storytellers as much as they are a heavy metal band. As one of the top bands in Finland they have received over sixty gold and platinum awards for their work and this latest album goes a long way toward explaining why and how. Creating a metal album based on literature and science is a daunting task but Nightwish has accomplished that very thing seemingly undaunted.

It's heady stuff but if you're the type of metal fan that enjoys exploring the boundaries and doesn't mind a bit of culture mixed in with your metal then give this one a shot. You might just learn something.