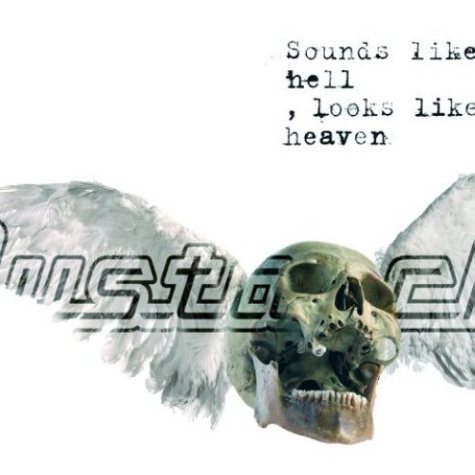 Album Review: Mustasch – "Sounds Like Hell, Looks Like Heaven"
Mustasch, a heavy metal band from Sweden, has been around for a long time; too long, in fact, for them to be not be better known in the rest of the world. After seven albums, tours with the likes of Motörhead, three Swedish Grammy nominations and one victory to the tune of "Metal Album of the Year" in 2008, you would think Mustasch would be about as close to a household name around the world as heavy metal bands get these days. However, despite their Scandinavian success, Mustasch have yet to take the world by storm. Now, with thirty-five minutes of new music more than a decade after the release of their debut album, Mustasch has finally released the record to do just that.
Opening with the fast-paced and therefore appropriately named "Speed Metal," Mustasch wastes no time introducing new listeners to their musical intensity. For the first ten seconds, listeners are thrown into the middle of an industrious rehearsal filled with cymbal crashes and fast finger work on the guitar neck. There's a muffled quality to the jam, however, as if Mustasch was performing in the basement of the home next to yours. Then, suddenly, the veil of earth and concrete is lifted and "Speed Metal" explodes in your ears with crystal clarity.
In Mustasch's home country, "Sounds Like Hell, Looks Like Heaven" has already sold enough copies for gold status. Although the album's rousing opener certainly takes nothing away from the release, lead single, "The Challenger," was many listeners' first taste of Mustasch's new material and is likely one of the largest contributing factors to this record's early success. Musically, "The Challenger" is relatively straightforward; taking advantage of a standard verse-chorus-verse-chorus song structure. However, metal does not have to be completely original or groundbreaking to keep people listening. The beat laid down by drummer Jejo Perkovid beckons every listener to bang their head along while the guitars and bass keep the track driving forward. Along with a relatively short guitar solo, Mustasch utilize one of the most common formulas for building a song in rock, but their execution of it is so precise and exciting to listen to that it still manages to sound fresh.
Although the guitar, bass, and drums each share moments of brilliance on "Sounds Like Hell, Looks Like Heaven," it is lead singer Ralf Gyllenhammar who truly steals the show. The sinister edge to his voice has always been perfect for the genre, but after seven studio albums Gyllenhammar has never sounded better. Mixing engineer Stefan Glaumann, who has worked previously with Rammstein, Europe, and Apocalyptica, has done a phenomenal job finding the right balance between band members, which allows Gyllenhammar to shine regardless of the style of vocals he chooses.
Take "It's Never Too Late," for instance. At over five minutes in length, "It's Never Too Late" represents the longest track on the album, but this is due to a back and forth between two very distinct musical sections. The track opens quietly with a calm and collected Gyllenhammar singing rather sweetly about skeletons. The reverb applied to his voice at the beginning offers a pleasant entrance without taking away from the guitar work setting the mood. Once the lyrics should start being the focal point, however, that reverb is pulled back, adding just enough clarity to his vocal track. Suddenly, the track takes a hard turn into heavy metal and Gyllenhammar's voice instantly switches from Jekyll to Hyde. Glaumann's mastery of his craft makes this entire process seamless; giving each transition throughout the track a feeling of belonging.
Throughout "Sounds Like Hell, Looks Like Heaven, Mustasch utilizes a wide variety of heavy metal styles. As listeners peruse the nine rock anthems, similarities can be pointed to everyone from Black Sabbath to Metallica to The Scorpions and almost anyone in between. "The Challenger" may have been the first single, but any of these tracks could be the next; it's that consistently good. Those familiar with Mustasch's previous albums may prefer the raw edge of their early work, but the added clarity heard here might just be their ticket to the top.