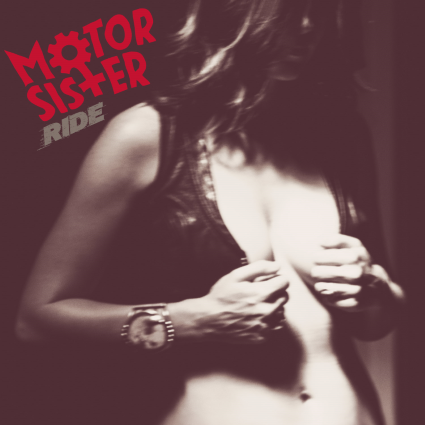 Album Review: Motor Sister - "Ride"
30 years ago, I never would have guessed that Scott Ian of Anthrax would become the Renaissance man that he is today. Musician, lyricist, television host, poker player, spoken word performer, father and now guitar player for the rock and roll band Mother Sister.
It's an interesting story how Motor Sister came to be. But first, who is Motor Sister? Motor Sister is a band comprised of Scott Ian, drummer John Tempesta (White Zombie, Testament, Exodus, The Cult), bassist Joey Vera (Fates Warning/Armored Saint), vocalist Pearl Aday (daughter of Meatloaf and also Scott's wife) and Jim Wilson of Mother Superior.

If you're not familiar with their work, Mother Superior was an L.A. based rock/blues band who debuted in 1993 and broke up in the early 2000's. Jim Wilson and Mother Superior, in addition to their eight studio releases, have been the backing band for Henry Rollins as well as working with Lemmy, Queens of the Stone Age, Alice Cooper, Meat Loaf, Emmylou Harris, George Clinton and Iggy Pop. An impressive resume.

As it turns out, Anthrax guitarist and goatee aficionado Scott Ian is a big fan of Mother Superior so, for his 50th birthday, he wanted to jam with the band. His wife Pearl had been working on her solo career with Mother Superior guitarist and frontman Jim Wilson so she set the whole thing up. Scott brought in Joey and John to assist on the jam and a great time was had by all.

Apparently, it was so good that the group decided to do an album of Mother Superior songs for release. The album was recorded in two days and the results are what you have here on an album called "Ride".

The name Motor Sister, by the way, was taken from the Mother Superior song "Little Motor Sister", a new version of which is included on this disc.

As I mentioned, the songs are not new but they are represented in a new way. Mother Superior was a three-piece outfit with Wilson playing all guitar parts, over-dubbing the rhythm parts in the studio. Now, with Scott Ian playing rhythm guitar, the songs are fuller and, dare I say, more complex.

Wilson says, "Now, there's definitely a metal edge to these songs. It's still blues-soaked rock and roll influenced by Zeppelin and the Stones. But it's so great having Scott's guitar in the mix... I've never heard these songs sound more exciting."

"The minute I started to play with Scott, Joey and John the chemistry was amazing," Wilson says. "We sounded like a band that had been together forever. It was fresh, it was powerful. The original band had moments, but it was a power trio and it just never got its due."

Apparently, Ian chose the 12 songs included on "Ride" and, as Jim Wilson says, "...it was like we were putting a fresh coat of paint on these old songs that still held up."

The songs on "Ride" are blues-infused rock and roll in the tradition of Cream, KISS and Humble Pie with modern production and just a touch of heavy metal edginess. I'll tell you this... those Mother Superior boys sure knew how to write good songs. Motor Sister performs them almost note for note and if you didn't know you'd never figure they were 15 to 20 years old. Oh, and they rock.

To choose a favorite song from "Ride" would be futile. From the opening "A-Hole" to the Vanilla Fudge-esque "This Song Reminds Me of You" to the rockin' and reelin' "Fork in the Road", each one is a winner. Great melodies, stunning harmonies, just the right amount of crunch in the guitars and the seasoned musicianship of Vera and Tempesta come together to form superbly crafted and energetically performed rock and roll magic.

Wilson explains, "I enjoyed playing these songs with Motor Sister more than I've ever enjoyed them before. Scott's like a brother, John Tempesta is such a monster drummer, Joey [Vera] is incredible and Pearl's harmonies and background vocals are amazing. This feels like a continuation of trip I started long ago and it's a real blessing."

Scott Ian says his favorite song on "Ride" is the last song, "...'Devil Wind' because there's something so epic about it. If they ever finally make 'The Dark Tower' by Stephen King into a movie or TV series, 'Devil Wind' should be the theme song."

With its fast-strumming acoustic intro, "Devil Wind" contains some of the most powerful vocals on the album, subtle harmonies and a heavy, HEAVY breakdown throughout. Plus, Tempesta really puts his drums to the test with fast rolls and thundering fills. It's no wonder it's Scott's favorite.

Simply put, Scott Ian's birthday wish has given us all a gift. Motor Sister has brought new life to the Mother Superior catalog. I, for one, have already begun digging for the original source material and look forward to hearing more from this birthday band. Perhaps a live performance?

"We are a great live band" Ian says. "We proved it to ourselves in my jam room. It was our ability to play live together that made this happen and I can see us getting onstage and playing this shit back-to-back, Ramones-style, and just blowing people's minds with the power of these songs". Ride Motor Sister... ride.