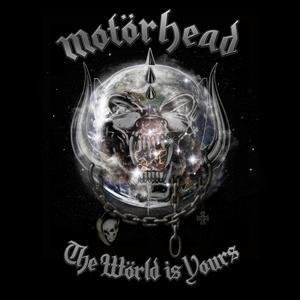 Album Review: Motörhead - "The Wörld is Yours"
Among the fan circles of hard rock and heavy metal, only two names imply the kind of ultimate, all encompassing, you-know-what-to-expect legacy that is earned through a career of unflinching consistency. AC/DC, the forever hard-charging and ageless band from Australia is one. Motörhead, the heavy drinking, tough as nails biker-club outfit from England is the other.
The latter's new release "The Wörld is Yours" is another entry into that legacy, and customary to idiom for Motörhead, is strong on character and low on depth. In this instance, that's a particularly good thing.
Beginning with the immediate double blast from veteran (to put it mildly,) Mikkey Dee, the party stars with "Born to Lose," a song borne from Motörhead's simple but effective formula; light double kick to keep pace, power chords blasted through with authority, and good rock and roll sense. It's got a solid cadence coupled with an artistic (for Motörhead) bridge and some fancy guitar work. It's like a redux of the classic "Overkill," but for the new millennium.
As the tracks rolls on, it becomes evident that "The Wörld is Yours" is an entire album celebrating the more frivolous aspects of life and doing so with stentorian fervor. In truth, Motörhead would have it no other way and neither would the band's fans. It's been nearly thirty years of the same bombastic, outgoing music from Lemmy Kilmister and company, with little reason to change a winning formula.
Like all of Motörhead's better works, "The Wörld is Yours" is loaded with songs that are similar but different. Some, such as "Brotherhood of Man," have an edgier, more new age feel, while "Bye Bye Bitch Bye Bye" is a swingin' rock parlor speedfest, a la AC/DC's "Rocker." The common thread is the underlying vein of old-fashioned but never out of style, 1970's arena-blasted, loud-as-hell power rock. To that end, the album's music from beginning to end is comfortable without being docile and is pleasantly familiar to both us as listeners and the band as performers.
While "The Wörld is Yours" will never challenge something like "Ride the Lightning" for sheer ferocity, that doesn't mean it lacks in power. "I Know How to Die" is a throwback that surges into the upper ranges and could drag an approving smile out of all but the most cynical metal heart. The same rings true for "Get Back in Line," which fits into the same groove that Motörhead mastered so long ago with "Bomber" and "Ace of Spades." Young up-and-comers would do well to learn from Motörhead's lesson; that speed or vitriol doesn't always equal effective potency.
Motörhead has always been possessed of an inimitable quality that has continually eluded lesser mischief-centric rock metal bands like Broken Teeth. Some of it is derived from the charismatic anti-charisma emanating from Lemmy himself, but there's also a companion feeling in their music which has kept Motörhead feeling relatively fresh for so long. It could be something about the tone or the timbre or the simplicity of the remarkably accessible songs. On the other hand, it's easy to over-think Motörhead and their new album "The Wörld is Yours," and maybe it simply is because it is.
At one point in "Rock and Roll Music" Lemmy sings: "Rock and roll music is a true religion….do it 'til the day I die." That statement is both so profoundly honest and refreshingly simple that it appeals to the hearts of all fans of rock and roll from any generation. This is Motörhead, period. Enjoy it while it's here and don't ask questions.