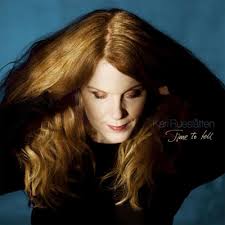 Album Review: Kari Rueslåtten - Time To Tell
One of the more welcome developments in recent years in the corners of rock and metal that we cover is the increased number of women taking up the cause. Whether it's the siren singing in bands like Epica and Nightwish, or the more belting vocals of singers like Anneke Van Giersbergen and Dilana, the number of women whose voices power the albums I hear is a refreshing change of pace. There are times when it is clearly a marketing ploy, but for the most part, a woman's voice is able to bring a new and different feeling to the proceedings.
One of the trailblazers of the current crop of female singers is Kari Rueslåtten, the former singer of doom metal band The 3rd And The Mortal. She fronted the band at a time when it was not widely acceptable for women to have a role in a metal band, and though she has spent most of her career as a solo artist, her importance must be noted. "Time To Tell" is her first album in nine years, a stripped-down affair that puts her voice and her songs at the forefront.
The title track opens the album in a peculiar fashion, a short track with just Kari's vocal and a piano, one that is more about setting a mood than providing much substance. It's pleasant, but an odd choice to be the first thing you let listeners hear. Fortunately, "Hide Underneath Bridges" makes me forget about that misstep rather quickly. With acoustic guitars and subtle instrumentation, it's a very subdued track that doesn't do anything to show up Kari's voice as she sings a lilting melody that is both sweet and endearing. The word that comes to mind most of all is 'stately', if that makes sense.
"Time To Tell" is a polished album of songs that show the difference between being a singer and being a vocalist. As sparse as the arrangements on the album are, it would be easy for a vocalist to try to overpower the songs, to seize the opportunity to dominate the mix. It would be easy, but it would also be foolish. A singer needs to truly understand the songs she sings, a trait Kari displays throughout these songs. Though she dips into her falsetto in "Paint The Rainbow Grey", she does it because it's the only way to express the pain her voice is putting forth, not because she's showing off. Her delivery throughout the album is restrained in all the right ways, letting the beauty in her tone stand in place of the vocal theatrics we've come to expect of any female singer these days.
"Hold On" and "Rainy Days Ahead" are beautiful melodic pop songs, but are ones that prefer to linger and wait their turn in your mind, rather than force themselves to be heard. There's a nuanced grace to these songs that is appealing, as though they know you will eventually come around to them without being told to. It's an approach I fully endorse.
The one thing I have to say in a slightly negative light is that "Time To Tell" is not an album for all moods. These are not songs that fit all occasions, and there will be times when it is the last thing I would want to hear. That doesn't discount the fact that when those moods strike, it is a wonderful album for reflecting those moments. "Time To Tell" is perfect for what it is.