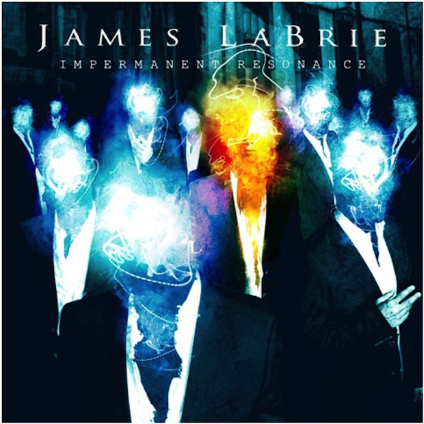 Album Review: James LaBrie - Impermanent Resonance
James LaBrie's last solo album, "Static Impulse", answered a question I'm not sure had ever been asked: what would it sound like if LaBrie fronted Soilwork? Far from his progressive metal roots, "Static Impulse" was a modern metal album in every facet, blending melodic choruses to state of the art riffing and juxtaposed screaming vocals. More than a shock to expectations, the album was a surprisingly effective vehicle for LaBrie, and was better than I could have ever imagined such an effort being.
This time around, LaBrie and songwriting partner Matt Guillory have upped the ante in every respect, making the album more of everything "Static Impulse" was. The melodies are bigger, the scope larger, and the modern aspects heightened by the helping hand of former Soilwork guitarist/songwriter Peter Wichers. "Impermanent Resonance" takes the 'more is more' approach, and makes "Static Impulse" look like a warm up act.
Opening track "Agony" is the turning point, a deceptively heavy song with plenty of drummer Peter Wildoer's screamed vocals, along with a subtle melody that gets stronger the more you hear it. It's a song that would have fit in perfectly on "Static Impulse", but is only the tip of the iceberg this time out. From the second song onwards, "Impermanent Resonance" is the perfect fusion of modern heavy metal, hard rock, and pop songwriting.
Songs like "Undertow" and "I Will Not Break" are uncompromising in their dedication to being heavy, but they blend the percussive fury with soaring and sticky melodies in a way that you just don't hear anymore. And then there's a song like "I Got You", which is a great pop song wrapped up in metal veneer. If you tempered the guitars and gave it to a pop singer, it would sound like a sure-fire hit.
Sure, there's something to be said about "Back On The Ground" being too cheesy for it's own good, but that misses the point. First of all, the song is so melodic that any lyrical sins can be forgiven. But more than that, all heavy metal is cheesy. Whether the swords and dragons variety, or growling like you're trying to be a demon, there's nothing about metal that doesn't embrace the ludicrous. The only perceived sin "Impermanent Resonance" commits is being too catchy for the most ardent of metal fans.
A few years ago, Bloodbound released "Tabula Rasa", which at the time I considered the epitome of what modern heavy metal could, and should, be. It was heavy, featured great guitar playing, and didn't skimp when it came to crafting memorable vocals and melodies. It was immediately a favorite of mine, and still remains one of my absolute favorite metal albums. I mention this because "Impermanent Resonance" is the closest thing anyone has released to that masterpiece since it's arrival. Simply put, James LaBrie and company have made as good a metal album as is possible, at least in my eyes.
LaBrie and Guillory honed their focus on vocal melodies, building many of the songs around them, and it shows. This set of songs has a decidedly pop flare, but anyone who says that's a bad thing is fooling themselves. Top to bottom, these are some of the catchiest songs you're going to hear. Every song on the record has a great hook to go along with the amazing guitar playing, striking just the right balance. It doesn't hurt that LaBrie turns in maybe his best performance here, sounding better than ever on these songs. His voice can be a sticking point for people getting into Dream Theater, but these songs fit his voice like a glove, letting him show that he is a great singer.
I thought "Static Impulse" was a really good record when it came out, but I didn't see it leading to something like this. "Impermanent Resonance" is better than that one in every respect, is easily James LaBrie's best solo outing, and gives almost all of Dream Theater's albums a run for their money. In fact, his main band is going to have a hell of a time topping this with their new album. Simply put, "Impermanent Resonance" is the closest thing you're going to get to heavy metal perfection this year.