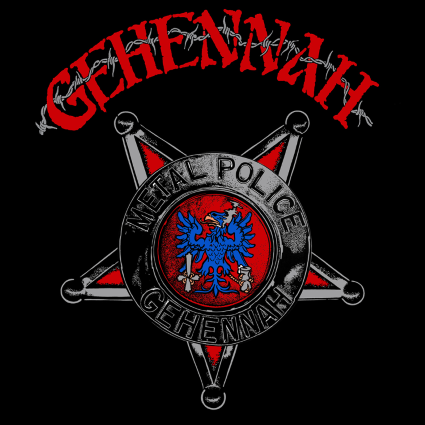 Album Review: Gehennah - "Metal Police"
Sometimes when I hear a band for the first time I find myself thinking about their motivation. Why did they choose this style of music? What is their ultimate goal for the band? For example, when James Hetfield and Lars Ulrich started Metallica their stated goal was to create the greatest rock and roll band in the world. Other bands have slightly less lofty goals such as, "I just wanna rock and roll, man".

On a personal note, back in high school my friend Jeff wrote a comic book about a heavy metal band. The comic was called "Loud, Messy and Meaningless" and the subject of the book was a band called "Thrashing Doom". Jeff and I thought it would be a hoot for him to offer a recording of the band along with the comic book so we drafted our buddy Jeff (yes, two Jeffs and me) and started a band.

The fact that none of us played musical instruments did not dissuade us from our goal. We were in it to have fun and create music that was, well, loud, messy and meaningless. And so we did.

The band lasted longer than the comic book but didn't follow us past high school. It turns out life (and my infatuation with a certain female) can get in the way of a band's success.

By now you're asking, "Wizard, is there a point to all of this?". There is. The band I've been listening to this week is the Swedish thrash band Gehennah. They're a band who apparently started out with the intention of being a Venom cover band but decided to write their own songs instead.

According to their bio, when they hit the scene in 1995 "... atmospheric black metal and melodic death metal ruled the metal underground, Gehennah's filthy street thrash stuck out like a sore thumb".

Filthy street thrash; a new genre.

And filthy street thrash describes this band perfectly. Clearly, Gehannah has been around the block a few times and they've seen a few personnel changes along the way. The current lineup consists of Mr. Violence on vocals, guitarist Rob Stringburner, Hellcop playing drums and bassist Charley Knuckleduster rounds out the four piece.

They've decided to call their newest record "Metal Police" and I have to admit I like the way they're doing what they do.

Technically, this record is a re-release of Gehannah's 2014 four song EP also titled "Metal Police" with two additional songs from the "Metal Police" session as well as six re-recorded songs from the band's '90s albums.

That helps explain why I thought the songs have a '90s feel and attitude about them. Songs like "Piss off, I'm Drinking", "Bitch with a Bulletbelt" and "Six-Pack Queen" (You're not the cutest thing that I've ever seen but you're still my Six-pack queen) really take me back. You just don't hear songs written like that these days. At least I don't.

Gehennah could easily be the band featured in the aforementioned "Loud, Messy and Meaningless". Messrs Stringburner, Knuckleduster and Hellcop do a fine job of creating a garage band sound in the studio. It's messy (in a good way), fast and has a punk/hardcore feel while remaining firmly rooted in thrash.

The vocals of Mr. Violence are aggressive and "growly", for lack of a better word. They're the type of vocals where you only understand every third word and those are usually a curse word (there are a LOT of curse words). While his singing style fits the music very well, I'm not a big fan of this type of vocalizing but I'm certain Mr. Violence doesn't give a crap what I think. Anyone who pens a song called "Carve off Your Face (And Shove It up Your Ass)" clearly is not concerned with what others have to say about their style.

Gehennah most definitely falls into the "I just wanna rock and roll, man" category. They don't seem to have aspirations to be the best damn rock and roll band in the world but they're having a good time. Based on the "Metal Police" song list, they enjoy writing and performing songs about rocking, partying and living the life they sing about as demonstrated in "Four Knuckle Facelift", "Black Jack Loser" and "666 Drunks & Rock n' Roll".

One thing's for sure, they're not reinventing the rock and roll wheel.

Gehennah is currently at work on their fourth full-length studio album which should be released later this year. In the meantime, they've given us this extended version of "Metal Police", which was their first recording in 11 years. If dirty, filthy, Swedish street thrash sounds like something you'd be into then check out Gehennah. But even if you don't, I don't think the boys care much anyway. They'll just keep on rockin'.