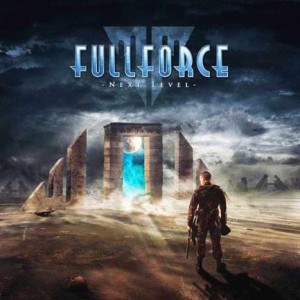 Album Review: Fullforce - Next Level
One of the things that irritates me about the metal scene is the habit of making everything sound like a bigger deal than it really is. I'm referring mostly to the incessant need to label any project that features people who have been in other bands as a 'supergroup'. The bands that actually deserve to be called that are exceptionally rare, and the cluttering of the scene with dozens who wrongly wear the moniker only serves to make me even more upset when the end result turns out to be lackluster.
I say this because Fullforce is one of those bands that could be called a supergroup, if you're going to be liberal with the term. Boasting in its ranks singer Michael Andersson from Cloudscape, as well as current and former Hammerfall members Anders Johansson and Stefan Almgren, the melodic metal sensibilities of the band aren't to be questioned. These are pros who know what they're doing, who happen to be doing the same old thing with some new people this time around.
That makes it sound as though "Next Level" is nothing special, which in all honesty it isn't. "Next Level" is a collection of the same sort of traditional heavy metal with big melodies that bands like Hammerfall have made their stock-and-trade, with little to separate themselves from the clichéd aspects of the genre. "Broken Dreams" might come out of the gate sounding like the closest thing to Motӧrhead power metal is ever going to get, but when it opens up into a saccharine chorus, we're comfortably back in the confines of power metal as we've come to know it.
That sense of familiarity is both the best and worst thing going for "Next Level". The album is enjoyable because you know what you're getting even before pressing play, a solid set of songs that offer big chorus after big chorus, wrapped up in a nice little metal bow. But that's also a deterrent, since if there's absolutely no surprises coming, there isn't much incentive for listening to this album over any of the similar ones you may already have in your collection, especially if any or several of them are Hammerfall albums.
That group looms large over the proceedings, and not just for the shared members. Everything about the songs, from the stereotypical tones, to the riffs and pacing, to Andersson's vocals, sounds as though it came off a Hammerfall record. For fans, that will be a blessing. But when trying to figure out if Fullforce has an identity of their own, it makes it hard to determine just who they are.
Songs like "Back To Life" and "Smile At The World" are solid compositions with plenty of big hooks that would have filled stadiums in an alternate reality. Others, like the relatively tuneless "Hate... Love... Drop It", offer very little besides faux-attitude. And therein lies the issue I have with "Next Level". The songs where they allow themselves to spread their wings melodically are enjoyable enough, but large portions of the record are hell-bent on plodding through 80's style traditional metal, the kind that was known for riffs and not for songs.
The riffs that Fullforce produces throughout the record aren't strong enough to anchor the songs without a vocal to tower over them and dig in, which too few are able to achieve. "Next Level" is a hybrid of traditional and modern power metal that tries to pander to an audience I'm not sure exists. Guitar fans aren't going to be overjoyed by the playing on the record, and melodic fans aren't going to find many of the choruses as addictive as expected. "Next Level" takes the weaker aspect of the two styles, mixes them together, and underachieves all along. There are flashes of good songs, but not enough that follow through.