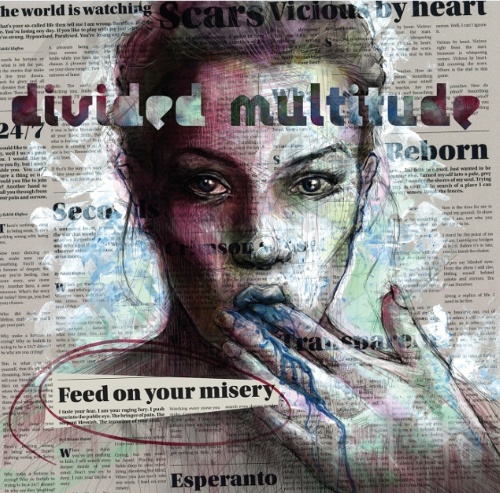 Album Review: Divided Multitude – "Feed on Your Misery"
Getting their start in 1995, Norwegian band Divided Multitude is coming up on twenty years in the music business, but "Feed on Your Misery" represents just their fourth album in that time. With all the pressure surrounding Progressive Metal artists, however, it's hard to blame them.
Progressive Metal is a difficult genre to break into. For starters, you have to compete with the catalogues of Dream Theater and Queensryche, but then you have to be creative enough to satisfy fans of the genre. Progressive Metal isn't for everyone, so to come up with new material for an audience that searches for equally technical and captivating music is an uphill battle. For "Feed On Your Misery," Divided Multitude remains as technical as ever while incorporating elements of mainstream rock in an effort to capture a broader fan base.
Opening with "Esperanto," Divided Multitude starts things off in somewhat confusing fashion, offering listeners their own unique take on flamenco music. It doesn't last long, only 56 seconds total, but it still sends listeners a clear message to expect the unexpected. Then, after a little Spanish flair, it's off to the races.
The remaining 10 tracks on the album average over six minutes in length, pretty standard for a progressive metal album. The nice thing about this length is it allows the band to build upon an initial idea, adding all kinds of solos and flourishes along the way, without becoming boring for the listener. The only problem here, however, is that many of the selections heard on "Feed on Your Misery" end up sounding similar to each other when the album is played straight through. Suddenly, each song begins to drag out and standard tricks like tempo and key changes begin to lose their charm. Although the album still offers plenty of variety from track to track, the differences become harder to discern on repeated listens.
Divided Multitude starts off strong with the title track, a fast-paced thrill ride of kick drums, heavily distorted guitars, and Sindre Antonsen's two-faced vocals; he switches back and forth between a low, gravelly delivery and vibrato-accentuated clarity. Although the limits of his range bleed through the mix on the high notes, the remaining members compensate for Antonsen's shortcomings with brilliant harmonies. Even on the album's lead single, "Scars," Antosen's limitations are prevalent, but the chorus remains one of the most captivating of the release thanks to the band's harmonization.
Although the progressive rock label may immediately turn off fans of mainstream, more traditional metal, they may still want to give this release a chance thanks to quality guitar work from Christer Haroy. "2 4 7," for instance, expertly matches the guitar and kick drum rhythmically while offering the perfect head-banging anthem for Divided Multitude's next tour. Although Eskild Kloften's progressive rock keyboard lingers throughout the track, it never oversaturates the metal. The same holds true for most of "Feed on Your Misery." Kloften's presence is always felt, but only when a solo is called for does he ever stand out.
Now that both Dream Theater and Queensrych seem to have exhausted their creative juices, it's time for a new progressive metal era. Despite the album's occasional weaknesses, "Feed on Your Misery" is still one of the better progressive metal releases in recent years and Divided Multitude manages to incorporate enough additional musical elements to earn the genre some new listeners. Previous fans of the band should not hesitate in picking this record up, but everyone should at least give it a chance.