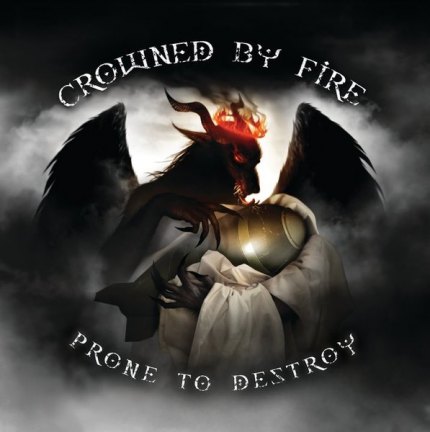 Album Review: Crowned By Fire - "Prone to Destroy"
Crowned By Fire's "Prone to Destroy" is an album that makes connections with all the touchstones of basic, straight up heavy metal. No flowery dalliances, no tangential expositions, no long, emotive complexities. Just guitar, bass, drums and vocals, all locked together with a growling attitude and a blues-backed sensibility.
Each track contains recognizable elements of the truest, original heavy metal idioms. The album is so intimately tied to these ideas that the entire effort sounds like what would have happened if the rhythm section from "Danzig III" had recorded an entire album of Black Sabbath covers. Both "Sex With a Ghost" and "Witch in the Window" ooze with the kind of downbeat that makes blues metal so accessible at the outset. "Prone to Destroy" is complete with heavy riffing, guitar fuzz and drawn-out dirges.
The principle achievement of "Prone to Destroy" is the deliciously punishing "Get Under the Dirt," a song with equipped with vocal authority and the bassy backbone to back it up. The title comes through in the track not as a suggestion, but as an order.
There are cuts up one side and down the other of "Prone to Destroy" that sneer wickedly in both intent and execution. Whether the ambling, dirty twang of "Black Moon Shine" or the amped out power surge of "Shake the Bag," Crowned by Fire understands their genre and presents it uncensored, loud and profane.
What makes Crowned by Fire most novel than just another blues-metal band is that they follow the logical chain and seamlessly incorporate the statutes of both stoner metal and Kyuss-style desert rock into their sound. The end result is a full-bodied, somewhat variable experience that can either bring the hammer with double kick punishment or lay a foggy, dense groundwork with de-tuned guitar.
There are imperfections with "Prone to Destroy," first and foremost of which is that there is fat that could be cut out. As a product of Crowned by Fire's nature, the stoner metal occasionally takes over and leaves some pieces longer than they should have been, particularly the pieces that lack variety.
Additionally, Crowned by Fire's appeal to baseline metal ideals without adornment makes some of their tracks sound overtly similar to songs from other bands. To posit an example, "Vulture With a Rifle" sounds like the child of Scissorfight's "Blizzards, Buzzards, Bastards" and Five Finger Death Punch's "Canto 34." So long as the band sticks to this musical pattern, it is inevitable that any of their pieces using certain chord structures will sound like every other song using that same structure. There are moments where the listener will hear echoes of Fear Factory, Deep Purple, Viking Skull, The Cursed and a hundred others.
In the end, this is old school bare bones heavy metal in its purest form. It is always refreshing to hear a band keeping the tradition of original metal alive, especially an act that plays so close to the textbook entry like Crowned by Fire does. A great album for all metal occasions, "Prone to Destroy" is a headbanger's delight and a definite recommendation for all fans of Black Sabbath and other blues metal throughout the years.