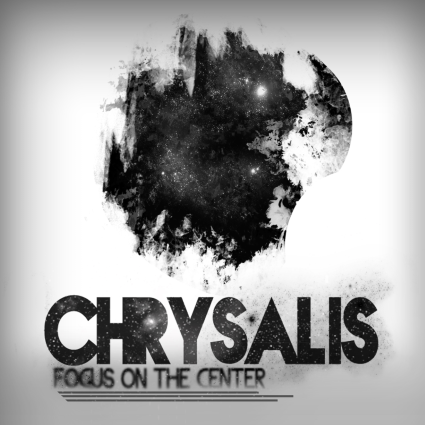 Album Review: Chrysalis - "Focus On The Center"
This week we have another band that is not new but is new to me. It's California's own experimental-alternative-progressive metal band Chrysalis. An internet search will lead you to no fewer than four bands named Chrysalis, two from Germany, the oldest, dating back to the 60's, from Ithaca, NY and the one I'm listening to now from Southern California.

This SoCal incarnation of Chrysalis is a five member group comprised of vocalist Yessi Burton, guitarists Gabe Gallego and Gabe Julian, Jared Sturgis on bass and drummer Billy Norris.

Chrysalis' latest album is called "Focus On The Center" and it's an eclectic blend of musical styles from straight forward rock to progressive metal, a hint of reggae and a splash of pop. The result is just under half an hour's worth of musical variety and complexity.

"Focus On The Center" starts off with a little ditty titled "Sounds Of The Playground". The initial electronica influenced "snap drum" sound leads us into an up-tempo rock and roll song that sounds, just for a moment, a bit like RUSH starting a new, much heavier chapter in their career.

The Chrysalis bio doesn't specifically mention RUSH as an influence but a few times throughout the record I found the comparison to be undeniable. That has as much to do with the progressive nature of the songs as it does the vocal similarities between Burton and Geddy Lee. There are just a few moments when part of a Chrysalis song sounds like RUSH pushing their metal boundaries and Lee adding death metal screams to his repertoire. By the way, that's not such a bad thing.

The next cut, "Thoughts Behind", begins to bring the experimental/ progressive sound of Chrysalis more to the front. The time signatures and chord progressions grow more complex and the juxtaposition of Burton's clean singing style with his aggressive style adds yet another layer to that complexity.

Then there's a song like "Ms. Me" which is straight-up, in-your-face metal at the front adding more acoustical elements later on and incorporating pieces from Alfred Hichcock's "Psycho" trailer narration to great effect.

"Tumbula" is a nice addition to the record. It's an instrumental number that showcases the musical talents of the rest of the band. It's similar in feel to something you might hear from "Animals As Leaders" and the like.

Chrysalis ends the album with a bang in the form of "My Forsaken". Forget everything I've said so far about comparisons with RUSH. All of that is out the window on this track. "My Forsaken" is a sonic blast of prog metal awesomeness. Yessi lets it all hang out in the vocal department and leaves nothing on the table. His intensity is matched by the musicianship of Gallego, Julian, Sturgis and Norris. In this reviewer's opinion, this is the track that metal purists will get the most enjoyment from.

Progressive/ experimental metal is not for everyone but fans of the art of music, those who can appreciate how difficult it is to compose and perform in a signature other than 4/4, will be suitably impressed with the action on "Focus On The Center". Even if prog is not your thing, Chrysalis offers a little something for everybody. It's intense at times, it's melodic at times. It's 30 minutes of quality in production, playing and unconventionality.

Just remember, this is Chrysalis, the Southern California experimental metal group. They are not from Germany, Ithaca or a butterfly. They are metal. Enjoy the journey. "The search may be long and difficult but great things are not acquired without effort and search" - W. L. Wilmshurst.