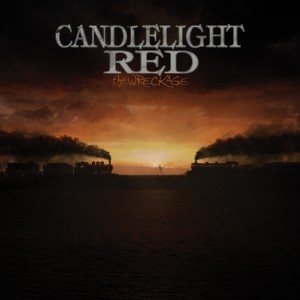 Album Review: Candlelight Red - "The Wreckage"
There is no discernible reason I should enjoy this album. There's nothing especially revolutionary about it, no novel innovations of musical genius, no genre-bending composition of elements, no inspired, emotive soliloquies to make one pick up an axe and return to the fray.
Yet, there's an inimitable something about Candlelight Red's can-do album that makes me unable to dislike it.
It's no exaggeration to say that the first half of Candlelight Red's "The Wreckage" sounds an awful lot like Bush's mid 90's run with more grit. The vocal similarities to Gavin Rossdale back when he was alive (*wink*) are slightly uncanny, especially during "Closer." Ryan Hoke's voice possesses all of those mysteriously scratchy undertones, and is pleasantly absent of the kind of pandering, born-in-a-marketing-meeting gravel that comprises so much of Chad Kroeger's voice.
In early press for this record, guitarist Jeremy Edge described the band's sound by saying: "I would call our music heavy, melodic, and emotion-driven rock…There are a lot of big hooks, but we're always aggressive." He's not far off the mark, and that's both a good and bad thing. "The Wreckage" is all of those things, but those labels paint the album with very broad, generic strokes, which give a subtle indication of the musical direction we're dealing with. The album isn't anything you haven't heard before, and has very little niche appeal.
Still, David Ivory (who was previously associated with Halestorm and the Roots, two things I am in favor of,) does an excellent job with the production, giving the album a voice that screams "maybe we're playing traditional alternative metal, but damn it, we're playing it well." The end affect is a little like if the Sick Puppies had more life experience, and just a touch more thunder.
There are shining moments to be had, make no mistake. The album improves as it goes on, veering away from a Foo Fighters/Bush idiom and more towards Disturbed with an alternative slant. Edge channels his inner "Master of Puppets" for the lead riff on "Bend and Break," a song that sees the band incorporate some punk flavor into their stew. The companion piece to that song comes in the form of "Medicated," which contains similar guitar structures, but at a slower pace, and with more from-the-gut authenticity. The contrast in vocals from clean to scream lends the piece more depth than many of the pieces surrounding it, and the hook is clean and honest.
Later on for "In Your Hands," the band pushes their bass profile into a loose rumble that brings back wistful moments of the best moments of the Exies (remember them?) It's a nice step for Candlelight Red to take, and one that was necessary to showcase a little variety and elevate their album above the contenders.
So, without highly distinguishable characteristics such as the sex appeal of Desiree Elyda, the supreme self-confidence of Werner Herzog or even the counter-intuitive magnetic rantings of Tommy Wiseau, Candlelight Red has produced an album that, if not particularly original, at least treats its material with respect and does most things right. Simple without being sugary, "The Wreckage" is a pleasant, easy listen. It will grow on you if you have a mind for the new school of rock and roll and alternative metal.