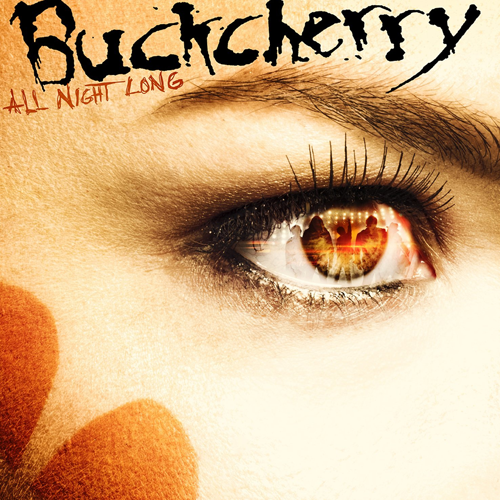 Album Review: Buckcherry - "All Night Long"
Beginning with their 1999 eponymous release and the subsequent gig opening for AC/DC in the spring of 2000, Buckcherry seemed poised to dominate the party rock scene for at least a decade. Well, it's been a decade, and with the inclusion of "All Night Long," there have been four studio albums, and here the journey seems much the same.
What always baffles me about Buckcherry is that their rise to prominence seemed practically ordained. In the wake of dour, disaffected post-grunge bands like Eve 6 and Marcy Playground, the throngs of music consumers (myself included,) were thirsty for something with a devil-may-care attitude and a little more punch. It was exactly in that window of time that Buckcherry rose….and then seemed to stop. Band infighting and roster changes put the brakes on progress, and in the meantime their rightful claim to party rock dominion was completely usurped by Andrew WK in 2002 and JET in 2003.
Most of the music-buying populace thought that was the end of the line for Buckcherry. Then in 2008, the reformed band released "Black Butterfly," had it debut at number eight on the Billboard chart, and announced in 2009 they'll be opening for KISS.
So what band are we faced with really?
"All Night Long" is another celebration of bombastic party culture and lowest-common denominator blues rock. This time we see a more thematically mature Buckcherry, but the end result comes off as hackneyed. As I've said, I'm the last guy who will ever judge a band on their lyrics, but the lyrics on "All Night Long" are cringe-inducing. Whether it's the easiest and most predictable rhyme (the title track,) a phrase repeated ad nauseam ("It's a Party") or the clumsy lyrical fumblings of a teenager trying to impress his impressionable girlfriend with his sensitivity ("I Want You,") the verses aren't exactly poetry. To steal a classification from a friend and fellow writer, Buckcherry is a band who writes songs where the title is the chorus.
Now that in and of itself doesn't damn Buckcherry or "All Night Long." After all, the Ramones were the same way. What's more damaging is that the music here is terribly uniform.
There are some nice parts to "All Night Long." The beat slows but doesn't stop, and the album features solid guitar work from Keith Nelson. He knows how to accent, and plays the idiom of classic rock with just a hint of southern blues influence very well. Nelson crafts his solos to fit the song, and never plays anything simply because there is space to fill. His discretion in that regard is much to the album's benefit; for what Buckcherry is trying to accomplish, a virtuoso performance might well ruin the experience.
"Dead" and "Recovery" are the album's best offerings, pushing the figurative pedal to the floor and moving into the fastest gear that an arena-rock style album can go. It is in these songs that Josh Todd's vocals actually fit better, as his rough-around-the-edges voice befits a more raucous tempo.
Still, the majority of "All Night Long" is perfect fodder for background music at a late night frat party, where everyone is sloshed and pleased that there's music, but doesn't really care what it is. There are a number of pieces that seem to channel bands that Buckcherry would probably admit they idolize. "Oh My Lord" is an ape of "Physical Graffiti" era Zeppelin, but lacks the certain chutzpah that Plant brought to the table. "Dead" is a fine recreation of Deep Purple style riffs, and "It's a Party" outright steals from Queen. Also mixed in you might be able to pick out some Black Crowes, a hint of Foo Fighters, and a small dash of AC/DC.
"All Night Long" is what it is. At this point, it's likely that we've seen Buckcherry be as good as they're going to be, and that means solid predictability from their studio albums. I wish this had a little more push musically, at which case it might have expounded upon the cautiously promising base that the self-titled album did in 1999. If you're dying for two-beat light hearted party rock, you could do significantly worse. If you're a Buckcherry die-hard, you'll probably add this to your collection. If you're looking for party rock that presses the issue a little more or seems more restless, revisit Airbourne's "Runnin' Wild" instead.