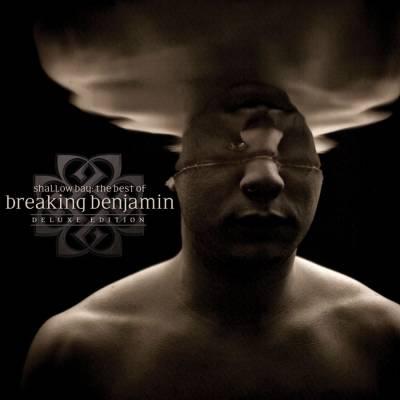 Album Review: Breaking Benjamin - "Shallow Bay: The Best of Breaking Benjamin"
"Shallow Bay" is a greatest hits album that represents the full catalogue of Breaking Benjamin. Now, it should be noted that includes both the good and bad parts of their legacy.
It's also more than that. To obtain the deluxe edition of this release is to gain ownership of a double disc loaded for bear with rarities, live cuts, remixes, acoustic performances and all other manner of scattered musical ephemera.
This all comes against the troubling backdrop of singer Benjamin Burnley suing guitarist Aaron Fink and bassist Mark Klepaski, asking for among other things, exclusive rights to the name "Breaking Benjamin." Given that legal documents were filed shortly before this collection was announced, one is forced to wonder if perhaps Hollywood Records sees the writing on the wall and is lunging for one last cash grab before the cows are out of the barn.
It's entirely possible that "Shallow Bay" is effectively the band's eulogy.
Dealing with the second half first, there is often a reason that "rarities" are just that. Such is also the case with Breaking Benjamin, though the tunes are something more than the usual dusty recordings unearthed for the sake of profit. "Polyamorous" becomes a very tuneful song when played acoustically, and opening cuts "Ordinary Man" and "Water" feature riffs bordering on sinister. "Lady Bug" is also a fun, punk-inspired cut, but lies outside the band's usual aural idiom.
Beyond that point, the rarities disc is a nice compliment piece and essential for fans pining to complete their collection, but would likely falter on its own two legs. The remixes are nice and the rough cuts are curious explorations, but for newcomers to the band, the rarities disc is not where the meat and potatoes of Breaking Benjamin exist.
"Shallow Bay" clearly showcases the best trait that Breaking Benjamin ever put on display, which is their ability to blend the harsh and the melodic. At least one step ahead of most of their post-grunge brethren, Breaking Benjamin had a clear ability for juxtaposing overdriven guitar lines and metered downbeats with melodic harmonies and airy vocals (though Burnley's vocals live roughly at the intersection of Rob Thomas, Ed Kowalczyk and Scott Stapp.)
"Medicate" and "So Cold" are both excellent displays of the kind of songwriting that thrived in the environment after Soundgarden, co-existed with rap metal and eventually took a backseat to the rise of Nickelback-style sleaze rock. One part Tool mixed with several parts Pearl Jam, the two cuts best exemplify the greatest achievements of Breaking Benjamin.
Moving on, we eventually come to "I Will Not Bow," which pendulums between visceral and fragile like sides of a coin. This is where Breaking Benjamin was at their best, if only they could have maintained that consistency.
For, as with any career retrospective, "Shallow Bay" also includes total yawners like "Rain" and disappointingly generic alternative metal fare like "Breath" and "Sooner or Later." Throw in an at-times-complex and charming but somewhat hollow "Until the End," and such is the duplicity of so many bands in the aimless alternative metal era; Breaking Benjamin is not immune.
As one might imagine, a greatest hits album is not going to change one's opinion of a given band, and such is the case with "Shallow Bay." Still, the songs selected contain at least an equal number of hits and misses, and to listen to "Shallow Bay" is to grasp the musical paradigm of Breaking Benjamin pretty clearly. Throw in a disc of rarities and B-sides for fans, and "Shallow Bay" is a worthwhile package for alt metal heads.