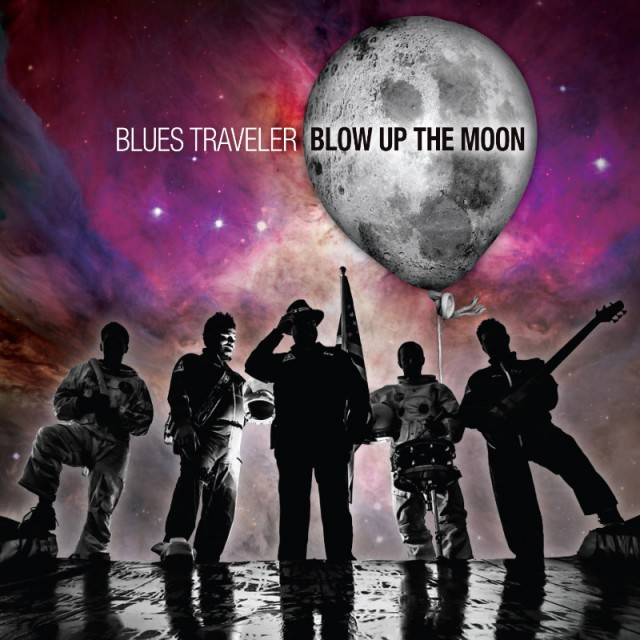 Album Review: Blues Traveler - Blow Up The Moon
Blues Traveler's career has been one that can easily be divided into two halves. Starting out, they were a through-and-through rock band that managed to score critical and chart success. They did what they did, and scored a multi-platinum album and hit singles. After that, their career took a turn, and they fell back into the underground, despite trying to recapture that chart success. It's a bit ironic, but the Blues Traveler that didn't care about being popular scored massive success, and the Blues Traveler that tried to write hits fell off the radar.
That second act has been a sketchy hit-and-miss affair, which I say as someone who's first ever CD was "Four". "Truth Be Told" gave me every indication that Blues Traveler could become a pop band, because it was a fantastic turn on the band's traditional sound, feeling contemporary and mainstream while still sounding like themselves, and bringing the songs. The albums since then have been less successful, whether the too-rock-for-its-own-good "Bastardos!", the puzzling experiment I still don't understand of "North Hollywood Shootout" (which looked even worse when John Popper And The Duskray Troubadors came out and did what that album aimed to ten times better), or the pop pandering of "Suzie Cracks The Whip", which was the best of that bunch because it was an honest reflection of their aims, in addition to being a strong set of songs.
This time out, we have what is being billed as a 'collaborative album', where every track features either a guest singer or a co-writer. While that can be refreshing for a band that's been at it for twenty-five years, it's a scary proposition for long-time fans, such as myself. So does the experiment work?
The answer to that question is difficult to consider as a whole, and varies wildly from song to song.
First, let's talk about what works. John Popper and company have been at this a long time, so they know their way around a song. With only one exception, you know when you pick up a Blues Traveler album that you're going to get at least a few earworms. That is the case here, as even though the focus has titled explicitly towards modern pop, Popper's ear for melody is strong enough that at least half the songs here feature sticky hooks. Starting with the opening "Hurricane", there are some beautiful examples of pop songcraft on display here. "Hurricane" is the first winner, but it's hardly alone. "Nikkia's Prom" and "Matador" (which I swear would be a hit if released to country radio) in the middle of the album are riotously catchy, "Jackie's Baby" is a candy-coated gem, and Jewel's vocals lift "Hearts Are Still Awake" into high territory. Combine all of those with two fun-loving songs co-written with Bowling For Soup, and you have the foundation of a great record.
But let's talk about what doesn't work. "Vagabond Blues" is a reggae/hip hop take on a Blues Traveler song, but it's not the rapped verses that are the problem. The song lacks a strong chorus, and just feels underwritten. But more than anything, the problem with the record is that it doesn't feel at all like a Blues Traveler album. The number of guest vocalists, their prominence in the songs, and the fact that they are often given the first line to sing, all make this feel like something weird. Much of the production is modern pop sheen, leaving the songs sounding faceless when compared to what Blues Traveler should be. Often, the instrumentals don't sound at all like they're being played by the members of the band as we have come to know them. Plus, despite it's intent to be funny, "I Know Right" is a cheap series of jokes that don't land at all. I actually feel a bit insulted hearing "LMFAO" "and totes amazeballs" used as a lyric, outside of Weird Al's genius.
When we weigh the scales, the good certainly outweighs the bad. By and large, these are really good takes on what has come to be the modern guitar-pop sound. Compared to the bland garbage of bands like Bleachers, "Blow Up The Moon" is a refreshing counterweight to pop music that has forgotten to be pop. But as a Blues Traveler album, I can't help but be disappointed, because there isn't enough Blues Traveler here. I know they want to do new things and not get stuck in a run, and that's fine, but listeners buy these albums to hear the band they love. What I heard on "Blow Up The Moon" is a very good pop album, but with this many co-writers and guest singers, I'm not sure what I heard was actually a Blues Traveler album.