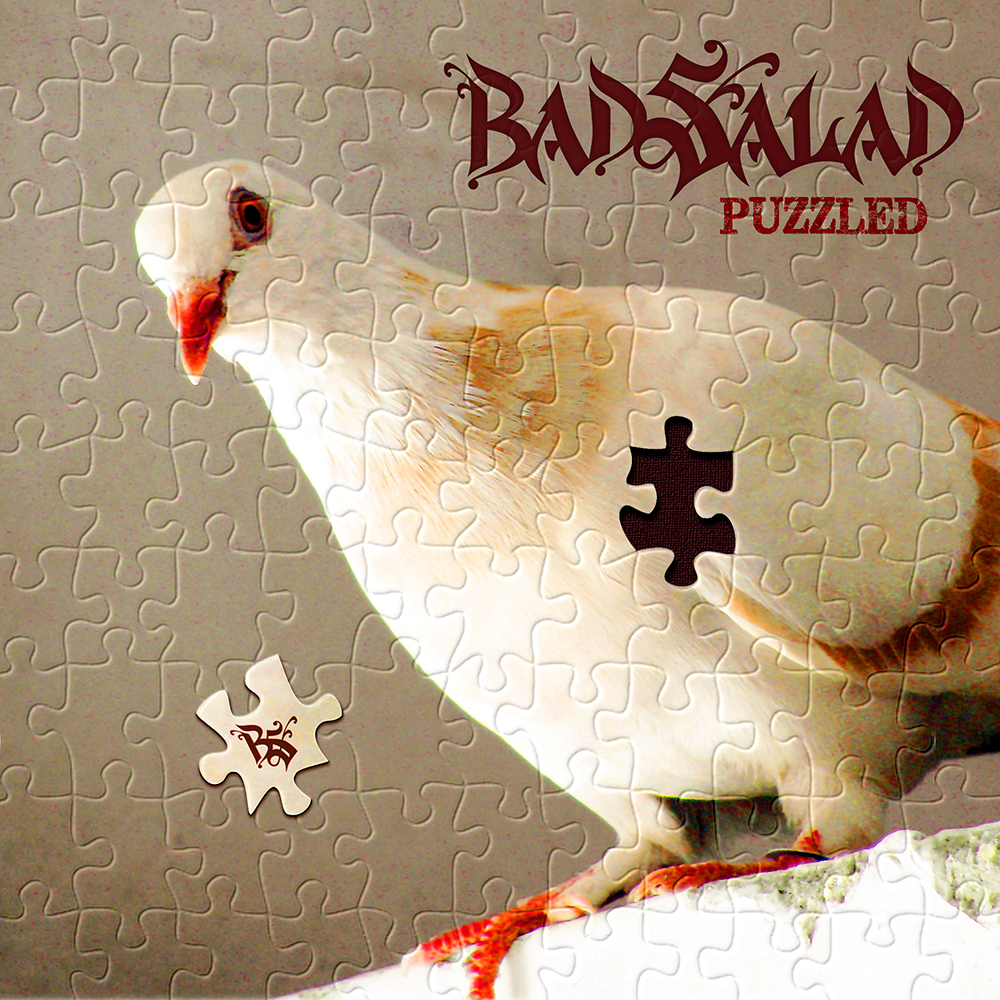 Album Review: Bad Salad - Puzzled [EP]
Last year, Bad Salad came out of nowhere with a debut album that blew me away. "Uncivilized" was, and still is, one of the best Dream Theater inspired collections of progressive metal not to come from the masters themselves. That album showed not only that Bad Salad was a band with limitless potential, but that they were emerging fully formed, ready to take on the heavyweights of progressive metal with an approach that was all-encompassing and exciting.
"Puzzled", their new EP, shows the band growing into their own identity, and hinting at where they could go in the future. These three songs are a transition from "Uncivilized", where the band was still in the shadow of Dream Theater, to a new place where Bad Salad exists fully within their own musical world.
The epic opener "Pain That Binds Us" is everything that the debut record was, only amped up even further. The opening moments show the technical mastery the band is known for, but it's when the song gets going that we're reminded of what's special about Bad Salad. Singer Denis Oliveira's voice is unique in a world of high-pitched prog vocalists, and his smooth delivery makes the melodies that much sweeter. What is remarkable is when the lengthy instrumental section begins, as the song is able to flow from truly gorgeous melodic phrasing, to a technical workout, without missing a beat. Parts are dizzying, parts are beautiful, and the whole piece flows so well into the returning chorus that it's a stunning moment when it comes along. Not many prog metal bands understand songwriting quite so well.
"Moonlight" is the requisite ballad, but is not straight-forward. Thiago Campos plays a beautiful clean guitar figure to open, complimented by Oliveira's soulful vocals, and just when it sounds like the song is building up to a huge chorus, it twists expectations and makes you wait. When that chorus does come, it's another in what is becoming a long line of great Bad Salad melodies. And when the song introduces some Brazilian rhythms and what sounds like accordion, it's the kind of thing that can easily go wrong, but feels so well integrated you hardly notice how brief the inclusion is. Campos caps things off with a fantastic solo, showing he possesses as much feeling as he does skill.
That the closing "Deep Roots" can't live up to the heights already established isn't an indictment, but a testament to the power and majesty of those first two tracks. "Deep Roots" ups the technical ante, and gives Oliveira the chance to show a more aggressive side of his voice, as he did on occasion throughout "Uncivilized". The guitar playing Campos shows throughout the song is remarkable, a technical clinic I can at times barely wrap my head around. For people with a better grasp of the complexities of music, this song must be a feast for both the brain and the ears, while for me it's another rock solid slab of progressive metal that reminds me of what the genre can be.
At nearly half an hour, "Puzzled" doesn't feel like a stopgap release. This is a fully realized statement from the band, one that once again finds me anxious to know what comes next. "Uncivilized" was a great, albeit a touch too long debut, and "Puzzled" is a great, albeit intentionally short, follow-up. Together, they show Bad Salad to be a supremely talented progressive metal band that is every bit as good as the big names of the genre, and one of the best new bands of recent years. Yeah, they're that good.