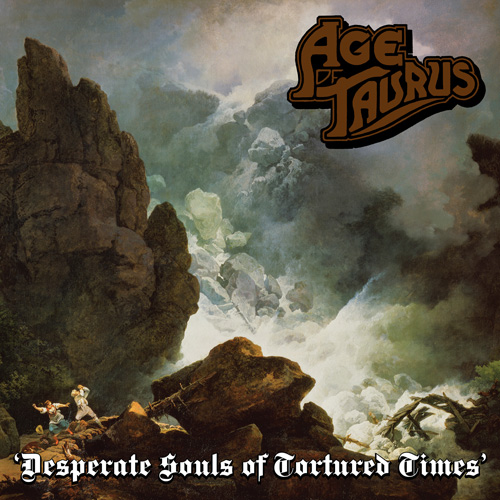 Album Review: Age of Taurus – "Desperate Souls of Tortured Times"
In 2009, vocalist and guitarist Toby Wright formed Age of Taurus as a one-man studio project. After self-releasing the demo "In the Days of the Taurean Empire" in 2010, Wright's project quickly grew in popularity and received numerous stellar reviews. Eventually there was enough interest in Age of Taurus to turn it into a real band. That's where guitarist Alastair Riddell, bassist Richard Bruce, and drummer Darius Claydon come in.
Still heavily influenced by the likes of Black Sabbath and Candlemass, "Desperate Souls of Tortured Times" is a lot like "In the Days of the Taurean Empire" with a crisper production, courtesy of Jaime Gomez, and some more creative song structures; interweaving different tempos and styles as each of the album's seven tracks take shape. They aren't especially inventive, most of the songs follow conventional formulas for doom metal, thrash, and late '70s to early '80s hard rock, but the bass-driven grooves mixed with often unsettling guitar harmonies paint a picture as glorious as the album's cover art.
The lead single, "Embrace the Stone," was many listeners' first taste of Age of Taurus' new full-band sound and is the perfect example of what to expect. Coming in at just over eight minutes, it is also the longest track on the record. Opening with a deep bass groove accompanied only by the kick and snare drums, Bruce and Claydon get a few seconds in the spotlight before Wright and Riddell take the reins. Even when the guitars are harmonizing off of each other, however, the bass and drum presence is always felt. This is one of the key differences between Wright's Age of Taurus demo and the full band release; every member remains equally important to the integrity of the mix. For well over a minute, this powerful instrumental introduction sets an energetic mood, but just before Wright's vocals enter, the tempo is slowed to a crawl.
For both "Embrace the Stone" and "Walk with Me, My Queen," these slow tempos put Wrights vocals in focus, but not necessarily the forefront. The production gives some added clarity to his words, but the instruments are all still present. Thanks to Wright's phenomenal lyrics, these tracks also become the two most captivating tracks on the entire album. Upbeat selections like "A Rush of Power" and "The Bull and the Bear" will be favorites when it comes to live performances thanks to some perfectly executed riffs, but the expressive word play that occurs when the instrumentation becomes sluggish is extraordinary.
For fans of Sabbath and Candlemass, this is definitely a record you will want to hear. Although seven selections may seem short, there isn't a single throwaway track among them. Toby Wright may be used to critical praise by now after his 2010 demo, but thanks to an even better full-length debut, Age of Taurus should be here to stay.