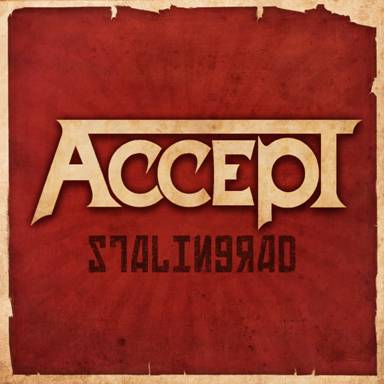 Album Review: Accept - Stalingrad
When a band replaces an iconic singer, it's a no-win situation. No matter the quality of the new voice, it will never be able to counteract the nostalgia we associate with the original incarnation. Accept has come closer than anyone in recent memory to breaking the curse. Reuniting without Udo Dirkschneider was a risk, one that resulted in "Blood Of The Nations", an album that won critical acclaim and appeared on countless year-end lists. Mark Tornillo was able to step in for the perceived voice of Accept and win over the fans by treading the same ground Udo did, but with superior skill. Udo's voice was a personality, not an instrument. Without it, Accept did the smart thing by ignoring the impulse to replace Udo with a clone, instead picking a singer with some similarities to their former frontman, as well as a set of lungs bigger than even their own legacy.
Back for their second go-around in this rebirth, Accept finds themselves mining the same territory "Blood Of The Nations" did, updating the classic Accept sound for the modern age. Aside from Andy Sneap's clear production, "Stalingrad" is a record straight from the 80's. Songs about war dominate, riffs and solos are focused on being memorable instead of flashy, and Tornillo's vocals sneer their way through the songs while retaining the melody that has slowly drained from the metal scene.
After the uptempo opener, the band settles into a comfortable groove on the title track, filling the six minutes with a host of riffs, classical-tinged solos, and melodies that support the heft of the music. Wolf Hoffman's solo as the music slows to a crushing groove is heart-wrenchingly beautiful, and makes the re-entry of the powerful riff thereafter come as a surprise. Little tricks like that allow the songs to play with mood more effectively, and show a development from the mindset that led the band to write songs with titles like "Balls To The Wall". They've come a long way since then.
While some songs don't stand out with identities of their own, there is something to be said for consistency. "Stalingrad" doesn't offer anything in the way of disappointment, churning out ten solid tracks of classic heavy metal. They make no attempts to write a pop song or power ballad to sell records, instead enjoying their second chance to rock too much to jeopardize the good will they've built up. Even the tracks that slow the tempo don't soften the approach. "Twist Of Fate" and "Shadow Soldiers" tease a lighter-in-the-air moment, only to settle into a mid-tempo gallop, the latter boasting the biggest gang vocals the album has to offer.
It must be noted that Tornillo has stepped into an immensely difficult situation and proven himself to not only be a fitting voice for Accept, but perhaps the best thing to ever happen to them. It's hard to say what kind of creative entity Accept would be if Udo had rejoined them for this resurrection, but they would have existed under a cloud of nostalgia, their new material forever sitting on the back burner. This band has to prove themselves every time out, which makes their success even more impressive.
Before writing "Blood Of The Nations", Accept sat in the studio and listened to their classic records as Andy Sneap dissected the aspects of those songs that made them beloved, that made them Accept. Those notes have not been forgotten, as "Stalingrad" feels like a continuation of what Accept did on their last record, another entry of pure heavy metal. "Stalingrad" won't win any awards for originality, but that's an overrated quality. Doing something well is more important than doing something new. Accept is perfect proof.