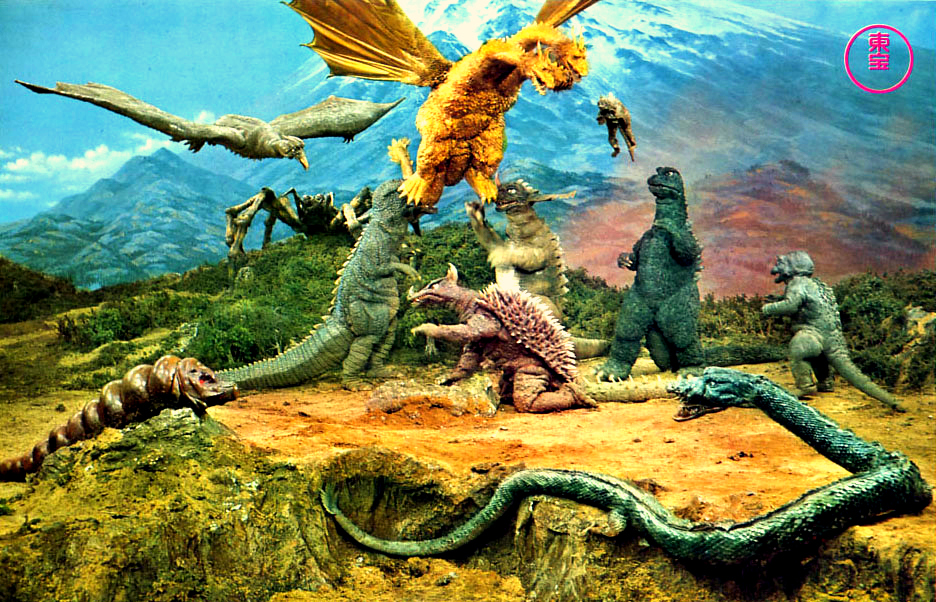 A Beginner's Guide to Kaiju: Part 1
With the release of Godzilla: King of The Monsters it's time to take a look at the genre that spawned this massively influential movie franchise. In the next two waves of Kaiju movie recommendations we'll spotlight a few films for you to check out if you're looking to brush up on Japanese giant monster destruction.
---
For the Complete Newbie
The Heisei Gamera Trilogy: In the mid nineties Daiei studios brought back their kaiju mascot Gamera for a series of three amazing Kaiju films; Gamera: Guardian of the Universe, Gamera 2: Attack of Legion, and Gamera 3: Revenge of Iris. These are some of the best the genre has to offer. You don't need any history or backstory to enjoy these films. The trilogy stands alone, and is perfect for getting new fans into the genre. The effects are outstanding and still hold up to this day.
Mothra vs. Godzilla: If you know anything about Godzilla's cultural impact than it's likely you'll have a passing familiarity with Mothra. Sometimes the two work side by side, but more often than not they are duking it out. Mothra vs. Godzilla is the first instance of the two titans meeting and it's one of the best. Contrary to what some may believe, this is not Mothra's first appearance. The First Lady of Kaiju originally appeared in her own solo film Mothra, marking Mothra vs. Godzilla as the first time Toho brought together monsters from its own solo features.
Ghidorah The Three Headed Monster: The grand daddy of monster brawls, this film introduces Godzilla's most fearsome foe King Ghidorah. In order to defeat the three headed monstrosity the big G must team up with Rodan, and Mothra. Extremely watchable, with a fun human plot, this is a great introduction to the franchise. Watch it dubbed to hear the outstanding line "Oh Godzilla, what terrible language".
Kid Friendly Kaiju
All Monsters Attack: Aside from Roland Emmerich's 1998 Godzilla, there is no Godzilla film hated more by the fandom than Godzilla's Revenge aka All Monsters Attack. Even outside the Kaiju genre fandom, this is often heralded as one of the worst films of all time. However, I don't think it deserves such a rotten reputation. The undeniable fact is that this is a kids movie. Viewed from that lens, this is a damn good one. Focusing on a lonely child who takes solace in his imagination, the film attempts to be relatable to a wide audience as it outlines the importance of imagination from the perspective of its young protagonist. All Monsters Attack is perfect for youngsters who will most likely not notice (or care) that the majority of the Godzilla sequences are stock footage.
Rebirth of Mothra: The entire "Rebirth of Mothra" series centers on children protagonists and gears much of its action toward a younger demographic. Rebirth of Mothra introduces us to Mothra Leo, the spawn of the almighty Mothra. Mothra and her son must fight the evil Death Ghidorah who has arrived in order to plunge the world into chaos because with a name like Death Ghidorah, that's what you do. This is also one of the many Kaiju flicks that displays the genre's commonly utilized environmental message; all of it delivered in a very kid friendly story.
Gamera vs. Gyaos: Gamera is oftentimes called the friend to all children, and for good reason. The giant turtle's kid friendly reputation kicks off in Gamera vs. Gyaos. The film pits Gamera against the Dracula like Gyaos. This one is glorious. The film acts as a childhood fantasy come to life, with the main child protagonist befriending Gamera, while helping to workshop the name of a new foe. Any of Gamera's outings after this movie, up to Super Monster, are all very kid friendly. However the original Gamera film, and it's sequel Gamera vs. Barugon, are much more adult oriented features.
Monster Mayhem
Destroy All Monsters: If you're just looking for a big monster brawl, than this one is definitely for you. An evil alien race called the Killak arrive on earth and take control of all the planet's monsters. The concept of "Monster Island" is first introduced and you get to see how all of these magnificent kaiju co-exist. Toho pulled out all the old suits they could muster for this one. Unfortunately some of the older suits, especially the one for the fire monster Baragon, are in rough shape so they don't do a lot. Still it's fun to see all of your favourites appear together on the big screen. Destroy All Monsters belongs to the titular beasts and as such the human plot is fairly cookie cutter.
Godzilla: Final Wars: This is one of the most controversial Godzilla films, at least among fans. This goofy action film was made for Godzilla's 50th anniversary and was meant to be the final appearance of the big G. A lot of money was put into this outing, with a multitude of monsters and a plot ripped off from every big budget American movie. Seriously, the human plot goes into The Matrix territory hard, including a "chosen one" subplot and a multitude of men in big black dusters having elaborate martial arts battles. Add a dash of Star Wars, and you get this insane movie.

Despite being released in 2004, the Godzilla scenes take a lot of inspiration from the Showa period. We get reappearances from kaiju like King Caesar who hasn't been in a movie since the creature's original debut. Godzilla is a godlike being in this one, an unstoppable force who annihilates other monsters with ease. MMA fighter Don Frye is one of the main human characters, and he hams it up to the extreme. If you're in the mood for something solely in the camp factor with a bunch of giant monsters, then check out Godzilla: Final Wars.

In the next wave of Kaiju movie recommendations we take a look at the even more wild and scaley iterations of the genre along with some of the "highbrow" monstrosities.