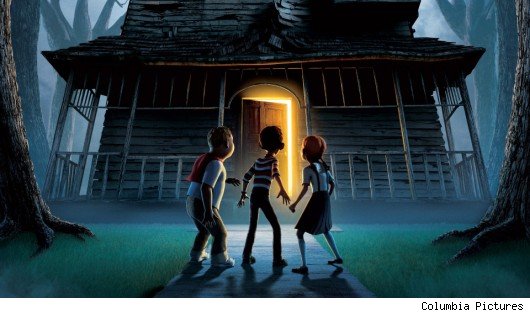 ---
9. The Legend of Sleepy Hollow
Date: 1949
Director: Clyde Geronimi, Jack Kinney
Cast: Bing Crosby
The Skinny: When I was growing up, every Halloween my mom would put a cassette tape into a stereo to play creepy music and sounds on the front porch. The most terrifying and ominous track on the tape? The frogs of Sleepy Hollow bellowing out "Icabod, Icabod" over and over with the rustling trees and somber tones of the soundtrack. A delightfully frightening short film, at 34 minutes in length it's not a full feature film, "The Legend of Sleepy Hollow" captures the essence of old America and folktales in a terrifying package.
---
8. "9"
Date: 2009
Director: Shane Acker
Cast: Elijah Wood, Martin Landau, John C. Reilly, Jennifer Connelly
The Skinny: A deeply flawed and disappointing film initially, "9" holds up on the strength of its incredible art direction, fully realized apocalyptic setting, and demented animations. As a narrative concept "9" is fine, nothing overly original or groundbreaking. When considering the level of creativity needed to interpret the lives of these sack puppets and their social structure it becomes far more compelling. The unnecessary need to heighten the plot's importance drags down what could have been a seminal classic.
---
7. The Hunchback of Notre Dame
Date: 1996
Director: Gary Trousdale, Kirk Wise
Cast: Tom Hulce, Tony Jay, Demi Moore, Kevin Kline
The Skinny: Unarguably the most dark, intense and malevolent of Disney's animation catalogue it is a wonder this film was released as it is. Containing sequences of corruption, outright lust, hangings, public humiliation of a handicapped person, murder, and supernatural condemnation "Hunchback" is rife with horrific elements and themes. For these reasons it's also one of the most flawed of the Disney canon. The tones of the film ebb and flow inconsistently and skew the viewer's perspective on what kind of film this is supposed to be. Whimsical Disney moments are littered throughout and cheapen some of the earned dramatic weight its able to capture.
---
6. Corpse Bride
Date: 2005
Director: Tim Burton, Mike Johnson
Cast: Johnny Depp, Helena Bonham Carter, Emily Watson, Tracey Ullman
The Skinny: Part of the Tim Burton Quirky-Creepy manifesto that he continues to add to every year, this year's entry being "Frankenweenie" of course. Another animated film with far more style than substance. An incredibly detailed and compelling setting with a lackluster narrative to keep the audience engaged. The voice cast is talented but doesn't add significantly to the production. A solid film that plays far too safe for something supposed to be outside the box.
---
5. Wallace & Gromit: The Curse of the Were-Rabbit
Date: 2005
Director: Steve Box, Nick Park
Cast: Peter Sallis, Ralph Fiennes, Helena Bonham Carter
The Skinny: The fine folks at Aardman are consistently producing inspired, quality material. That holds true for their first feature starring the cheese loving British duo Wallace & Gromit. Containing various elements of classic 'Wolfman' narratives along with the ingenious wit of directors Steve Box and Nick Park, this film is the first can't miss Halloween addition on this list. Sets a consistent tone that plays with genre conventions, as well as allowing their well known characters to adapt to those same reoccurring themes. It's a fun, energetic movie with heart and horror intertwined.
---
4. Coraline
Date: 2009
Director: Henry Selick
Cast: Dakota Fanning, Teri Hatcher, John Hodgman, Keith David
The Skinny: "Coraline" is a pretty crazy film to say the least. Possibly the most demented from this entire selection (Buttons for eyes alone drives me up a wall), and without question a film with a vision and direction. Too scary for the littlest of kids, and most likely off the radar for the tweens, 10 year olds and horror fans are the true demographic of this genre fan pleaser.
---
3. The Nightmare Before Christmas
Date: 1993
Director: Henry Selick
Cast: Chris Sarandon, Catherine O'Hara, William Hickey, Paul Reubens
The Skinny: Henry Selick doesn't get nearly the credit he deserves for this film. It's just now becoming realized he directed it as opposed to Burton, who they rightfully used to promote the film given his involvement as a writer/producer and bankable name in the early 90's. But Selick created a masterpiece of a genre remix by giving 'Halloween People' a leader to get behind in Jack Skellington. The very nature of the character is that of well meaning, creative individual who doesn't understand why his macabre sensibilities don't mix with 'normies' and the rest of the world. It speaks to genre fans at their most base level, regardless of whether they'll admit to wanting acceptance or not.
---
2. ParaNorman
Date: 2012
Director: Chris Butler, Sam Fell
Cast: Kodi Smit-McPhee, Tucker Albrizzi, Anna Kendrick, Casey Affleck
The Skinny: Possibly being influenced by the newness of this entry, but I can't help myself; "ParaNorman" is a classic to me after just 2 months of release. Containing a reverence and inspired love for the horror genre, intense sequences of true terror, and a theme so basic and powerful because of its presentation even the most hard hearted could well up in tears. Go see it, if you haven't, while it's still hanging around the theaters.
---
1. Monster House
Date: 2006
Director: Gil Kenan
Cast: Mitchel Musso, Steve Buscemi, Sam Lerner, Maggie Gyllenhaal
The Skinny: Scary. First and foremost this movie is downright scary. One of the best haunted houses ever created in cinema history, and so well devised it could be a feature attraction at a theme park. But the redemptive power of love, the coming of age story, the intertwined dynamics of friendship and responsibility all feature in this horror classic too. Though it doesn't feature some of the same outlandishness (save the finale) of the rest on this list, its stripped down and straightforward nature will keep it fresh over time.