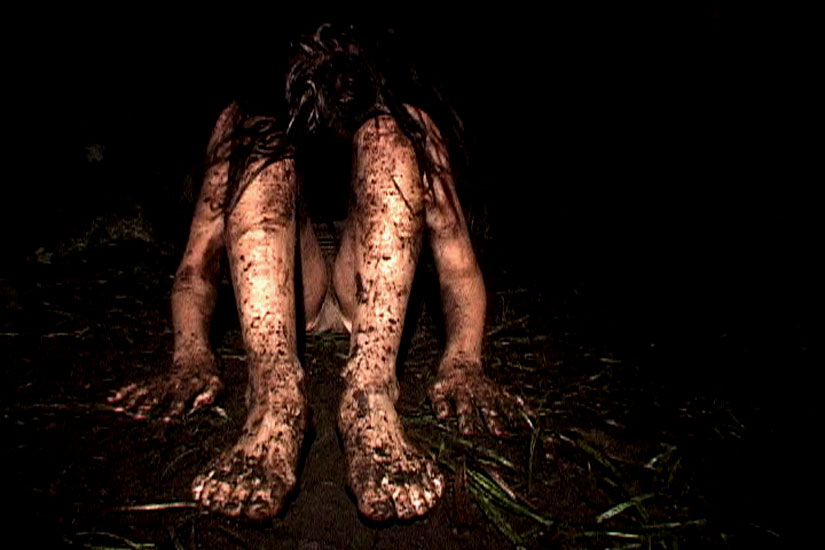 5 Horror Shorts to Shudder and Shock
If you are like me you love short films for their ability to take chances and maximize small budgets for impact. Below are 5 shorts that I found very memorable and better still they are all available to watch online... legally. They range from unapologetically profane to creepy fun; you can watch the whole lot in under 30 minutes and feel like you have had your decency undermined and, in at least one case, your lunch ruined.
Enjoy!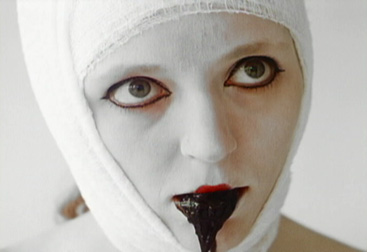 http://www.medicinefilms.com/pill/191760
"Convulsion Expulsion"
The internet is an incredible resource for those of us with a slightly cracked conscience. I mean 20 years ago it would have taken $30, six weeks and a package of troubling outward appearance bearing a Cyrillic postmark to see a film like Usama Alshaibi's "Convulsion Expulsion". Depending on your tolerance for a loose form piece where a woman transforms from a Kewpie Cryptoid into an anal blood cannon you might actually be tempted to curse the advent of 'the information superhighway'after watching this one. Whatever your predilections, two things are certain, Mr. Alshaibi's film should provoke some sense of sexual anxiety and if you watch this at work you should be fired.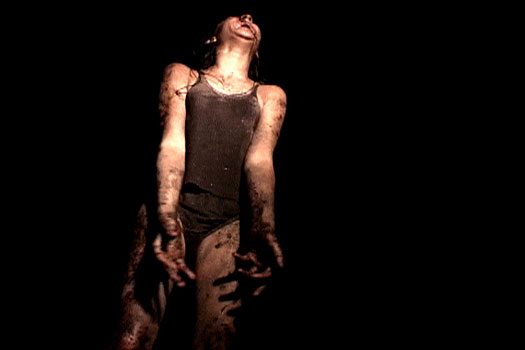 http://www.lumeneclipse.com/gallery/23/piene/index.html
"Blackmouth"
Chloe Piene's "Blackmouth" is a pretty simple affair in its construction. A slowed down set of adolescent screams and whoops to match the wild gesturing of a mud-caked pre-teen girl in a filthy undergarments. Though it may not feature any elaborate set-ups this is a haunting reflection of the seemingly interminable freefall from childhood into the black unknown of a post-pubescent world. It represents a journey that rends the recently internalized gender messages of the traveler and introduces a new landscape of raw sexuality, often with only the basest, most primitive context for that change. Piene also crosses up the audience by placing her camera in a low-status, thereby subjugating the viewers to this raging hormonal powderkeg and giving us a sense of concurrent victimization.
"Lucia"
This short by Chilean filmmakers Cristóbal León, Niles Atallah and Joaquín Cociñas' is an eerie technical masterpiece. Think of it like Peter Gabriel's "Sledgehammer" video, with suicidal dogs taking the metaphoric place of honey bees and fruitcages. "Lucia" is the semi-coherent ramblings of a warped, child-like mind spoken over the stop-motion decay of a young woman's room. During the 3 minute 20 second runtime dirt phantoms gradually overtake the delicate, pristine space. By the end the viewer is left with a chilling sense of how fear and perhaps mental illness can erode the spirit beginning at an early age. No matter how you read it, "Lucia" is visually arresting and very memorable. So, go watch it now.
"Pencil Face"
Okay this one has been given some run here at BloodyGoodHorror already but it is worth a second,third and fourth look. Even after multiple viewings this thing still has a lurid power that seems to implicate the viewer throughout with its intentionally sleazy fetishization. This darkly amusing riff on the "You want some candy, little girl?" idea brings across the disposable nature of our lives, our minds and our progeny in a culture based on the need for constant reward. More importantly it manages to be both disquieting and unnervingly funny
"The Other American Dream" (El otro sueño Americano)
Okay, now we are really in the deep end of the commodification discussion. I don't speak Spanish and I comprehend very little. That said even without subtitles Enrique Arroyo's 10 minute throat-punch of a film with its evocations of the real life horrors of Mexico's Ciudad Juarez killing fields had a huge impact on me. It is a dashboard camera view of a young girl who, through the 'kindness' of a stranger, is trying to get into the U.S. across Mexico's northern border. Her hopes of a smooth trip without a price don't last very long. Her wish for a quick exchange of favor for the ride also violently evaporate within the first five minutes leaving her in the hands of someone who doesn't value her life at all. Rough but not terribly explicit this one still might trouble you well after your 10 minutes in the car have elapsed.