Every so often I see a film that claws open my primal dread and makes me question the location of the moral Mendoza line with regards to graphic subject matter and content. When this happens I find it helpful to pull back and remind myself that the most demented minds of the cinematic world have nothing on the ones who have committed their nightmares to canvas, wood and plaster. Painters the world over have been reflecting their most annihilating spiritual and existential fears on walls and durable cloth for centuries unnumbered.
In some cases, like Goya's twisted vision of Saturn gobbling down the remains of his son (seen above) twisted works from great painters are so seated in the lexicon of the art world that they have spilled past the boundaries of fine art and enjoy lasting influence in popular culture. Wes Craven cites Goya's Saturn as having played a role in the scripting of the original "The Hills Have Eyes" and Francis Bacon's influence can be seen from the film "Jacob's Ladder" to David Lynch to Mark Romanek's video for Nine Inch Nails' "Closer". In other cases some of the most shattering renderings of a master artist's besieged mind labor in obscurity behind works of greater notoriety, as is the case with Beksiński and Rubens works listed below. What follows is a list of 5 paintings that range from creepy to deeply affecting. I am no expert, I just know what works on my nerves and all of these do in a profound way.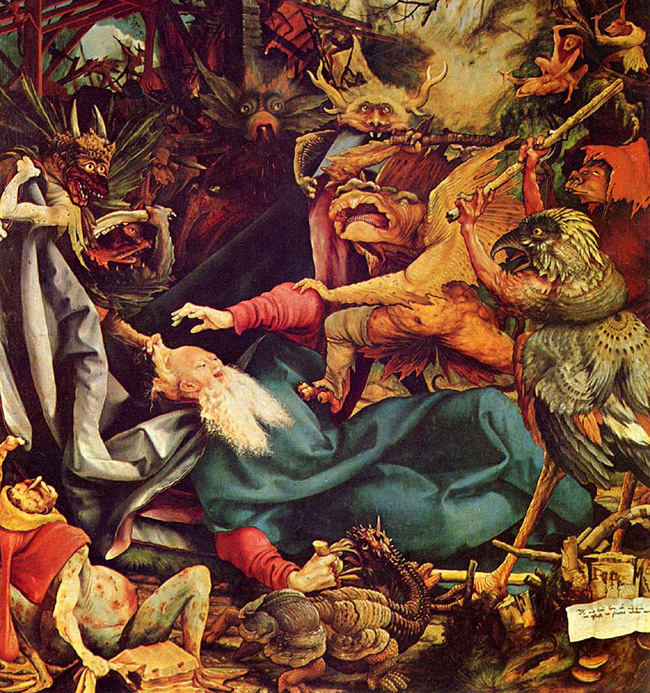 Detail: The Temptations of Saint Anthony (1512-1516)
By Matthias Grünewald
I first saw this image in an encyclopedia of Monsters that my mom got for me when I was ten, and I have never forgotten it. The demons threatening to tear Anthony limb from limb can stand side by side with any and all of the twisted, playfully sadistic chimera in Hieronymus Bosch's work of the same name or even with those featured in Bosch's most renowned work the triptych "The Garden of Earthly Delights". But I think the single most terrifying aspect of this work is it's feeling of deformity. Limbs and heads seem mismatched, misshapen and in some regards almost untraceable to the bodies of the creatures besieging the saint. Likewise the landscape is a confusing panorama of gnarled swathes of colors, rafters consumed by flame and stumps sprouting fungus. This subject was painted dozens of times by many different artists but this one stands out in my mind.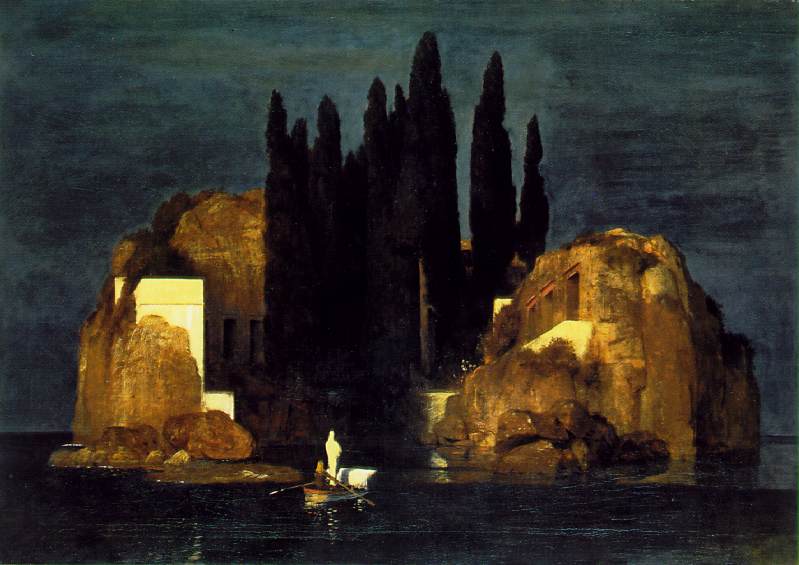 Isle of the Dead (1880)
By Arnold Böcklin
This one is, as the artist Arnold Böcklin intended, possessed of a mesmerizing stillness. Not so much creepy as it is haunting. The painting (one of 5 Bocklin did on the subject) is lent greater melancholy by the knowledge that surrealist forefather Böcklin modeled the small island sepulcher after a Florentine cemetery near his house where he buried his infant daughter (one of 8 children he lost). What I think affects me about this one is a sense that despite the howling loneliness of it's depiction of the afterlife there is also something very comforting here. By comparison to the last work on this list this is serenity in oils. Calm waters, brooding but inactive skies and an alcove of white stone and cypress to cradle and shelter the dead from further tumult.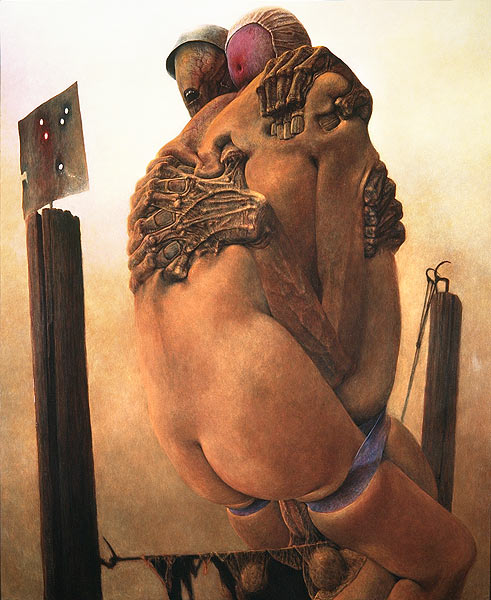 Untitled (1982)
Zdzisław Beksiński
This painting by Zdzisław Beksiński is the most frightening depiction of the sex act… or war, or both(?) I have ever seen. Beksiński eschewed interpretations of his work. His detailed rendering of twisted forms drew comparisons to contemporary H.R. Giger, while his hallucinatory reveries on wood depicting apocalyptic landscapes are reminiscent of Hieronymus Bosch. Whatever you make of his canon of deformity and life among the cinders there is little argument that he can baffle and disconcert with his brush and canvas.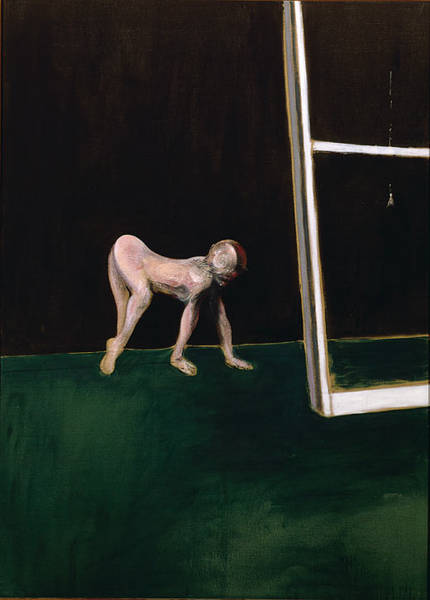 Paralytic Child Walking on All Fours (from Muybridge) (1961)
By Francis Bacon
Deformity, deformity, deformity, see a theme developing here? It's difficult to do a list of troubling works in paint without offering a little Bacon (yes, I did). The man seemed to almost effortlessly strip (Oh, yes I did… again) every subject down to its most terrifying components. Here Bacon takes on Edward Muybridge, the forefather of the motion picture and acquitted murderer. Muybridge did a multi camera motion study of a paralytic child walking on all fours. In Muybridge's work the child with the physical malformation appears only too happy to be demonstrating his walk for the cameras. Bacon takes that carefree soul places him alone in a room save for an empty frame to the right then deprives him of a face and swathes it all in dark green and black. Of all of Bacon's paintings that I have seen this is the only one that sparks a sense of profound cruelty on the part of the child's observer. Is it Muybridge, Bacon or the viewer who is indicted by this? I don't know, I'm no art critic. This picture just makes me uncomfortable.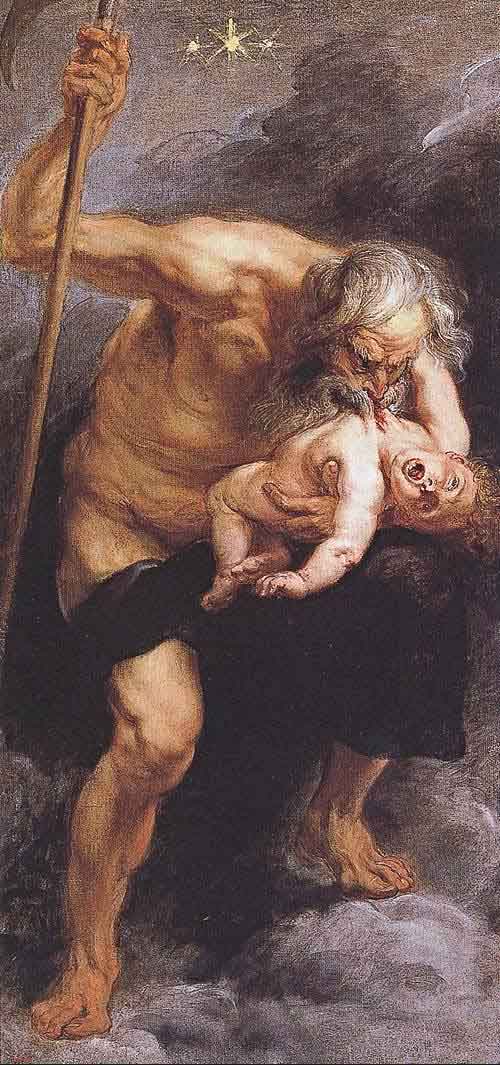 Saturn Devouring his Son (1636)
By Peter Paul Rubens
Okay, this is likely the inspiration for the Goya's work seen at the top of the page. For me this is also the most horrifying painting I have ever seen. Rubens choice to make the old man's son a babe and capture the moment of ultimate violence takes this beyond Goya's work for me. The emphasis is on the trauma of the child not the madness of the father that follows the act as it is in Goya's version.
I'd love to hear which paintings have shaken you to your core.