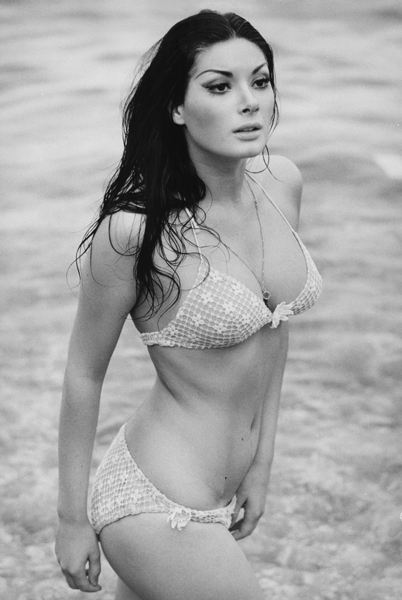 I don't know about you but the pages of "Men's Magazines" have always seemed a paltry tease to me. Too often they feature interchangeable nymphettes with immaculate, post-orthodonture smiles, jelly cutlets in their brassieres and misted bronze flesh that bounces light like a forgotten hotdog rolling into oblivion on a carnival cooker. To be frank, I want my objectification to be more objective. I like pores, a variance in skin tone, and breasts and hips of all sizes and shapes, and I enjoy smiles that don't read like a commercial for cosmetic dentists who take up two parking spots with their Lexus when stopping off for a $7 coconut water at the oxygen bar in order to put back what they burned off during a given morning's Pilates/Zumba/Bikram triple header.
Yes, I'm being judgmental but the licentious cretin in me does fancy a return to a less uniform idea of 'hotness' and perhaps a time when the word 'hot ' gives way to better descriptive qualifiers like: sensuous, comely, bewitching , ravishing and fucking-foxy-as-hell! The list that follows is my little ode to euro-beauties of a bygone day. If you are scared of pubic hair, gap-teeth, and hips that you can balance a bottle of J&B on, or if you simply don't want a knuckle-dragging horror writer trying to tell you what is sexy, then stop reading right here, you prig.
You're still reading, so be it. Here are five women of yesteryear's euro cinema that brought staggering, fearless form, and audacious, untethered carnal magnetism to their work. They're really hot too.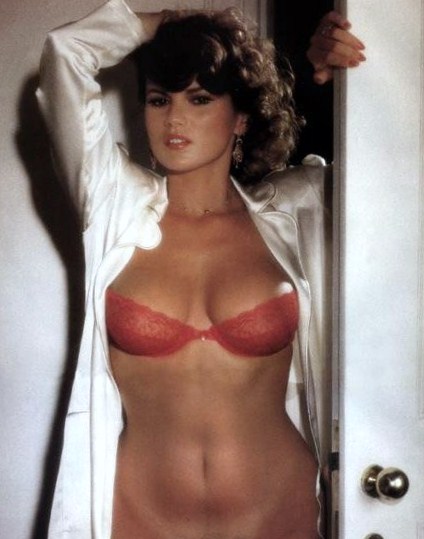 Serena Grandi
While she doesn't wow you with her acting chops, Grandi more than makes up for it with her physical dimensions and her willingness to sacrifice for her craft. Grandi (real name Serena Faggioli) was wall candy for steamed up Italian teens through the 80's and 90's. Even when she wasn't bearing all in commedia scollacciata (erotic Italian comedies) she made bold content choices, like playing a pregnant woman who has her fetus snapped out of her womb and devoured in front of her by George Eastman's titular cannibal fiend in "Anthropophagus". My favorite Grandi moment by far is from Lamberto Bava's roaring horror goof-fest "Delirium" and involves Eastman and Grandi in flagrante delicto in a bubble bath. If you mute the sound on this scene and just sit and watch the foamed bathwater sloshing climatically over Eastman's Philistine physique while Grandi's majestically twisting and surging bosoms approximate the motion of muscled horse flanks in flight you will actually start to hear the 1812 overture inside your head.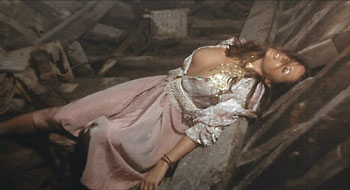 Joelle Coeur
A staple in the French erotic film game of the 1970's, Coeur's biggest mark was probably made in "I am Frigid…Why?" by French B-Movie marvel Max Pecas. Despite steady work and better than average acting abilities Couer's career was a short one; a premature retirement that according to Director Jean Rollin may have been due in large part to the rise of hardcore films. It was in Rollin's film "The Demoniacs" that Joelle Coeur gave perhaps her most lasting and unique performance as firebrand strumpet "Tina the Wrecker". In the role of Tina, nude or sheathed Lady Miss Couer brought the kind of brazen sexuality and sinister playfulness that most of today's hot-pots couldn't muster if they were locked in a fallout shelter with a barrel full of X and a library of Jess Franco films.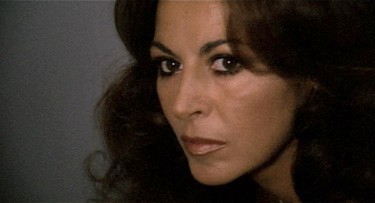 Mariangela Giordano
Another go-for broke Italian actress. Her sexy is born more of attitude than her considerable physical …advantages. A couple of Giordano's most noteworthy works of fearless flying include the sleazer "Satan's Baby Doll" and the downright unfriendly super sleazer "Giallo in Venice" (where her magic place meets with a most gruesome end ). Her most memorable role for American audiences was as the object of oedipal affections (part of the strangest sub-plot ever featured in a zombie film) in Andrea Bianchi's Ultra-Big-Giant-Sleazer "Burial Ground: Nights of Terror". But perhaps the boldest move of this silver screen veteran's career was when, at the age of 62, she again donned her birthday suit and did some hot blood wrestling for Jess Franco's film "Killer Barbys".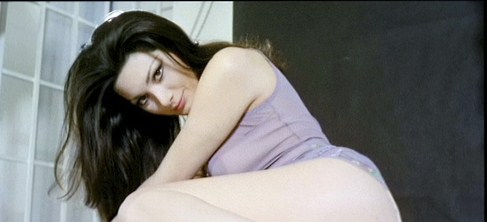 Edwige Fenech
Okay, this is low-hanging fruit for Giallo fans, but Edwige is a bit like Marilyn Monroe. If you are going to a make an accounting of the most beautiful and engaging blonde women ever you don't leave double M off the list. Likewise if you are going to construct a sexist evaluation of on-screen talent from the golden era of European exploitation, the incredible Ms. Fenech gets a place at the table. A major player in European sex comedies and a memorable presence in the giallo cycle, Edwige was a stunner of international proportions. Fenech could smolder and titillate with the best of them. I challenge anyone to put on "The Case of the Bloody Iris" and or "Strip Nude for Your Killer" and not feel a tingling in their manhood (or womanhood) when Fenech does her thing. If by chance you can manage a pass through her feathery fields of femininity without a small twinge of dizzying euphoria then you are a more restrained person than I…Congratulations on that Mr. and/or Mrs. Conrad S. Buzzkill.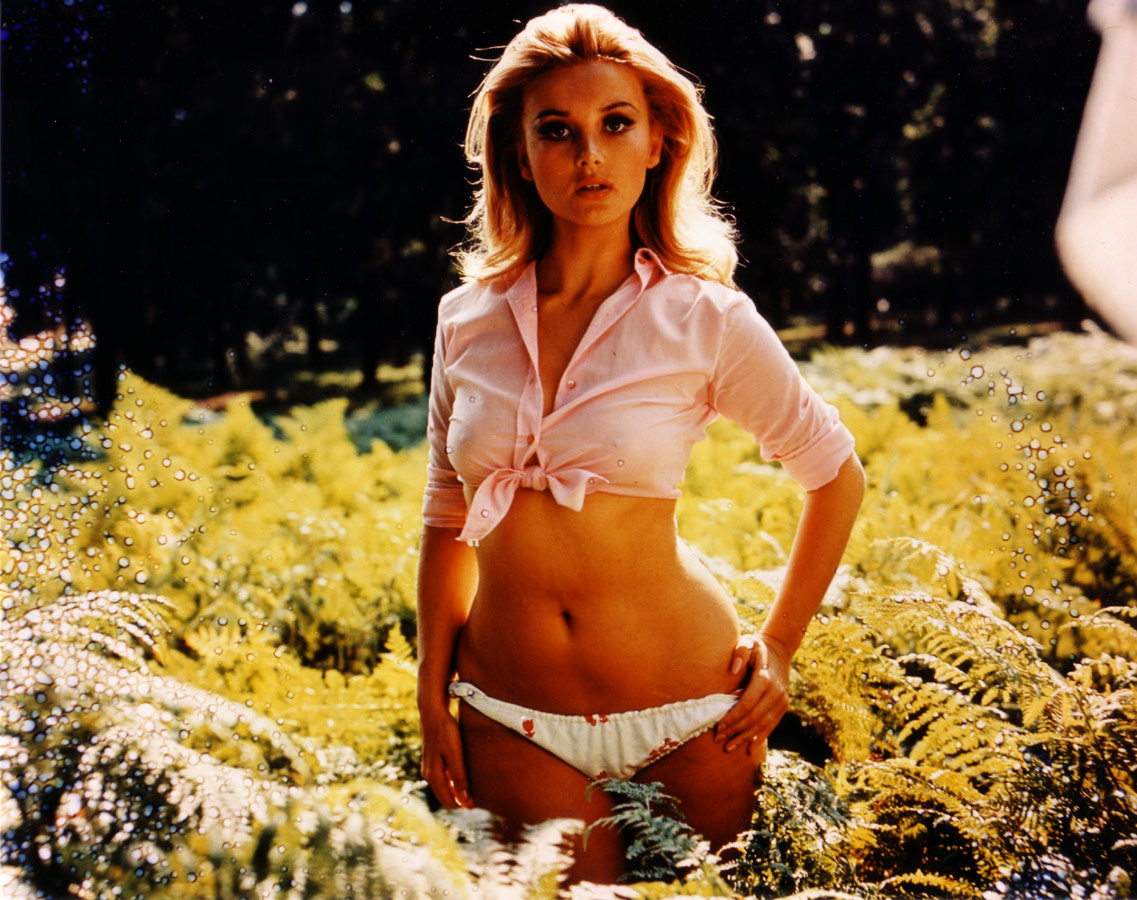 Barbara Bouchet
I know, it's another big name from the era, but look at that picture, I mean c'mon. That shot still defines 'Smokin' some 40 years after it was taken. Bouchet was international from the word go, being born in Germany moving to San Francisco where she was 'discovered' and eventually becoming a celebrity in Italy. Never not sexy, the height of her powers may have come in Lucio Fulci's seminal 1972 Giallo "Don't Torture a Duckling". The first time I watched the scene where Michele delivers orange juice to Patrizia (Bouchet) as she is sunning naked under a heat lamp I passed out and woke up six days later surrounded by empty OJ cartons. Weird, right? The point is when BB turned it on it would take a power outage to disconnect from her magnetic fire.
That's the list, I'm about 3 hours overdue for a cold shower, so until next week…