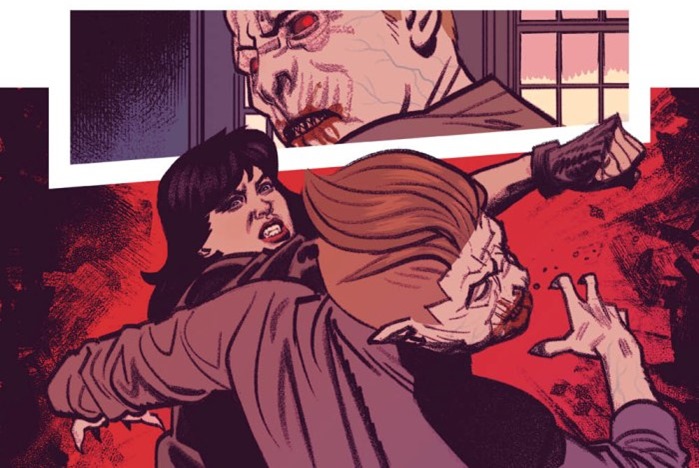 2018 Horror Comics To Cure the Post Halloween Blues
The pumpkins may be receeding and old man winter is emerging from the thick blanket of fallen leaves, but the Halloween spirit is everlasting. Here are eight excellent 2018 comics to keep you feeling that spooky spirit during the post Halloween doldrums.
Vampironica: The Archie comics have undergone many a target market shift in their history. While they still print classic tales of Archie goodness, the brand has really grown to bring in a wider audience. A big part of this has been their recent spat of horror comics. Vampironica may just be my favourite of the bunch. The series is written by siblings Meg and Greg Smallwood with the latter supplying a large amount of the artwork for the book. This comic is gorgeous to look at, whip smart, and all together charming. Since reading it earlier this month, I was compelled to set one of its panels as my phone home screen and it doesn't look to be leaving anytime soon. If you find yourself wondering what would happen if they crossed Buffy the Vampire Slayer, Blade, and Veronica Lodge then this is the book for you.
Cursed Comics Cavalcade #1: This is a book you can definitely judge it by its cover. If you're a fan of the old EC comics Tales from the Crypt or Vault of Horror styling then you'll have a good time with this anthology. There are a few stories in this collection that really highlight some interesting elements of the superhero genre that have never really been fully explored. In one segment we encounter the idea of Superman getting sleep paralysis. In another we see how a host illness could affect Etrigan the Demon. The stories are short but they really do manage to produce some fun, compelling ideas. The art styles vary story to story making each anthology segment feel unique. The shorter length of the stories will do you well on Halloween because you can get through a story in the gap between trick or treaters. This is the kind of inventive celebration of the holiday that should be applauded, and supported.
Stranger Things: This short four issue series will be a quick read but if you're a fan of the TV series this will not disappoint. The story focuses on Will's journey in the first season of the show expanding on our understanding of Will as a character, an aspect somewhat lacking in both seasons. This comic series showcases his time in the upside down playing upon the dungeons and dragons elements that the first season introduces. The creative team chose a smart place in the show's timeline to tell the story and if you're looking for something to tide you over while you wait for season three this is well worth a read.
Avengers Halloween Special: This one will be hot off the presses as you read this, and as such this author has not had a chance to sit down with it. Still it's always nice to see when a big company like Marvel really go all in to celebrate the season. There is an all star writing team for this one, including horror masters like the Soska Sisters. Worth picking up if only to bask in whatever twisted tale the twins introduce and to see the writing debut of comedian Jay Baruchel.
Dead of Winter: This is a comic based upon the board game of the same name. I've never played the game, but this comic features a dog with a cape fighting zombies. It's revealed that the dog in question was the star of a Littlest Hobo type of show before the apocalypse hit. This is a pretty breezy read, but the dogs antics will certainly bring a smile to your face, and it provides a nice twist on the zombie story.
Pumpkinhead and The Unsound: Author Cullen Bunn wrote both of these series. Aside from having the same writer the two stories tackle very different subject matter which is a testament to Bunn's abilities as a writer. I've been a fan of his work since his run on Venom for Marvel comics a few years back. Pumpkinhead explores the idea that there are more spirits in that patch than that of vegeance. With an interesting hook it is miles above any of the sequels and it is delightful to see the creature in its full glory. The Unsound is a tale about a nurse who is working at an understaffed mental health facility. The Unsound is beautiful and moving. However, a word of caution if you've ever had suicidal ideation. It deals with topics like self-harm in a very blunt and real manner. It is also scary as all hell.
Ghostbusters: Crossing Over: Being removed a few years from the hubbub surrounding the remake of Ghostbusters in 2016, it is delightful to see that the comics have just folded the characters into the mythos. This issue may not be for those just starting out as there is a lot of backstory that crops up. Still as someone who has only read a smattering of Ghostbusters comics throughout the years I found it pretty easy to pick up on. The gist of this series is that an interdimensional rift has caused a mass escape of ghosts, and as such the Ghostbusters from the 1984 film use their portal to pick up every single Ghostbuster throughout time to stop them. What is really wonderful here is how writer Erik Burnham nails the characters. As you read the book you can hear the subtle differences in how Bill Murray Venkman interacts with Lorenzo Music Venkman from The Real Ghostbusters. Expect no disrespect for any of the cast introduced in the remake either. They are all accounted for and utilized very well. Burnham clearly loves Holtzman, and let us be honest it's easy to see why. It may be a little confusing at first, but it almost feels like picking up an old Marvel comic back in the day. Sure you might not know what they're talking about sometimes, but you get a feel for the characters and the current situation. Ghostbusters: Crossing Over is great if you're looking for something a bit more all ages this year.
Blackwood: This is one of those comics that immediately grabs you and endears you to its characters. Whether it be the art by Veronica Fish, or the clever writing by Evan Dorkin, this book hooks you after just a few panels. The premise is a little bit familiar on the surface. A bunch of kids are arriving at a magical school and get embroiled into a mystery. However they deal with it in a much more interesting way. These characters don't know they're going to a "magic" school; rather, they think they're going to an art school with a focus on the occult that gave them free scholarships. The design of the school is breathtaking, feeling like it has more in common with old Universal films than Harry Potter. With a good mystery and some art work which made me audibly gasp, this is a must read, no matter the season.