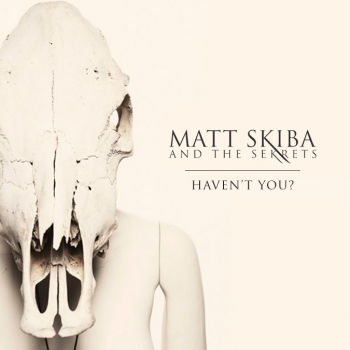 2 EP's - Matt Skiba and the Sekrets, Lions Lions
So by now, metal fans, you've hit that time we all face. What gift to get your friend or relative who really loves music, but doesn't like metal that much. Blasphemous though it may seem, there are other genres of music that have achieved some foothold with the masses. Jazz, blues, rap, and something called "dubstep," which I think involves glowsticks, rainbow clothing and possibly coordinated aerobics with Jane Fonda. But what the hell do I know? I look at a bunch of people dressed as Vikings and playing on stage and think 'hey, that's pretty badass.'
So, for the 'other' music fans in your life and begrudgingly on your holiday list, I present for your perusal two EP releases: Lions Lions' "Grounded" and Matt Skiba and the Sekrets' "Haven't You?" We'll cover them in order.
Lions Lions' "Grounded" is only a two-song split, headlined by the title track and b-sided by an acoustic version of the song "The Right Steps." In truth, there's not a ton to see here unless you're a huge partisan of soft-soled alternative rock with just a dash of punk influence. "The Right Steps" feels a little tacked on in accompaniment, a song placed on the EP just so it wasn't a literal single.
By contrast, if this were one of those old school, save-money-on-production-costs punk split/versus EP's, Matt Skiba wins the day hands down. The single "Haven't You," is the same as on the band's complete full-length earlier in the year, but it's the two acoustic pieces that follow it which offer some value. Whereas Lions Lions acoustic piece felt flimsy, Matt and his band do the right thing, which is put the songs through an actual treatment, rather than simply play the same song again unplugged. The harmony, whether through intention or accident, is richer for the ampless copy of the single, and the ever-so-slightly re-imagined vocal performance allows the lyrics more space to operate. The words themselves are hardly a function of thick allegory, but they resonate on a relatable level and lend the two unplugged performances some credence.
So there you have it. If you need a quick, easy stocking stuff for that someone on your list who likes the softer side of music (or at least softer than you,) you may want to check out Matt Skiba and the Sekrets' "Haven't You?" It's even got an animal skull on the cover, so you can feel good about picking it up.