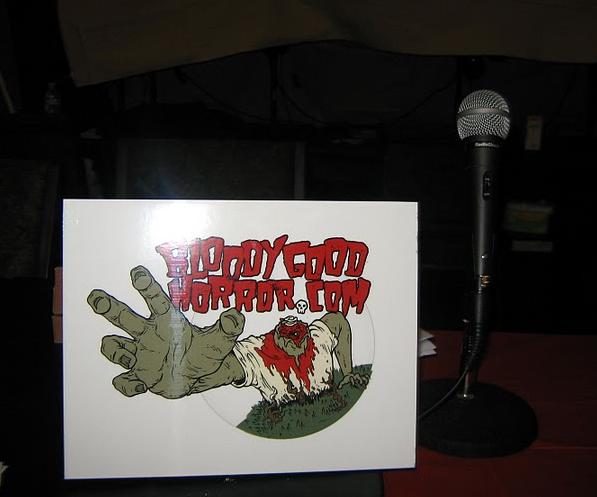 10 Things You'll See at Horrorhound Weekend
This weekend, throngs of horror fans, podcasters and bloggers will descend on the quiet streets of Indiapolis for Horrorhound Weekend. The best horror convention in the midwest is organized by the fine staff members of Horrorhound Magazine and manges to be a memorable experience for nearly five years running. This year, much like every year, we here at the Bloody Good Horror Podcast will be setting up our table to meet you, the fans and readers! For an extra special treat, we'll also be bring you members of the writing staff as well, such as Louis Fowler, John Shelton and the newest member to the Podcast, Joe Charnews!
If you're in town this weekend to attend the convention, be sure to stop by the BGH table and introduce yourselves!
---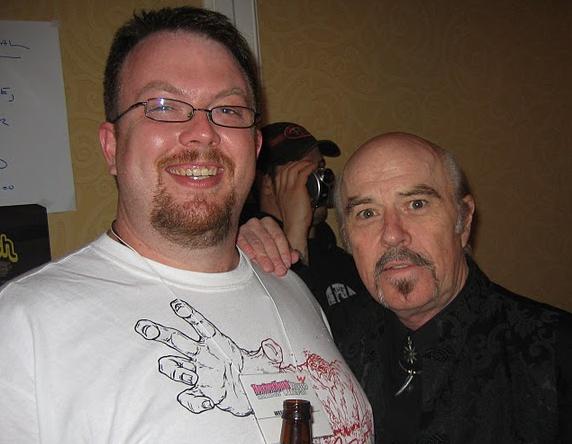 Celebrities
Conventions have many draws; one of the biggest for Horrorhound weekend is the celebrities. This show always draws some great names and most of the guests are good people and happy to hang around with the fans, such as Reggie Bannister as seen above. So though might get bit scared of the large hairy man attempting to tap her on the shoulder, confusing him for someone trying to steal her purse. I wasn't, honest.
---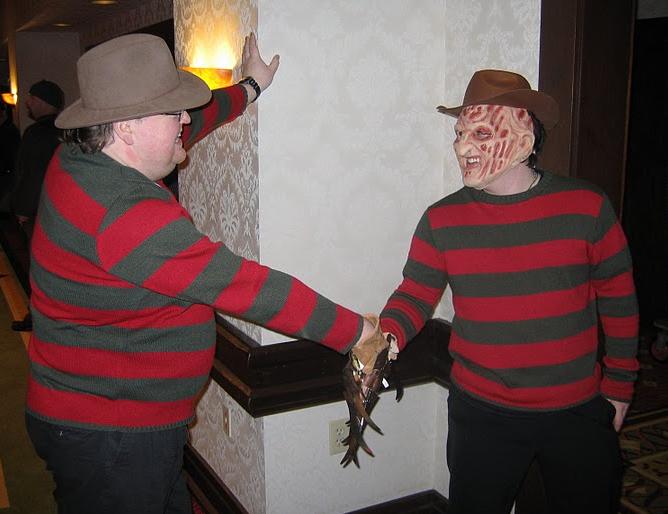 Costumes
I hope you like cosplay. You'll be seeing costumes galore! You'll see a lot of similar costumes as well. One Freddy Krueger is scary; two is a group therapy reunion.
---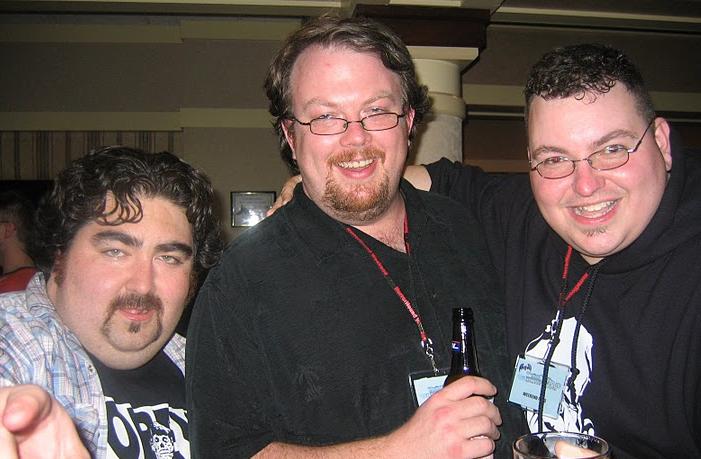 Friendly (Frightening) Faces
Near everybody in the podcasting and horror blogging community share one thing in common; they're all friendly people. Should you see any of your favorites from here at Bloody Good Horror, Night of the Living Podcast, Mail Order Zombie or others, don't hestiate to walk up and say hi. We're all happy to meet new people and share a friendly chat. And we promise, we'll only stalk you around the convention floor for about an hour, then you're home free.
---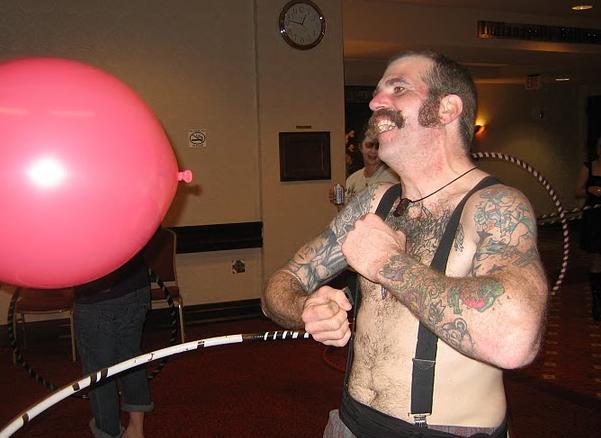 Hula Hoops
I don't know why, but once the main floor closes and the beer begins to flow, the hula hoops come out. They have for the last three years at any rate. As odd as it sounds, watching drunk people try and manipulate a hula hoop is pretty entertaining stuff. Stick around long enough and there's a good chance you'll see this guy smash cement block on his crotch with a sledge hammer too. True story.
---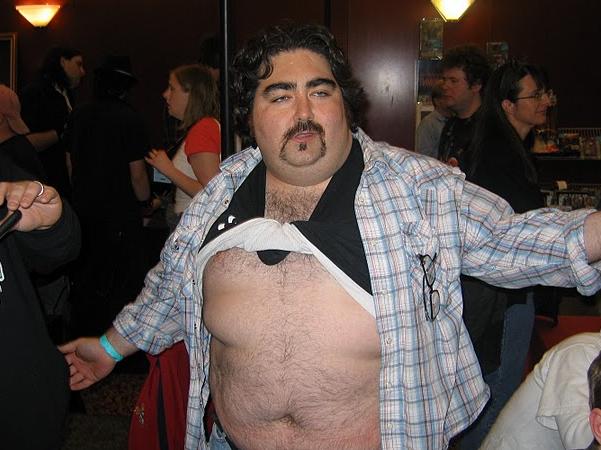 Louis Fowler
If you're coming to the show for a spectacle, look no further than our own Louis Fowler. He's loud, he's proud and gets even zanier once you fill him up with Midori Sours!
---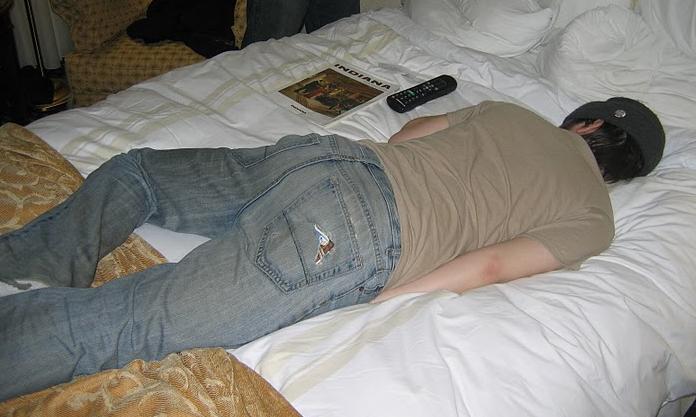 Drunks
Another common trait that most of us in the podcasting and blogging community share; we all like to drink and have a good time. Once the doors close, you'll see the crowds part like the Red Seas and all will be quiet for around 45 minutes. Then, if you watch closely, you'll start to see people pop up around the hotel lobby like wild animals after a storm. The night then escalates quickly into epic proportions. Or so I've been told. I'm generally pretty hazy on the details by the next morning.
---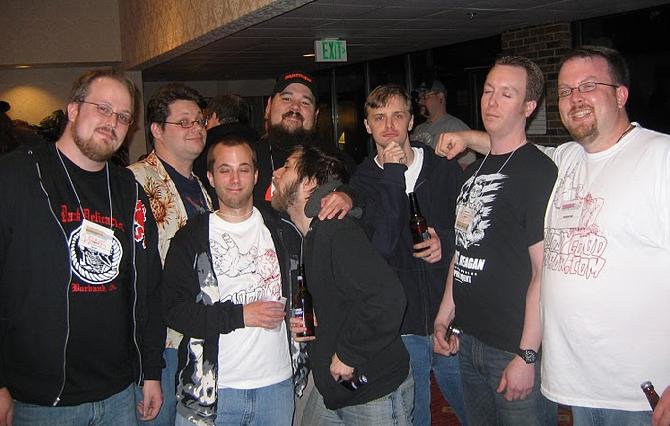 Co-Mingling
Though we're all bitter enemies when it comes down to ratings and listeners, Horrorhound Weekend is generally the one time of year that a good chunk of the podcasting community gets together to let off some steam. The old stand offs in the war of listeners are pushed aside and everybody crosses into neutral ground for some booze and merriment. Sometimes, you see cross pollination when one drunken member mistakenly follows home the wrong crew!
---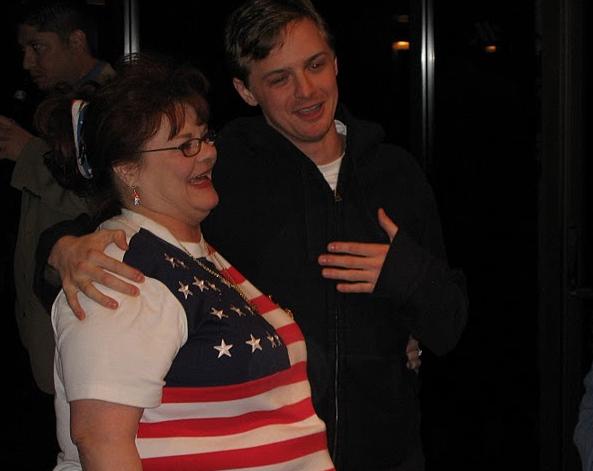 Patriotism
Horror fans are a lot of things but first and foremost, they're patriotic. This could be a random observer that stumbled in from the neighboring VFW convention as well. Thankfully, they do bring their own booze however.
---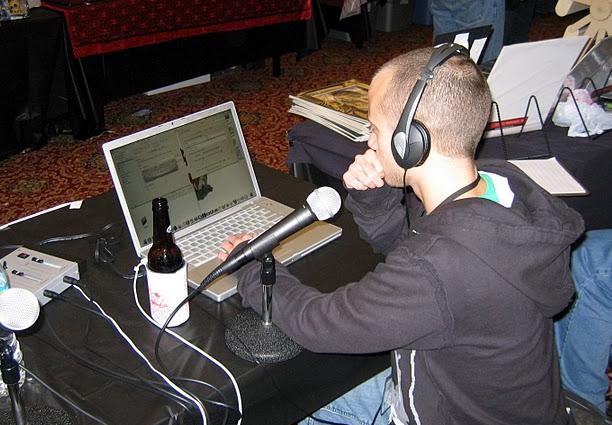 Podcasting
Sure, it sounds like Horrorhound Weekend is nothing but a giant drunken party and in large part; you're right. We do manage to get serious for around 5 minutes or so throughout the weekend. With a large film festival playing at the show, celebrities to interview and all sorts of new information to report on, we actually do sit down to record some tidbits for the Bloody Good Horror Podcast.
---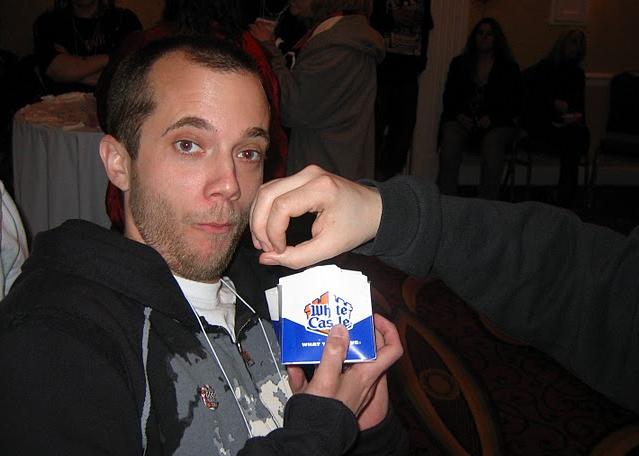 White Castle
Finally, all this hard work and merriment takes some serious fuel to keep running for three days straight. For that, nothing serves better than White Castle. It fills the stomach, it coats the stomach. It gives you a buttload of calories to burn and keeps you going long in the night as you run back and forth to the bathroom. White Castle; the party fuel.