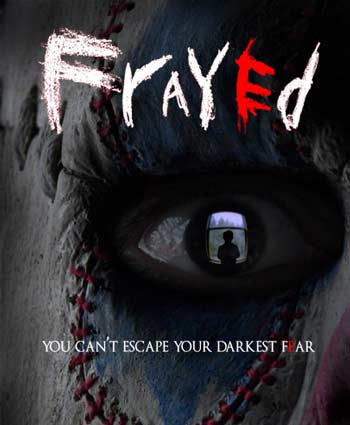 Trailer For New Slasher Film "Frayed"
"Frayed" isn't exactly breaking any new ground in the world of slasher films but that may not necessarily be a bad thing. With all the remakes kicking around lately I think we could all use a good old fashion nut
job killing a bunch of kids after they screw type film. I know I could. So "Frayed" might be the answer to all of our prayers and we now have a trailer for the flick that you can view below.
Pat Baker is a small town sheriff. His son, Kurt, is a deranged young man with a dark secret. Sheriff Baker's worst nightmare comes true when Kurt escapes from a psychiatric hospital where he was locked away for the brutal murder of his mother thirteen years earlier. Gary, a hospital security guard, sets out into the woods to stop him, but soon finds himself relentlessly hunted by the deranged psychopath intent on killing him and anyone who crosses his path. Sheriff Baker launches an intense search to find his son, only to discover that his daughter, Sara, and her friends are camping in the same woods where Kurt has escaped. Kurt's psychosis escalates, as does his vengeful killing spree, culminating in a terrifying, climactic confrontation with Kurt, the sheriff and his family.
Originally completed in 2007 the film is finally finding its way to DVD next month via Lionsgate after showing at a few different festivals. First time writing team Norbert Caoili and Dino Moore bring this one to life and Caoili always takes on the directing task. There's a lot of caparisons to "Halloween" being thrown around and that may end up being the best part of this film. Take a look and let us know your thoughts. Maybe a slasher with dread locks can save us all!