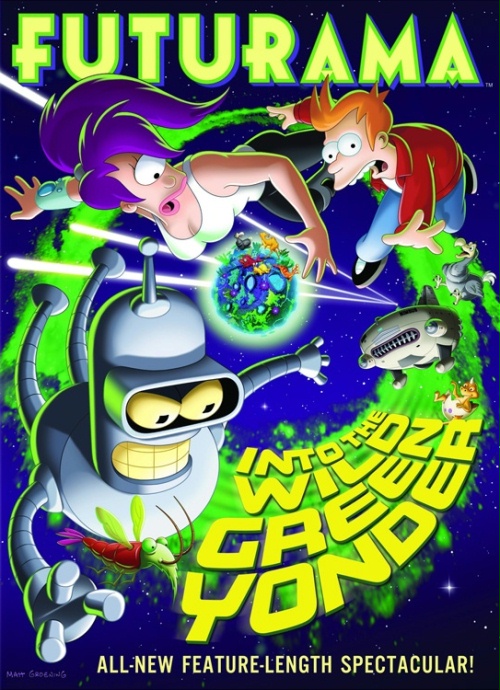 Futurama: Into the Wild Green Yonder
When I received the screen for Futurama: Into the Wild Green Yonder, it was with bittersweet excitement. This, the final installment of their extended feature length movies signaled an end to a long time love affair with the oft troubled series. Mix in the lackluster showing of the previous four movies and my excitement was tinged with a little bit of regret and sadness. A pretty sorry result considering we're talking about a cartoon, but what can I say!
As Fry is injured in a feminist protest, he soon learns he has the power to read minds. With this, he is lured in by a super secret group of fellow mind readers who believe he is the chosen one that will carry out the prophecies of bring back the time of green chi. Meanwhile, Lela, fed up with the sexist and non-environmentally friendly ways of her crew and other familiar faces joins up with the feminists to help them fight the system. Before long, both Fry and Lela's paths cross again as they soon find they're fighting the same enemy; Amy Wong's father Leo, the billionaire who is going to level a large part of the Milky Way to build a giant intergalactic mini-golf course!
"Into the Wild Green Yonder" is one of the better of the direct-to-video features, yet the movie still suffers from feeling like a half hour episode stretched to fit the 90 minute time length. The jokes are plenty and many of them good, however they just do not stretch out long enough to fill the entire time. Seeing as it is quite possibly the last film, you see many familiar characters taking their final bow which adds to the entertainment value. Many of the on going story lines manage to get tied off as well, (Read: A final resolution on the relationship of Lela and Fry!) which makes the movie a fitting end cap to the whole shebang.
In the end, for you Futurama fans out there, the movie is well worth watching. For those not as familiar, this is not a good place to jump aboard. Ultimately, the movie is enjoyable and manages to entertain though it drags at times.
So jump aboard Futurama fans, it's officially time to have ourselves a memorial service. Feel free to share your own sentiments and favorite moments in the comments below!