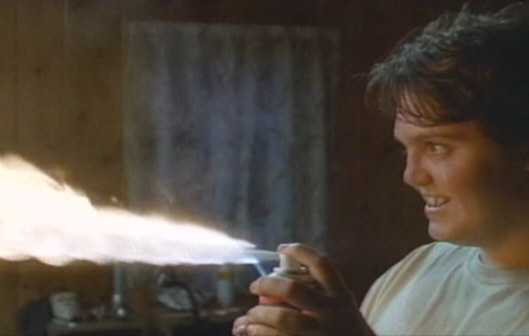 It's election week, so this report is 1. a day late and 2. pretty barebones. But, as your appointed DVD Dictator, I still strive to get the word out! This week sees the return of a classic series...well...at least one of the movies was classic, and two monsterous TV series to help while away the hours in your post election euphoria!
[inline:return to sleepaway camp.jpg]
The ghosts of Camp Arawak are stirring and laying waste to the newly founded Camp Manabe in 2008's Return to Sleepaway Camp! Of note this time around is the return of Felcia Rose to the role of Angela that was ingrained in our minds the first time around! Is going to be good? I can't say yet. What I can say, is that's it's not a remake for a change!
[inline:chill.jpg]
Chill promises to be a retro thriller, the type with a bizarro scientist a la Batman's Mr. Freeze terrorizing an aspiring writer. If nothing else, the cover looks cool!
[inline:reaper.jpg]
Reaper started in 2007 with a bit of a rocky start. It was quirky, it was different, it involved sold souls belonging to Satan. It didn't take long however for the writing to ramp up and soon the show was consistently funny. If you're the type that habitually shuns the CW (and I don't blame you for that) it's time to shake it off and try it out. If nothing else, you owe it for the Kevin Smith style antics of Sock, (Did I mention Kevin Smith was involved with the creation of this early on?) or Ray Wise as Satan himself, it's a good time.
[inline:primeval.jpg]
A BBC show created to fight the against the skyrocketing ratings of Doctor Who, Primeval is a series based on a team formed to fight monsters. Monsters that have begun to appear all over England due to strange time anomalies. I haven't seen it myself, but they had me at 'fighting monsters'!