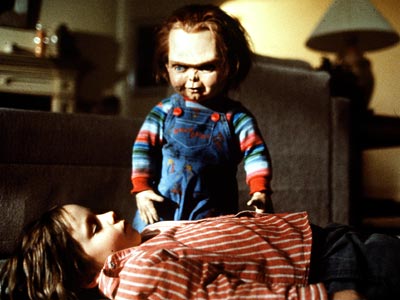 After a few anemic weeks on the new release shelf, this week we're loaded up with re-releases and direct to video goodness!
[inline:child's play.jpg]
Can you believe it's been twenty years already? This week sees the uber special anniversary edition of Child's Play, promising a new master of the flick, plus all sorts of new extras! Be sure to check out Horror Hound #10 for Eric's own contribution to the twentieth birthday celebration!
[inline:fox horror classics.jpg]
For the classic horror fan this week, Fox cuts loose with a three pack of old fashioned scares with the Fox Horror Classics Vol. 2! Packed in are "Chandu the Magician", "Dr. Renault's Secret", and "Dragonwyck".
[inline:last house on the beach.jpg]
Who's up for some good old fashioned nun-sploitation? In Last House on the Beach Sister Cristina takes a group of teen aged girls to a remote house to practice for the school play. While they explore their thespian dreams, a group of thugs show up and rape the dickens out of the entire cast! Swearing off her vows, Sister Cristina vows bloody revenge!
[inline:nympha.jpg]
Tiffany Shepis shacks up with a group of Italian nuns who call themselves "The New Order" in Nympha. Turns out, these nuns and their new religion are into torture! Before long Tiffany begins to have visions of a young girl who died at the hands of the order.
[inline:pumpkinhead.jpg]
Here's another oldie but good that just turned twenty! We've all heard of Pumpkinhead starring Lance Henriksen. The real question is: Why don't you own it yet?
[inline:Rodan and the War of the Gargantuas.jpg]
Prepare yourselves for a double dose of men in rubber suits with the Classic Media release of Rodan and The War of the Gargantuas! Nobody watches these for actual plot do they? It's all about dudes stomping the shit out of some models!
[inline:seed.jpg]
A man many assume is dead digs his way back from the grave to inflict revenge on those who planted him in Uwe Boll's Seed. Marking a change in Boll's normal video game remake catalog, can this original feature redeem him in the eyes of horror fans everywhere?
[inline:something beneath.jpg]
Kevin Sorbo plays a eco-minded priest in this Sci-Fi original. No, that's not the horror! In Something Beneath a new found bio-monster wreaks havoc on an ecological summit.
[inline:vampires vs zombies.jpg]
In an effort to make Mark twitch, Vampires Vs. Zombies hits the shelves touting nothing more than 'vampires vs. zombies'. There's not very many other details aside from the IMDb keywords such as 'lesbianism', 'cunninlingus', and 'hand through head'.
Well, maybe I'll watch it anyways.
[inline:zombies zombies zombies.jpg]
Finally this week, we see the release of the long touted Zombies! Zombies! Zombies!. A drug experiment gone wrong leaves Tiffany Shepis and a band of strippers to fend off the un-dead apocalypse.
I'd say your goodbyes now, while you have the chance.