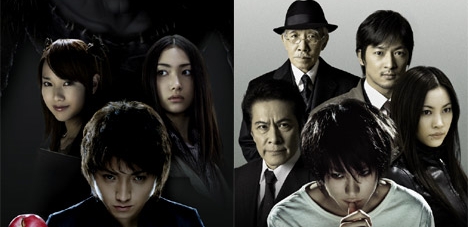 DVD Releases for 9/16/2008
The new release shelf is packed with re-releases this week giving us all a chance to relive our childhoods, be it good or bad! One new release and six re-packs, strap on as we peruse the shelves!
[inline:deathnote.jpg]
Already a highly acclaimed anime series, Death Note is the live action adaptation of the series! When Light Yagami comes across a magical notebook, he soon realizes he has power over the names he writes upon the books blank pages. As he sets forth to eliminate the world of criminals using the power of his deadly notebook, the detective "L" is set on the case to take him down. In the meantime, middle school teachers across the globe drop dead from the concentrated scribblings of angsty teens.
[inline:anightinterrortower.jpg]
[inline:monsterblood.jpg]
[inline:onedayathorrorland.jpg]
Parents rejoice, now it's time to introduce your tykes to the thrills and chills that all of us horror-heads have come to love with the re-release of R.L. Stine's Goosebumps! Combining three of the two part episodes from the spooky serial many of us remember fondly, A Night in Terror Tower, Monster Blood, and One Day at Horrorland, the Goosebumps series is a great addition to the DVD library for those of us that have spawned!
[inline:beyondthedoor.jpg]
A young woman has been knocked up by the devil and luckily for us, we get to watch the full nine months of her pregnancy in Beyond the Door! Touted by many as being a rip off of "The Exorcist", the movie has its own pea soup vomiting and spinning heads!
[inline:nevercrywerewolf.jpg]
What's a DVD Release list on BGH without a SciFi Channel original feature? Never Cry Werewolf stars Kevin Sorbo! That's pretty much where the cool stuff stops. (Note: That's subjective) "16-year-old Loren (Nina Dobrev) and her family greet a new neighbor a good-looking single guy and his dog she senses something mysterious and dangerous about him." At least they have Hercules there to save them from the nefarious werewolf-pedo living next door!
[inline:cemetarygirls-vampirehookers.jpg]
A brand new "Exploitation Cinema" two pack hits the shelves this week, this one containing Cemetary Girls, the tale of four babes stranded at the sanitarium of Dr. Wendell a.k.a. "The Count" on their way to the Carpathian Mountains, and Vampire Hookers, starring John Carridine as a smooth talking vampire pimp!