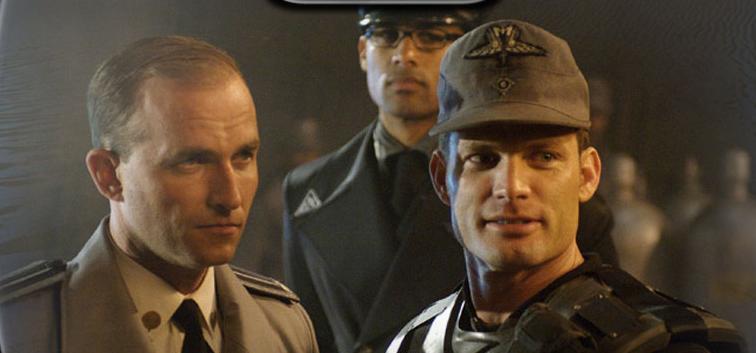 With no major releases for the week, the New Release shelf at your local video store is going to be chock full of direct to video hits! With a high quality re-release, a new sequel that nobody expected and a bunch of other random oddities, it can still be a good week for the new DVD hound!
[inline:starshiptroopers3.jpg]
Call it a guilty pleasure, but I do love "Starship Troopers". The first sequel was forgettable but still had lot of alien spider carnage. When I heard that there was a Starship Troopers 3: Marauder in the pipe, I was surprised and slightly curious to say the least! This time around Casper Van Diem returns as Johnny Rico, but no Neil Patrick Harris. We do get some hot Vulcan Jolene Blaylock though!
[inline:hollywoodchainsawhookers.jpg]
Hollywood Chainsaw Hookers gets a 20th anniversary re-release, and I couldn't be happier! Gunnar Hansen and Linnea Quigley? I prefer Ms. Quigley's boobs naturally, but Gunnar Hansen always makes for a fun horror flick too! To find out more about this 1988 classic, check out Eric's review!
[inline:abestomb.jpg]
The small town of Moore's lake is plagued by feral vampires and a ghoul who's vowed vengeance on the townsfolk. Now a small town sheriff has to deal with something other than meth labs! If nothing else, the cover of Abe's Tomb lets us hope that we'll see some hot goth chicks.
[inline:babyblues.jpg]
Baby Blues tells us the tale of a mom suffering postpartum depression who then turns on her family. Her eldest son is left defending his siblings against the mom they once loved! An original idea takes this one to the top of the curious pile.
[inline:blackribbon.jpg]
A writer buys a magical typewriter that brings out his deepest and darkest desires in Black Ribbon. Seeing as I'm a writer, if this movie has anything to do with my life it will be about a man who's typewriter creates a magical plate of never ending chicken wings a bottomless beer mug.
[inline:bloodandsexnightmare.jpg]
The title of Blood and Sex Nightmare spells it all out for you. It's a safe bet this movie will have blood, sex, and nightmares! With a plot that consists of the ghost of a serial killer haunting a swingers club, how can you not add this to your Netflix queue?
[inline:deadfury.jpg]
Dead Fury is the follow up to last years home grown animated zombie flick, "City of Rott". Considering that the movie is done on a shoestring budget with blood sweat and tears, it makes the tale of a horror cartoonist parodying many horror classics something worth looking into.
[inline:devilgirlfrommars.jpg]
[inline:nightfright.jpg]
Some new budget 2 Packs bring us some classic 1954 cheese! Devil Girl From Mars/Frankensteins Daughter both bring us some bodacious monster babes, Night Fright/They Came from Outerspace brings us monsters of the a-sexual persuasion.
[inline:draculasguest.jpg]
Supposedly based upon a Bram Stoker short storie, Dracula's Guest sounds like a modern day Hammer knock off. Bram and Elizabeth are in love, but Liz's dad wants them to take a year off to make sure their love is true. Turns out, Dracula's in town shopping for a new house and decides that Elizabeth looks mighty tasty! Can Bram and Elizabeth's love stand the onslaught of Drac's suave and debonair demeanor? I dunno, but I'm bored by the description alone.
[inline:thehive.jpg]
What's a DVD release column with out a SciFi Channel original movie? In The Hive, army ants are devouring the Brazilian jungle. A scientist from the 'Thorax Team' (I didn't make that up) swoops in to save the day with his entomologist girlfriend. What they found however is that there's a bigger beastie controlling the ants, and the Earth may be DOOMED! DOOMED!
So there you have it folks, another week of DVD's! Enjoy yourselves, make sure to stretch before hand so that you don't pull any muscles!