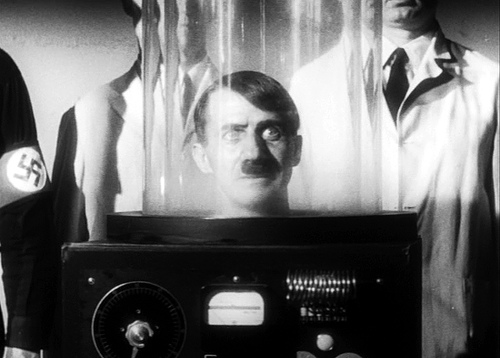 This week on the video shelf gives a much welcome break to your wallet! Coming in light in comparison to the last few week's onslaught of low budget horror, this week provides more of the same; just less of it!
[inline:thekillinggene.jpg]
The Killing Gene stars Stellan Skarsgard and Selma Blair star in this serial killer crime thriller involving a mathematical maniac! I never did care for math.
[inline:driveincultclassics.jpg]
I'm a sucker for cheap DVD sets that pack in a bunch of old schlock for cheap! The Drive In Cult Classics Volume 2 is no exception! Packing in such classics as "The Devil's Hand", "They Saved Hitler's Brain", "Bloodlust!", and "The Madmen of Mandoras", how can you go wrong for $12!
[inline:3am.jpg]
3 A.M. tells about a boy who's room is visited by a ghost every morning at 3 a.m. Supposedly based on a true story, watch along as the gang of kids find themselves in a paranormal hell! I myself am visited every morning at 3 a.m. by a ghost. Mine's invisible and pretty stinky. My wife says it smells like her own personal hell! Maybe it is a true story!
[inline:shrewsgilamonster.jpg]
The now colorized Giant Gila Monster/Killer Shrews two pack is a re-release of two classic monster flicks that have been...re-released so many times it's become a monster of it's own. But it's in color now!
[inline:survival.jpg]
"There are terrible people in the woods, not quite crazed redneck, not quite insane cannibalistic maniac, not quite a chainsaw wielding skin wearing gram pa's boy. This time it's a pair of psychotic siblings, who love to capture and torture their prey." What they fail to mention in the plot synopsis of Survival is that it still boils down to CRAZY PEOPLE IN THE WOODS! Quite possibly the biggest meme competing with zombies in the low budget horror forest, if you love some crazy redneck wood people, you'll be happy to know there's at least another release just for you this week!