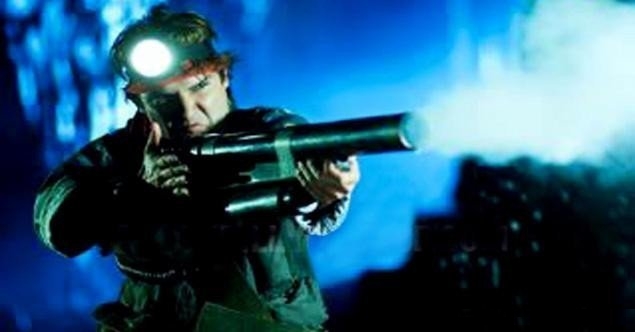 It's that time one again, the time to wander the video shelves and see what's new! This week we have a handful of big name releases, some you'll need to see, some you'll want to pass over. There's also a handful of old school exploitation as well! So sit back and prepare yourself, it's off to the video store we go!
[inline:lostboys.jpg]
It's the moment that two people named Corey have been waiting for, the release of Lost Boys: The Tribe! Can they reinvent the new wave vampire genre? Time will only tell! (As will my review tomorrow!)
[inline:doomsday.jpg]
Neil Marshall wowed us with "The Descent", now he's back with his post apocalyptic action homage Doomsday! We liked the movie quite a bit back in Episode 19, so now is your chance to catch it for yourself!
[inline:mortuary.jpg]
We all know Tobe Hooper, so here's a new movie from Texas Chainsaw god, Mortuary! Good or not, it stars Star Trek's Tasha Yar and I'll give them props for that!
[inline:darkcity.jpg]
Not necessarily horror but definitely dark, disturbing, and twisty, this week sees the release of Alex Proyas Dark City: Directors Cut! Definitely a movie to make you think, this one is easily our most cerebral DVD release of the year!
[inline:bloodymoon.jpg]
Jess Franco, the king of Euro-Sleaze brings us the moist tale of girls being slaughtered at a language school in Spain in 1981's Bloody Moon! If there's one thing you can count on here; it's Jess Franco and a girl's school. There's gonna be boobies!
[inline:cannibalterror.jpg]
Two randy kidnappers hide away in a friend's jungle home. Not satisfied with the victim they brought, they decide to rape the friend's wife too! Unfortunately for them, said friend doesn't take well to his wife being raped and leaves them to be fillet mignon for the local cannibal tribe in 1981's Cannibal Terror!
[inline:darkshadows.jpg]
Are you a hardened horror head with a penchant for soap opera antics? With Dark Shadows: The Beginning you can get your soap opera fix while still telling all your friends that you're watching horror! Problem solved!
[inline:devilhunter.jpg]
Jess Franco's Devil Hunter sounds better with it's original foreign language title; "Sexo Canibal"! Regardless, as the king of Euro-Sleaze, a Jess Franco cannibal flick should be worth a watch.
[inline:hairextensions.jpg]
Hair Extensions. Brittany Spears caves under the pressure of her failed comeback and out of control weight gain!
Er...sorry, that's the movie I'm writing!
A Japanese tale about possessed hair extensions that kills the wearer. What is it about the Japanese and their fear of hair anyways?