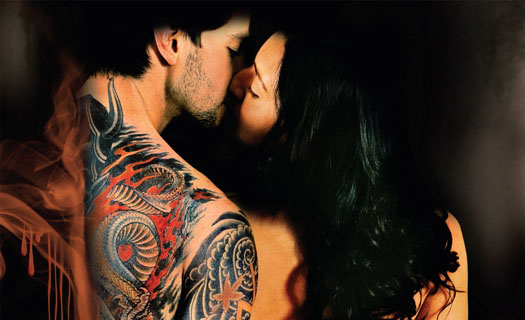 DVD Releases for 6/24/2008
The last couple of weeks have been light on the new release shelf, but this week we're treated to veritable fuck-ton of genre goodness to whet your appetite! With the upcoming holiday weekend you and your DVD player will not go unsatisfied! Or perhaps mostly satisfied and a little bit disgruntled as you ponder 'I skipped that cookout to watch this shit?'
[inline:tattooist.jpg]
"The Tattooist" wins the title of 'most interesting' this week as it is penned by none other than Jonathon King, the scribe of "Black Sheep"! A tattoo artist unleashes an evil spirit by experiment with ancient Samoan tribal tats? Sign me up, at least it's something new!
[inline:curseoftheweepingwoman.jpg]
A Mexican ghost story about a dorky American (Read: Unworldly and close-minded) heads to Mexico to rescue his missing sister. Is she a victim of the Weeping Woman, the ghost of a woman who drowned her own children? "J-ok'el" has the lovely Dee Wallace in it, so there's that.
[inline:desertofblood.jpg]
"Desert of Blood" (Not to be confused with Dessert of Blood) is 'yet another vampire movie', this time about a vampire that's been buried under the Mexican desert, soon to be uprooted by the poor man's Indy Jones.
[inline:draniac.jpg]
"Drainiac" tells of a group of teenagers holed up in an old house. Turns out, there's evil in the water! If nothing else, it reinforces the old adage "Peruse the Pot before you Poop".
[inline:eroticwerewolf.jpg]
Misty Mundae and her tiny ta-ta's team up with William Hellfire once again, this time in "An Erotic Werewolf in London". Do you really need a plot synopsis for a Misty Mundae movie? She shows em, you want to see them. That's what counts!
[inline:gingerdeadman2.jpg]
No Gary Busey this time, but no amount of star power is going to make "Gingerdead Man 2: Passion of the Crust" seem like a sane idea! "The horrifying yet delicious and chewy Gingerdead Man causes murder and mayhem on the set of a horrible low budget movie set." This shit's deep yo!
[inline:hellsground.jpg]
"Hell's Ground" is Pakistan's first Gore Film. The cover art is a bit suspect, but I'll support any foreign film makers taking a stab at the genre.
[inline:killersmoon.jpg]
"Four mental patients - who, due to unauthorized experiments, believe they're living in a dream and have shed all moral imperatives - escape and find their way to the nearest bus-load of stranded schoolgirls." "Killer's Moon" has stranded schoolgirls, and is a Redemption Films release. (That means it's gonna have schoolgirl boobies for those not in the know!)
[inline:mondocane2.jpg][inline:mondocane.jpg]
The Mondo Cane" flicks are the grand daddy of the "Faces of Death" franchise. The original "Shockumentary".
[inline:satanicsluts.jpg]
This is the second time that the Satanic Sluts have shown up in the DVD report. "The Satanic Sluts are an all female collective numbering up to 666 of the worlds most sexual attitudinal confrontational creative and challenging women that have ever chosen to walk down the left-hand path." No idea what it is, but color me intrigued.
[inline:thechilling.jpg]
Corpse-sickles and Linda Blair combine to make this late 80's zombie flick, "The Chilling". If it's anything like Linda's "Hell Night", the prospect of watching it is chilling indeed.
[inline:thelodge.jpg]
CRAZY PEOPLE LIVE IN THE COUNTRY! "The Lodge" has a young couple taking a weekend getaway at a mountain hideaway. Turns out, their caretaker's a weirdo. In case you didn't catch it the first time, CRAZY PEOPLE LIVE IN THE COUNTRY!
[inline:thewig.jpg]
Quite possibly a first, South Korea's "The Wig" is about....you guessed it...a demon possessed wig. Huh?
[inline:frankensteintherapist.jpg]
"Frankenstein the Rapist". From the makers of "Jesus Christ: Serial Rapist". That's not a joke.